The Coconut Tree - Bristol Food Review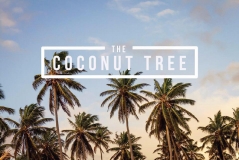 Posted on: 2018-11-15
The restaurant has a casual, fun air about it, one that is encapsulated by their unique menu, friendly ethos and energetic servers. It certainly stands out amongst its competitors.
---
Sri Lankan street food isn't seen too often. I for one, have not eaten this cuisine a whole lot and was excited to try it at The Coconut Tree's new Cheltenham Road branch in Bristol. The spot, just by the corner of Zetland Rd junction, has changed hands a number of times over the past few years, however I get the feeling that The Coconut Tree is there to stay.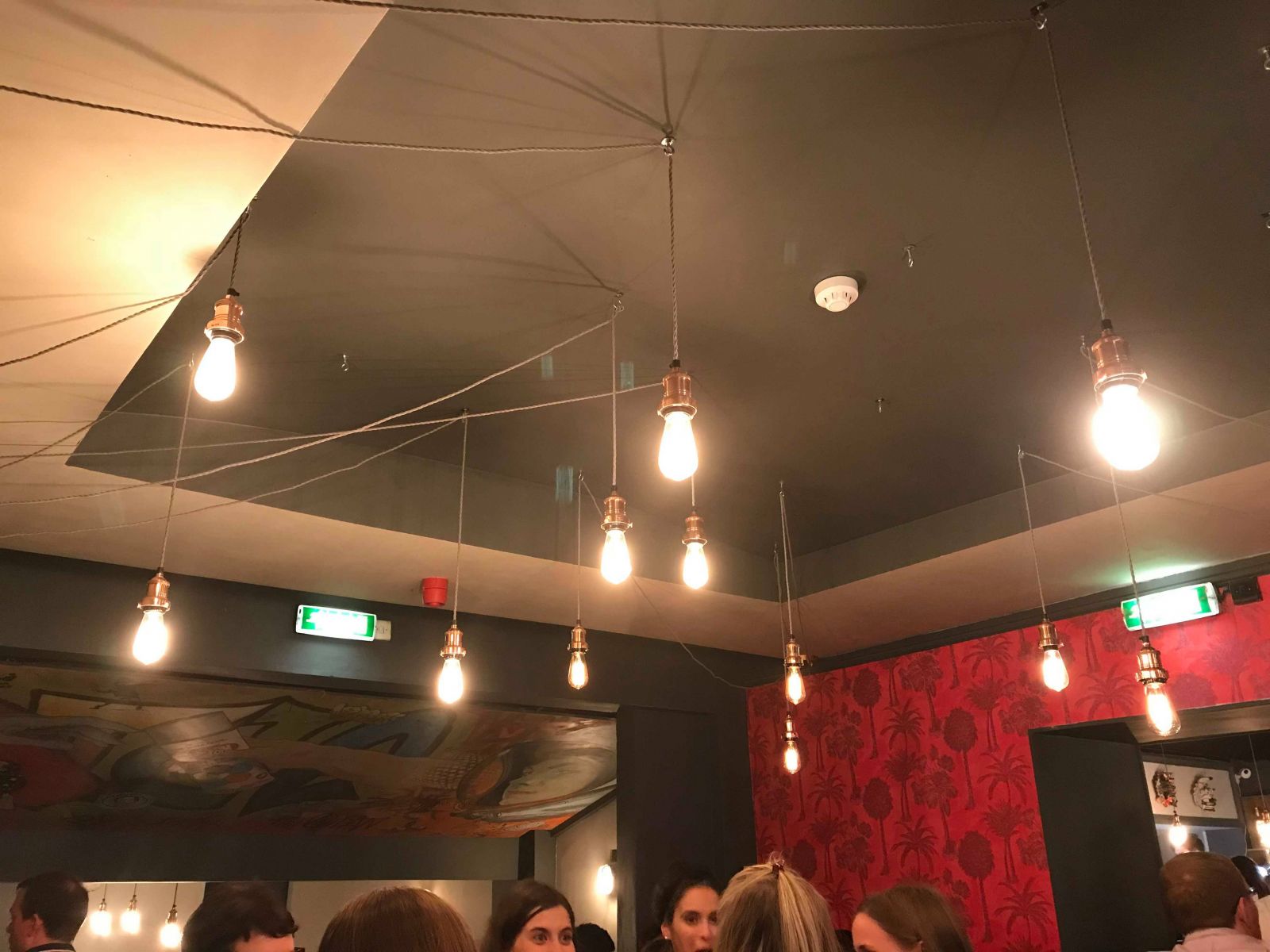 A vibrant and crowded space, that is designed for groups of friends and family; loud music plays in the background and equally loud voices fill the room. People sit on high wooden stools around high wooden tables, and dim lights hang over them. This is a good sign, I thought to myself, as the place was full to the brim, I'm guessing in an attempt to replicate the street food buzz of Sri Lanka itself. Exposed bricks, spray painted artwork and bright wallpaper add to the same aesthetic.
The cocktails were average. Slightly watery and basic, the little England tasted like iced tea and the drunken Sri Lankan like ginger beer, as if they both contained no alcohol.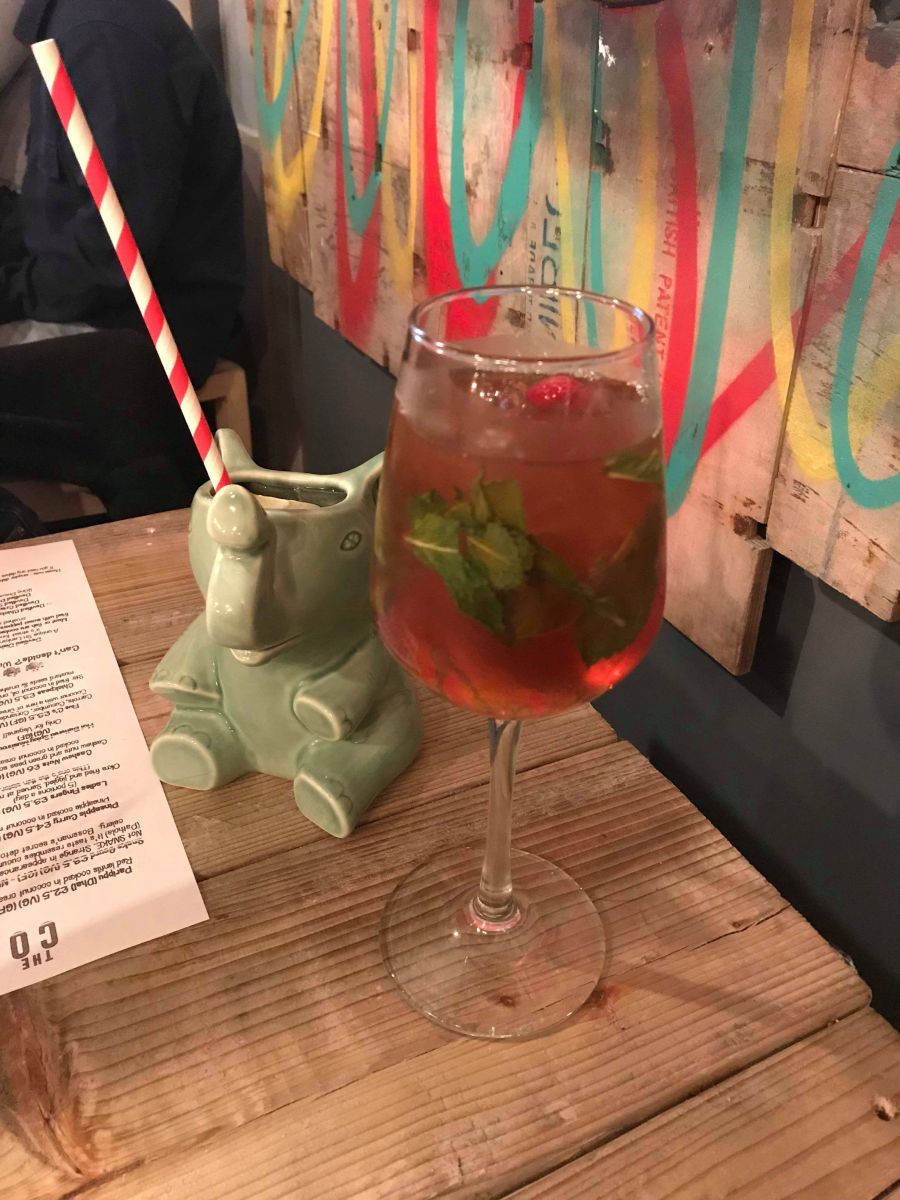 Our server was great, very smiley and attentive, he explained that the ethos is all about sharing- "ours, not mine" is the quote by which the menu stands by. He recommended that we share around 6 small plates and pointed out the cuttlefish and egg hopper. We began scanning the menu and decided to add Devilled Squid (£7), Cheesy Colombo (£5), Black Pork (£7) and Kotthu (£7).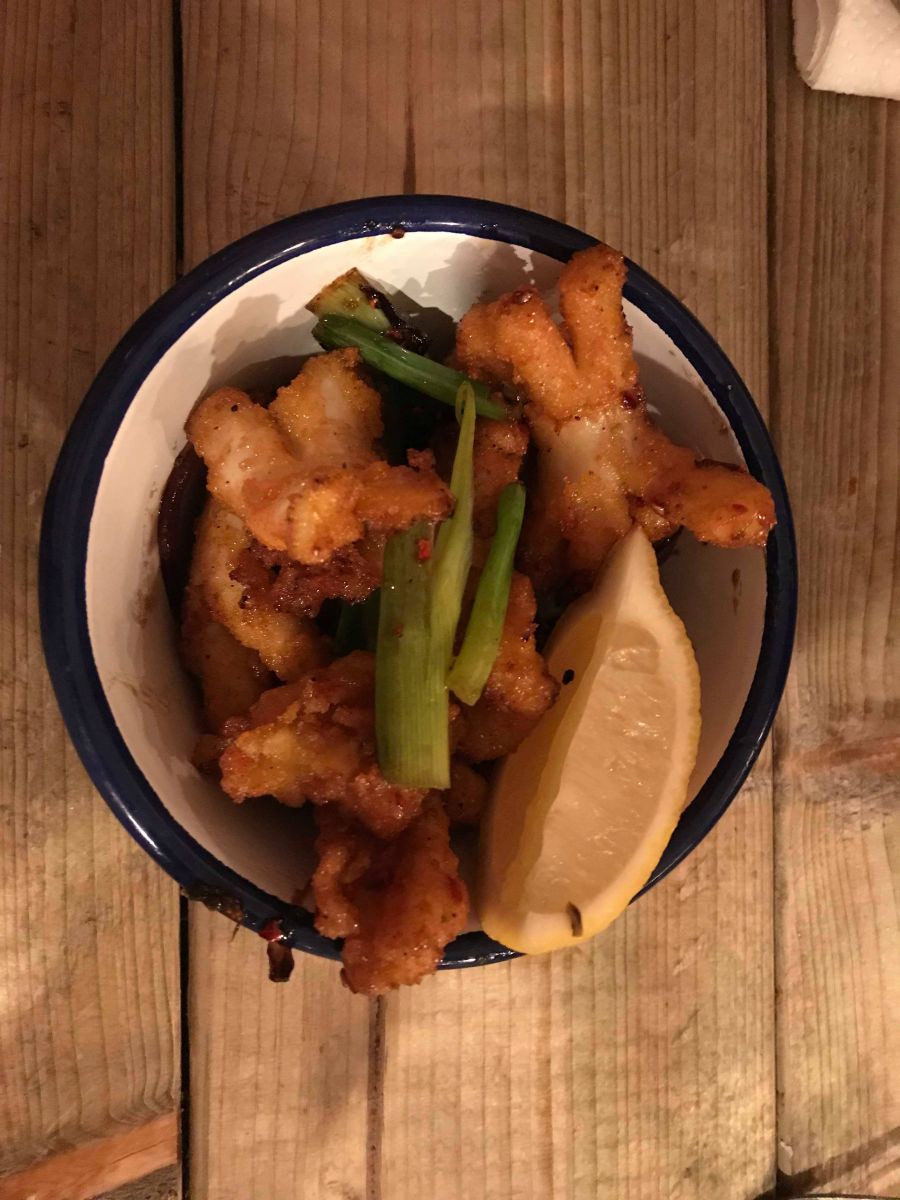 I cannot rave enough about the cuttlefish. It was so good. I would eat that again and again. Golden crispy batter coated the fish which had a similar texture to squid, you know when it's cooked to perfection, soft and melts in the mouth? Yeah, that. Mixed with chili and onions at the bottom of the dish to give it a spicy kick, the whole dish was incredible.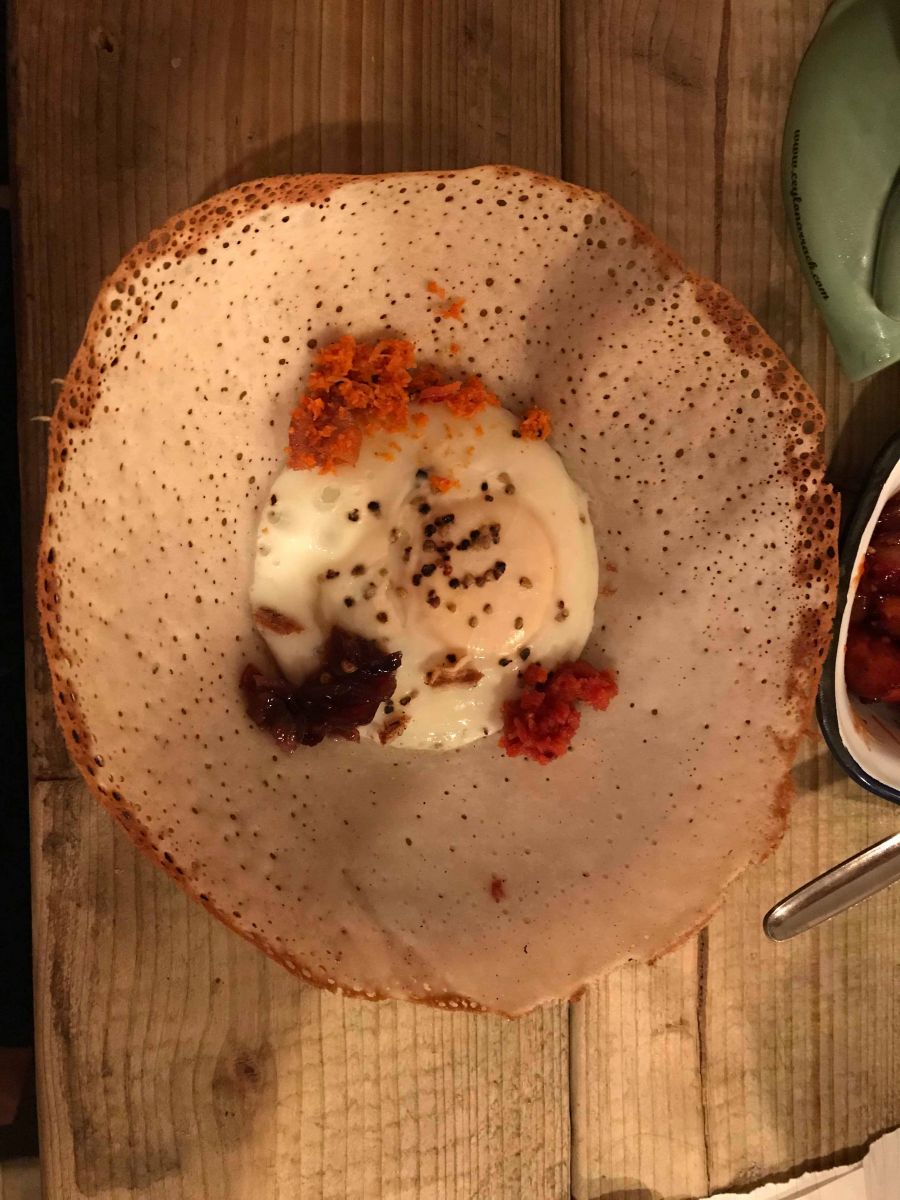 Another dish I have to praise is the egg hopper. A Sri Lankan staple dish, it comes as a thin pancake with a fried egg in the middle (props for the runny yolk might I add), along with some caramelised onion and cinnamon paste, salsa and coconut sambal. We were instructed by our server to mix them all together, roll the pancake and munch away. The variety of flavours was interesting, the bitterness of the onion paired with the creamy coconut actually worked. And I do believe eggs taste good with almost everything, so that's a given.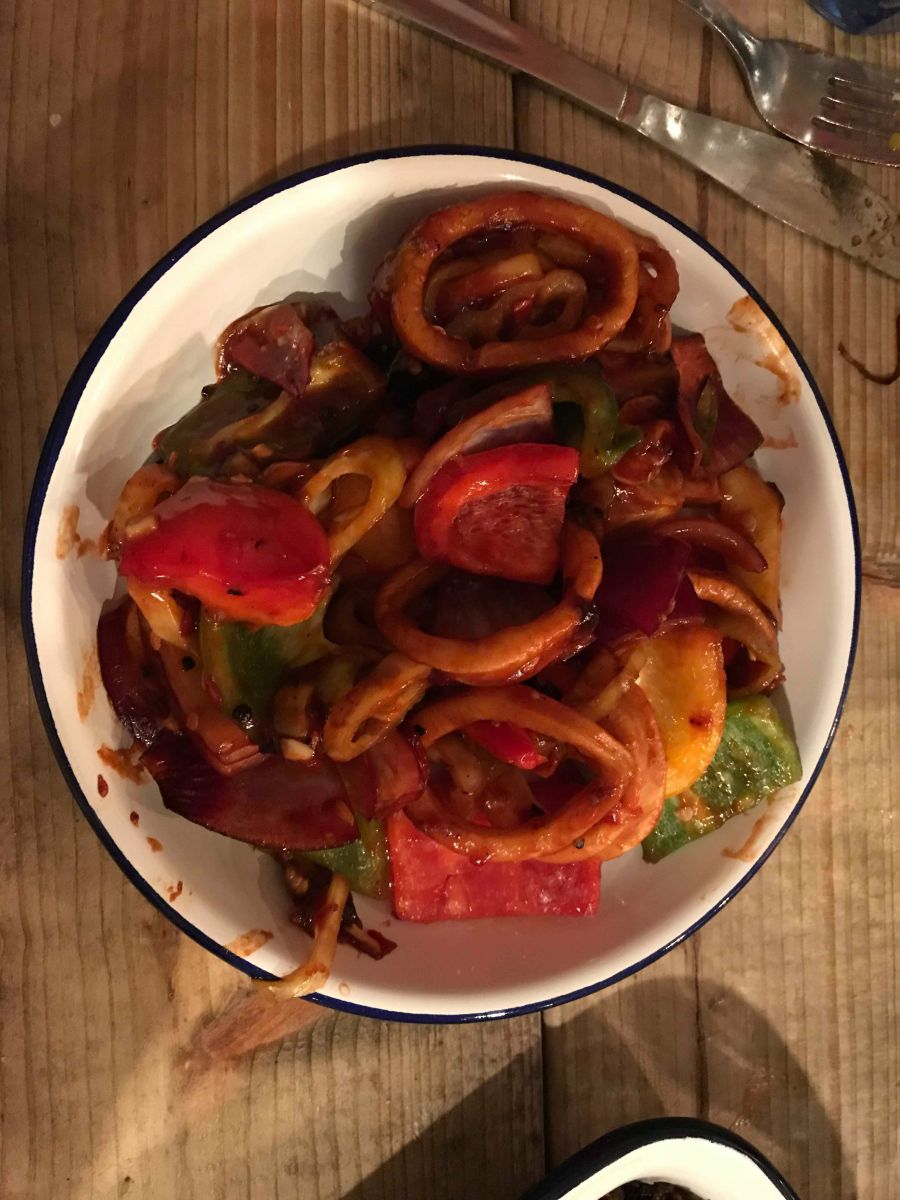 The devilled squid was okay… it was served in a larger dish with loads of fresh peppers and onions, however only a few pieces of actual squid. The sauce was bright red, tangy, spicy, sweet and a little gloopy, and the squid was a little rubbery.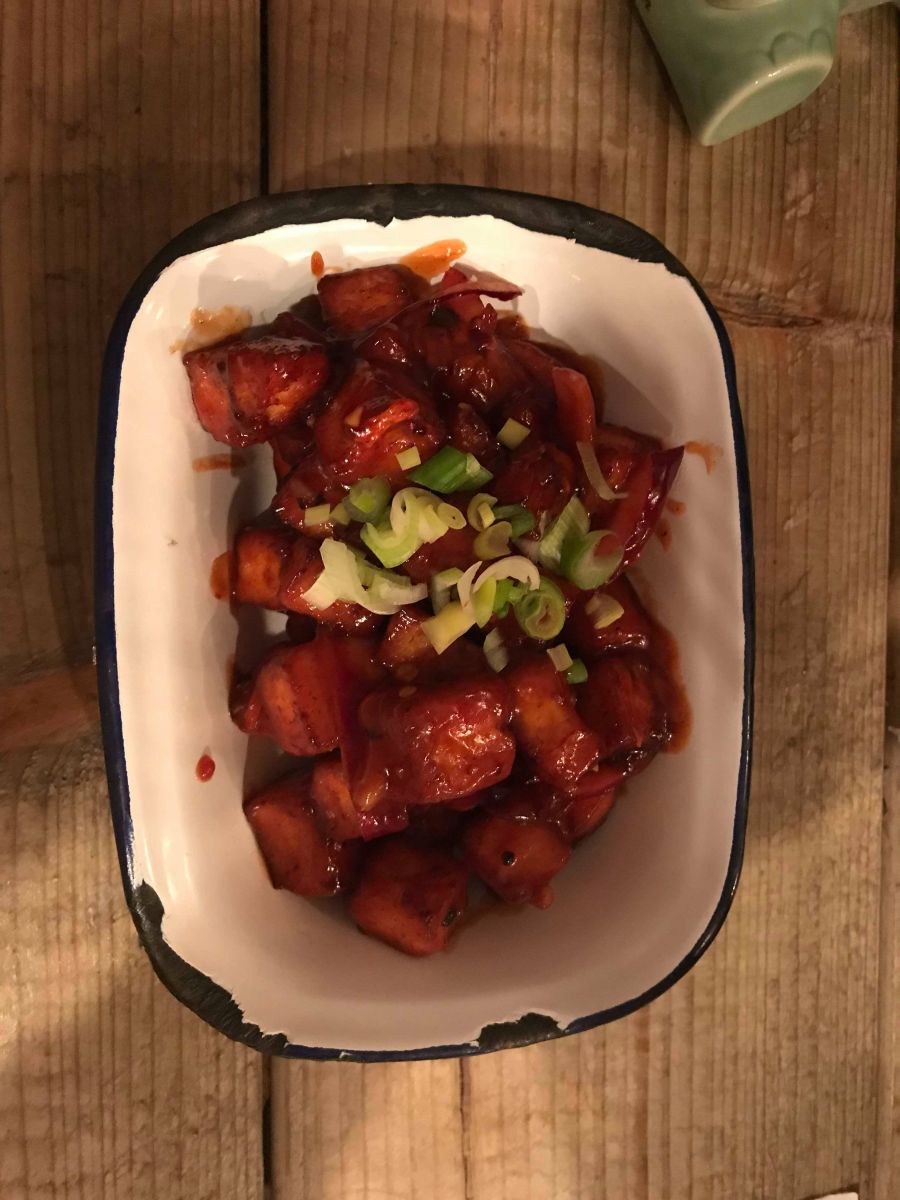 A similar sauce was used in cheesy colombo dish, but tasted better with the cheese. What's not to love about fried cheese chunks? This plate was another delicious one. The cheese had similar texture to that of paneer, doused in some fiery red sauce and sprinkled with spring onion and fresh chili, the dish was enjoyable, and a good accompaniment to the others, particularly the black pork. This dish was interesting, with tiny squares of blackened pork belly and a sooty sort-of charcoal like texture, that I actually really enjoyed. That, scooped onto the parota rotti (£2.50) – a Sri Lankan flatbread, slightly crispy on the outside and soft in the middle- went together perfectly! In fact, all of the small plates taste good mixed together, which is why I love tapas-style food so much. You get a little bit of everything, and it's never boring.
Kotthu, is somewhat of a hybrid Sri Lankan dish. Made with finely chopped rotti and cooked with egg, veg and meat, this version was disappointing. The textures weren't very appetising and it mushed together in my mouth in a stodgy mess, with little flavour.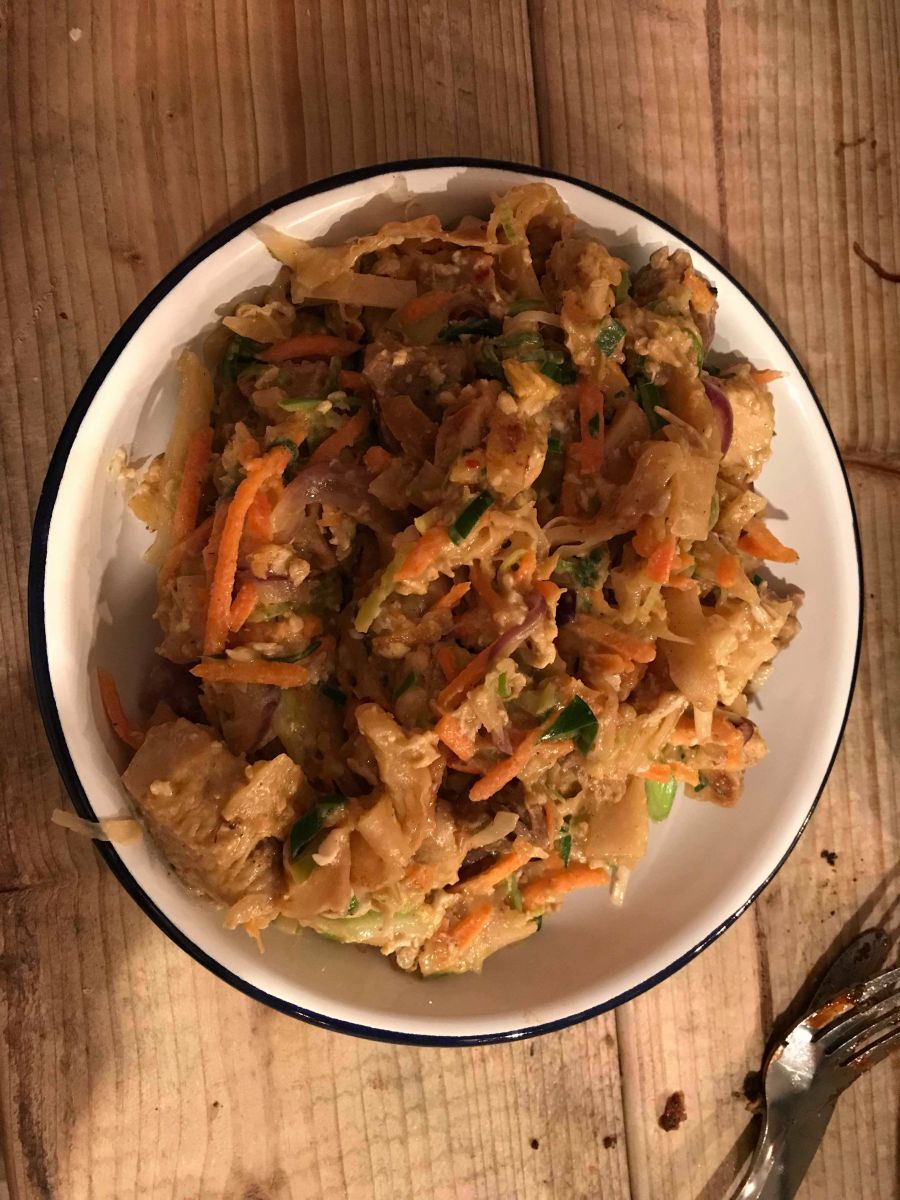 I personally loved that the place was loud. It makes the experience better, you feel to let loose more, than if you were sat amongst silence. The restaurant has a casual, fun air about it, one that is encapsulated by their unique menu, friendly ethos and energetic servers. It certainly stands out amongst its competitors.
Following the overwhelming response of the Cheltenham Road branch, The Coconut Tree are opening their second Bristol site at Clifton Triangle on Thursday 22nd November.
With 70 covers, an exposed kitchen, local street art and layered seating, the new location promises to be as eye-catching as it is delicious, offering customers an intimate and immersive dining experience with the menu they've come to love.
The group have also announced they will be launching a Saturday late-night Coconut Carnival every month, further details will be available following the restaurant launch but as they say, there ain't no party like a Sri Lankan party so be sure to follow the online platforms for updates.
As if that wasn't exciting enough, The Coconut Tree is offering customers 50% off food for the launch weekend from 6pm on Thursday the 22nd of November through to Monday the 26th. Bookings must be made online here.
---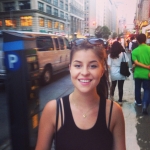 Hannah Moll
Hannah recently graduated with a degree in English with Writing. She is an avid writer, freelancer and creative. She is currently writing her first full-length novel and a collection of poetry. Always out and about in Bristol's music scene, she attends music events on a weekly basis.