Squeeze at Colston Hall - Bristol Live Music Review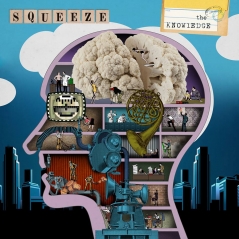 Posted on: 2017-10-16
Squeeze cement their position as a vital part of British music history with Bristol gig
---
Back in the new wave era, Squeeze recorded their first material in 1977, and produced many hits to follow, including, Cool for Cats, Up The Junction and Tempted to name but a few. The Ivor Novella Award winning duo, Chris Difford and Glenn Tilbrook went their separate ways in 1998 to concentrate on different projects, but they came back together in 2007. They are back this year for their Join The Dots Tour; with their very special guests, old mates and blues legends, Nine Below Zero.
The special support is already playing when we find our seats in the Hall, the backdrop in big letters NINE BELOW ZERO announce the band, and I remember seeing this band back in the late 70s supporting Stiff Little Fingers. They tell us the next song is 1,2,3 Times That's Enough, followed by The Blues. They chat to the audience between songs, and recall playing at the Hall as support for Joe Jackson some years ago, and had fond memories of Bristol. The female singer Charlie effortlessly belts the songs out as she dances along barefoot, the rest of the band consist of a horn section, lead guitar and vocals, bass, drums, keyboard, and harmonica. They warm the audience up nicely and after a 45-minute slot they leave the stage to warm applause.
The backdrop shows pictures of Squeeze, and the band appear on stage to huge applause, but this is a seated gig, so it feels a little tame at the moment. They start off with a number I am not familiar with, but the 2nd track in and its Annie Get Your Gun, with some great lighting effects and video backdrops included, and boy do they sound polished. They play Hourglass and there is video effect behind again, I then notice the horn section from Nine Below Zero join the stage.They do another song and there is a choir singing, opera, and kids choir cleverly joining in, but not on the stage with the band! these music extras are on the video screen behind the band, and this works to great effect.
The hits start coming thick and fast, with Pulling Mussells, From the Cradle to the Grave and Is That Love...
Then a familiar tribal beat ensues and the percussionist and drummer come to the front of the stage, playing snare drum and bongo, they now resemble an Irish folk band, but as they belt out Take Me, I'm Yours, one fan jumps to her feet and dances in front of the band, shortly joined by others.
As the Hits continue to play, Goodnight Girl, and Up the Junction, most of the audience are on their feet now, and I must say, this audience are generally of the older generation, and I can spot some great dad dancing going on particularly from a guy in the balcony! But it doesn't seem to matter, as squeeze are a band that have been popular for many years now, and span many different generations, and are no spring chickens themselves.
But the talent that oozes through the band is truly outstanding, and this current line up is worthy of any younger bands on the music scene these days, I for one have been desperate to see this band for many years, but have never had the opportunity up until now, and I must say I am not disappointed, this band are phenomenal and I will not be forgetting them in a hurry.
They go on to play Labelled with Love, and finish the set with Slap and Tickle, and are joined on stage by more of Nine Below Zero. The applause is deafening, and a standing ovation is accompanied by tribal clapping and chants of more!
Squeeze do not disappoint us and return to play Cool For Cats with a great feel to it, and Chris Difford's vocals are rich and full, this is a great sing-along for the audience and us older ones will remember this song from back in the day.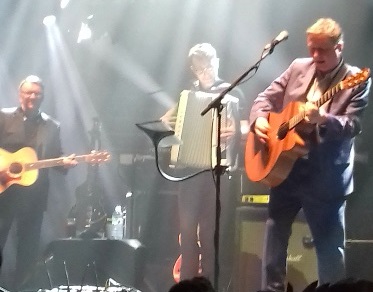 Finally, the beautiful voice of Glenn Tilbrook leads his band into the final song of the night, Coffee in Bed, which is a free-for-all Jamming session with their friends Nine Below Zero. The song finishes and the band come forward to take a bow to the huge applause from the fans.
I was told before I saw this band that they are amazing live, and I believe that to be true having seen them for myself, I feel this band could go on for many years to come, their songs are timeless, and they have brought an up to date feel to their set with clever lighting, use of video backdrops and tight performance. Squeeze could stand up as among one of the best live bands on the circuit at the moment. Take a bow!!
---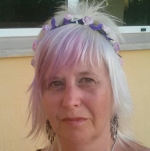 Andrea Martin
Andrea was born and raised in Bristol but moved to Weston-super-Mare as a teenager, around the same time the punk scene hit Britain and was right in the thick of it. Embracing the music and bands of that time, she has been a regular at most of the Bristol gigs ever since. Music, especially live, is in her veins and after performing in bands of her own over the years she continues to sing in a local choir. "Music has and always will be a massive part of my life, and I will be a party girl 'til the day I die."