Review: Singin' in the Rain @ The Bristol Hippodrome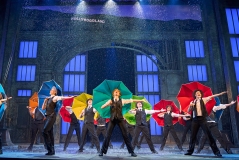 Posted on: 2022-05-18
Classic, old-school musical theatre with more than a sprinkling of Hollywood glamour.
---
It's weird, isn't it? Trudging to the theatre through heavy rain, and looking like a drowned rat on arrival, is miserable. But, rain on stage, 90 minutes or so later, is nothing short of joyous.
The rain, which starts to fall at the end of Act One when we get the first rendition of the famous title song, is just one spectacular moment in a show full of them. This is classic, old-school musical theatre with an interesting story, plenty of comedy, familiar songs, fabulous dance routines, and more than a sprinkling of Hollywood and Broadway glamour.
Based on the classic MGM film, which was made in 1951, Singin' in the Rain is set in the late 1920s, when the latest big thing is the talking picture, throwing the silent movie studios into panic. Looking good on screen is one thing, sounding good too is a whole new challenge and one that leading lady Lina Lamont (Jenny Gayner) doesn't have the voice for, although she's never going to accept that!
Luckily for the studio, leading man Don Lockwood (Sam Lips) and his best friend, musician Cosmo Brown (Kevin Clifton), have a plan – talented young chorus girl Kathy Selden (Charlotte Gooch), who Lockwood has recently met by chance (and fallen in love with), can speak and sing for her. The audience will never know… or will they?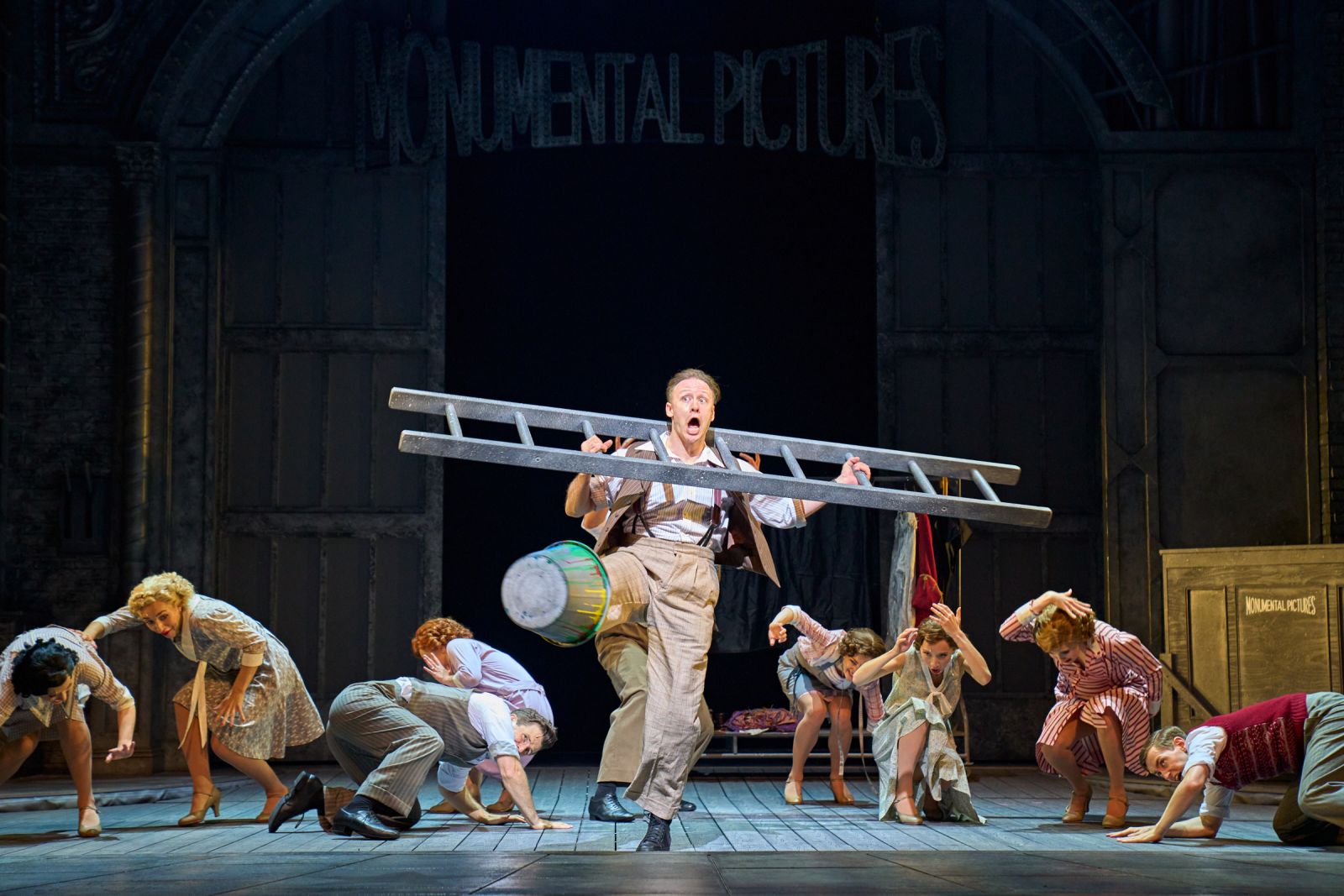 This is a bright, colourful show, that inspires dress envy with its beautiful costumes. The score, played by a live orchestra, is packed with classic numbers including 'Make 'Em Laugh', 'Moses Supposes', and 'Good Morning', and the choreography (the work of Andrew Wright) is superb. Sam Lips does a great job of stepping into Gene Kelly's dance shoes, and even into his shirt sleeves, there is something very watchable about the way he finishes his arm movements!
Around me, it's obvious how much the audience enjoys the show, you can hear people singing along with some of the numbers and there's definitely some seat dancing going on (you can see shoulders moving and you just know there is feet tapping too). There are also some very dodgy attempts at clapping along in time with the music; it's a skill that many people, me included, just don't have! Is there a standing ovation? Of course there is, and it's a very enthusiastic one at that.
Singin' in the Rain is showing at The Bristol Hippodrome until Saturday 21 May. Find out more about the show and get your tickets here.
---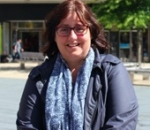 Vivienne Kennedy
Vivienne Kennedy says she lives and works in Bristol but sleeps in Weston-super-Mare, which is where she's actually lived pretty much all her life. During the day, she is Head of Broadmead BID (Business Improvement District), supporting retailers in Bristol Shopping Quarter. Away from work, she's been reviewing theatre, music and art in Bristol for more than 12 years and is rarely happier than when watching a good show at the Hippodrome or Old Vic.