Review: Half-Price Pizza Mondays @ The King Street Brew House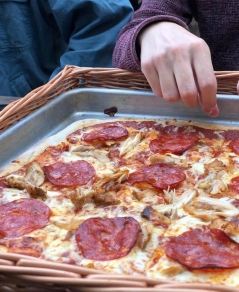 Posted on: 2020-02-05
Get bang for your buck with the King Street Brew House's tasty pizza deal
---
Picture this: it's Monday night, but you can't quite believe it. "Only Monday?!" you think, grumpily, as you shove a below-average oven pizza into bake.
If you're like me, and Friday drinks (complete with a bit of end-of-week munch) can't come quick enough, then the King Street Brew House might just have the perfect solution.
Every Monday, the pub slashes the price of their pizza to half-price from 17:00, meaning you can grab a slice for just a fiver. Intrigued, I went along to investigate.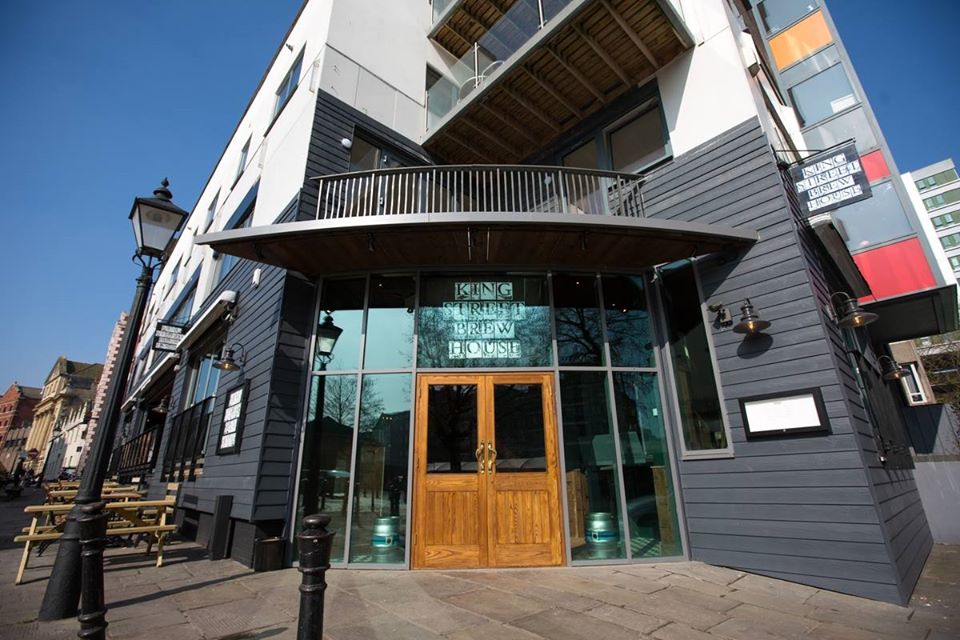 For a Monday, the King Street Brew House is rather busy: almost every table is full. Classic indie tunes play overhead as groups of mates and work colleagues socialise. But this shouldn't come as a surprise, really, given the pub's prime spot upon King Street's cobbled playground of pubs.
A warm and relaxing retreat from the winter winds, the pub is home to its very own microbrewery, which you can see from the wooden bar. Before we select a drink from the pub's pretty hefty range of cask ales and beers, my dinner date and I turn our attentions toward the main event: discounted dough.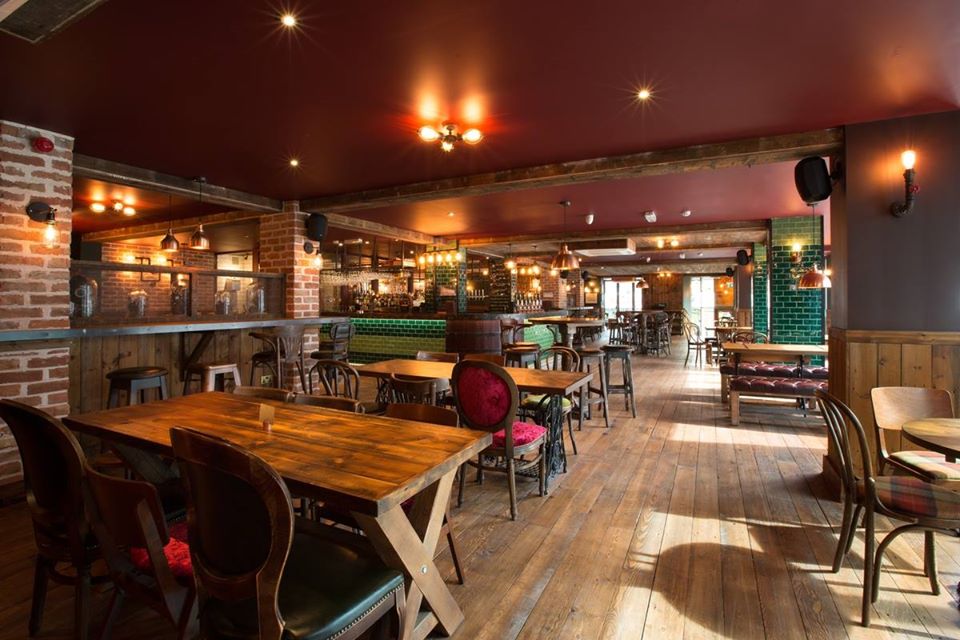 There's a good selection of pizzas, and a handful can be created entirely vegan (win!). As I check the prices, which range from £10 to £14, something catches my eye.
"14-inch square base, ideal for sharing" the top of the pizza menu reads. 14 inch!? That's exciting. We make a quick decision, bagging a half and half, half-price pizza; pepperoni on one side, ham and mushroom on the other. It costs just £2 extra to create a half and half pizza, meaning our joint food bill crashes in at just over £7. That's not bad for some Monday night munch, if not only a tad more expensive than a luxury supermarket pizza.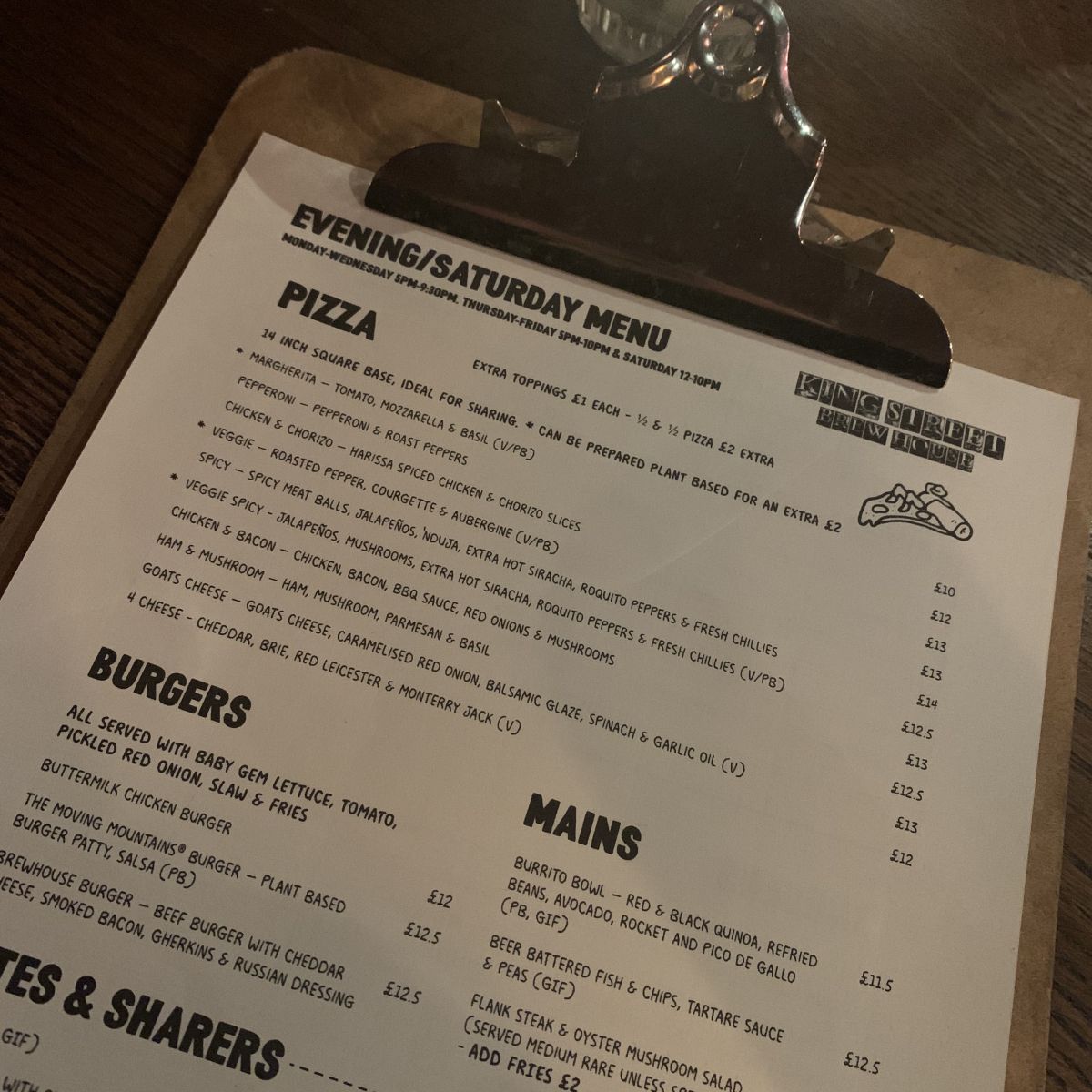 Our pizza, which arrives quickly, piping hot and in a hefty, woven basket (yes, a basket) is served by one of the King Street Brew House's ever-warm and chatty staff members.
Now, a sign outside the pub warns these pizzas are big, but I didn't anticipate quite how big. Although I won't complain about a pizza the size of a table (who would?) I'm glad I'm sharing with a friend.
Our pizza tray is busy with toppings; the ham and mushroom side arrives topped with fresh basil. And luckily, it comes precut.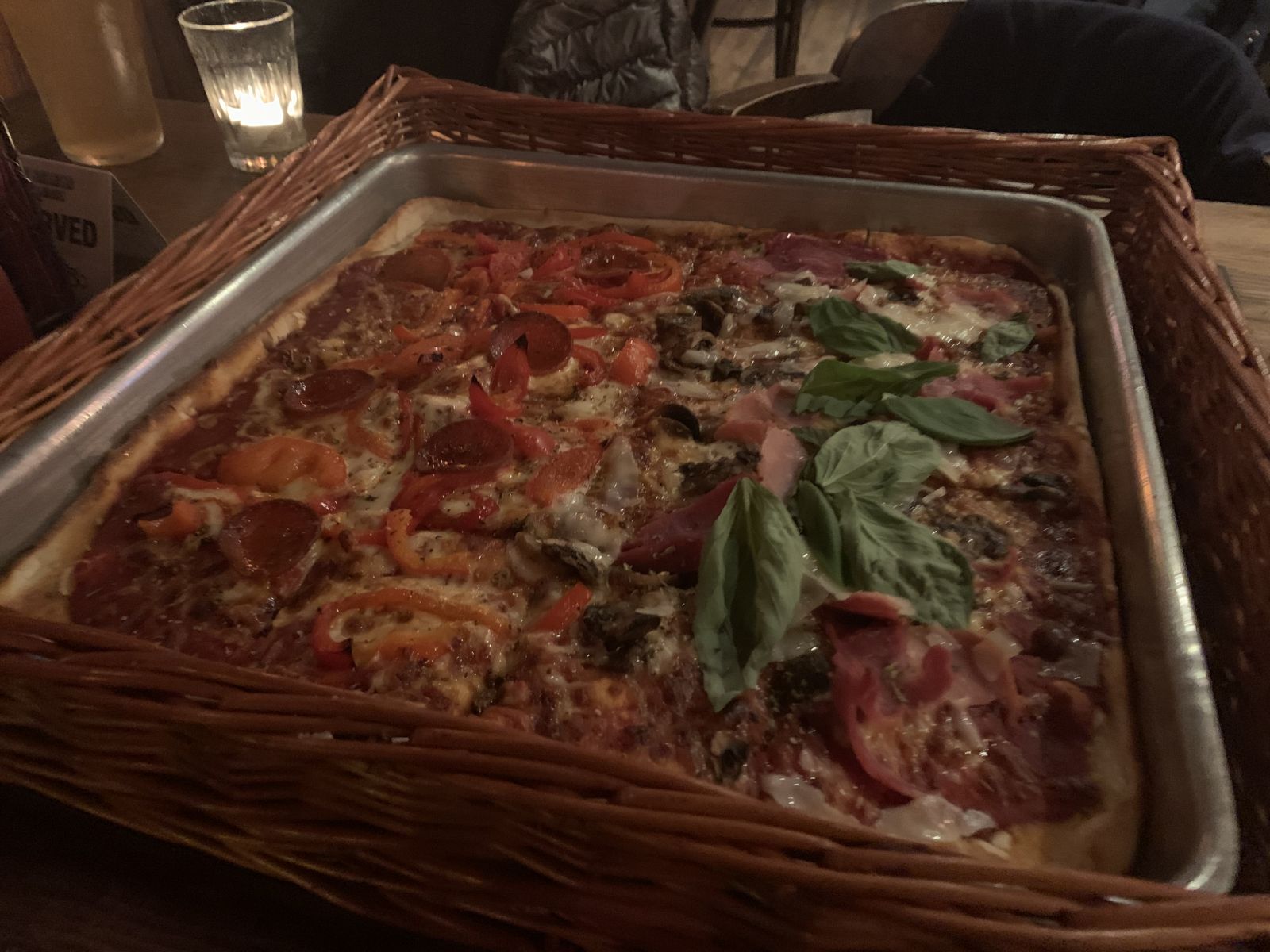 By now, you might be wondering: can a pizza this big actually taste any good? Yep, it can. Not too thick, not too thin, the 14-inch colossus offers a light, doughy base, smothered in a flavoursome, tomato sauce. Whilst both sides taste good, it's the pepperoni, with its splattering of red pepper, that wins our hearts.
As we eat our way through the tray, something becomes excruciatingly clear: this really is ideal for sharing. And for the two of us, it might be a bit too much, so we decide to box up the rest for later.
If anything, this sort of offering is perfect for the King Street Brew House. As a hotspot for group outings, with its sprawling outdoor seating area and large indoor complex, the pub's tasty 14-inch pizza deal is bound to be a crowd-pleaser with even the fussiest among us. After all, it's a bloody bargain.
So, the verdict: we will be coming back? Definitely, but with more of us next time.
---
Read more:

---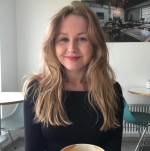 Kate Hutchison