Theatre of Hate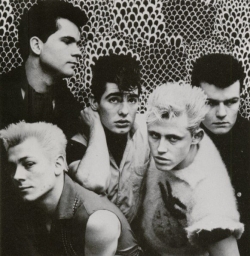 Posted on: 2013-12-12
---
Kelly Knapp at The Fleece.
Theatre of Hate formed in the 1980s and went on to huge, yet fleeting success. A refreshed and reformed line-up returned to Bristol for the opening show of what is a special five-date UK tour.
The post-punks took to the stage with the venue in a lively and friendly mood and to a crowd whose fervent reaction clearly displayed an enduring fondness for the band. The line-up for these shows is front-man Kirk Brandon, saxophonist John 'Boy' Lennard and bassist Stan Stammers, all of whom are original members, plus Adrian Portas on lead guitar and a special guest appearance by drummer Danny Farrant who is currently of The Buzzcocks and formerly of Spear of Destiny.
I have seen both Theatre of Hate and Spear of Destiny, who Brandon and Stammers formed after Theatre of Hate disbanded, several times before and they have always performed an energetic gig with a great, crowd-pleasing set list. Last night was no exception and as ever the show did not disappoint. The set list was fantastic and the band were musically very tight with Lennards saxophone really completing the songs. Theatre of Hate fans were given the songs they all know and love. As soon as Brandons powerful voice filled the venue the fans started the traditional mosh-pit and began to sing along with classic tunes such as Original Sin, Legion, The Wake, Propaganda and Americanos. The atmosphere was lively and everyone, band included, looked like they were having a great time.
Highlights of the night included Brandons powerful, almost operatic, tones singing The Grapes of Wrath and chart hit Do You Believe in the Westworld which sent the crowd wild. Danny Farrant was like a machine on drums during this tune, and it sounded totally exhilarating. The other band members, Lennard aside, all joined Farrant with drums of their own during the instrumental section of the song and this had the crowd joining them, feverishly clapping along and stamping their feet in unison to create a powerful moment of band and crowd unity.
Theatre of Hate played an hour and a half of electrifying classics and took the adoring crowd back to the nostalgia of a 1980's gig. They returned for an encore after loud chants from the crowd to play Solution, which was a superb ending to the show. All in all a great night was given by the these energetic and sometimes unsung heros of the post-punk era.
If you haven't seen Theatre of Hate before then it really it worth going to see a gig. You will leave with your your ears ringing as the band loudly deliver a fantastic show.
---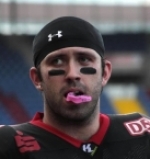 James Anderson
Born and raised in the suburbs of Swansea, Jimmy moved to Bristol back in 2004 to attend university. Passionate about live music, sport, science and nature, he can usually be found walking his cocker spaniel Baxter at any number of green spots around the city. Call James on 078 9999 3534 or email Editor@365Bristol.com.