Review: Jungle at Bristol Sounds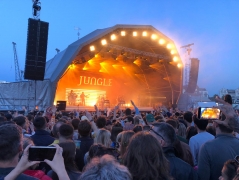 Posted on: 2022-06-26
A performance befitting the Pyramid Stage
---
As I sat through an almost uncomfortably long intermission (which I later learnt was the gap left by an act that had dropped out) and the sun began to set, bringing on a slight chill, I did question whether Jungle's mellow electronic tones would have enough oomph to lift a slightly dull atmosphere, after what had been a good day.
I probably couldn't have been further from the truth.
As the two childhood friends made their way on stage with their now seven piece ensemble, the crowd and atmosphere instantly lifted and the show managed to develop into hysteria by the time we begrudgingly accepted it was over and made our way out.
Only a few hours earlier, I had arrived at an almost unrecognisable amphitheatre and concluded it's probably the most versatile space in Bristol. I'd seen it used as a fun fair, a skate park and a dance floor, but tonight, complete with stage, food stalls and portaloos, it was a slice of Glastonbury away from Glastonbury.
Jungle delivered the headline act and gave us the set list, light show and performance befitting the Pyramid Stage. The crowd was the perfect sample of Bristol's diverse mix of music lovers (I can particularly recall the 50 something year old gentlemen with better moves than me to my left, and the two 'stokes crofters' on my right dancing on one another's shoulders) with a warm friendly atmosphere, reflective of the city it was played in.
Jungle were the perfect act for the occasion and I was beyond impressed with their selection of hits over the three albums and ability to ramp up the crowd with music I often use to relax. The band made their way off stage with no sign of 'Busy Earning' and we instantly knew what we were in for. As the stage went dark and the band disappeared behind the curtain, the atmosphere started to bristle with anticipation and right on queue, they came out to finish, giving the people what they wanted. Which is probably a fair summary of their performance on the whole: an awesome day out, at an awesome venue, with an awesome band. I'd recommend getting down for any of the acts at next year's Bristol Sounds.
Images: Charlie Curling
---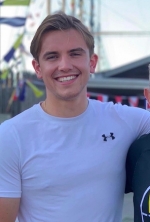 Charlie Curling
Charlie loves music in Bristol and when not at the O2, The Louisiana or The Fleece, you can find him on a football pitch 'trying his best' to play.