Gravity - Film Review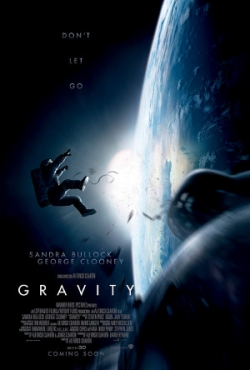 Posted on: 2013-11-22
---
Paul Holbrook and Sam Dawe review 'Gravity' at Vue Cinema, Longwell Green.
Paul's verdict:
'Gravity' won't be the last movie this year to be sold to us a 'cinematic event' but it may well be the first to fully deserve the accolade. 'Gravity' certainly belongs in the 'event' category but it also pushes most others that milk a ride in that particular sales-genre aside too. I left the cinema blown away by the visuals, blown away by the sound, blown away by the whole package and almost found myself gasping for breath alongside our lead, Sandra Bullock.
'Gravity' is a film that simply HAS to be experienced on a huge cinema screen to get the full visual kaleidoscope and simply HAS to be heard in full 7.1 cinema sound to experience the full depth of immersion the score and sound effects have to offer.
The movie wastes no time with weighty set-ups and instead throws the audience in at the deep end of space-travel-gone-wrong after just a few eerily silent space-minutes where the sense of being all alone in the stillness of space is drilled home thanks to the phenomenal and mesmerizing soundscape. It leaves the audience struggling for air from then on in; the levels of excitement and fear (closely bound together in each and every set piece) are through the roof and the film uses its environment to fully stretch of our phobic imaginations.
'Gravity' is a survival movie, a lost-in-space super-movie, but it's the attention to detail that truly launches this movie into the stratosphere; you feel every heartbeat, you wince at every explosive turning point, you're sucked into each and every detailed ignition of drama, and this is all possible thanks to the realism of what you are watching unfold; there are no "as if" moments here. Every well-crafted obstacle or stumbling block holds weight, outdoes what came prior and drags you along for one hell of a ride.
Gravity, however, is not faultless: Cringe worthy exposition, a clunky back story and sub-standard, clichéd character-work can at times leave you feeling a little underwhelmed; Bullock's co-star, George Clooney, for me, bore the brunt of the script's weaknesses. Fortunately these stutters are few and far between and if for a second or two you begin to notice, believe me, a huge slice of genuine excitement is just around the corner to bring the film right back on track and its misgivings are very quickly forgiven. Small bouts of arty symbolism may also jar for some, but for me added to the films breathtaking beauty.
I would urge our readers to get out and watch this movie on the biggest screen you can find, preferably IMAX and strap yourselves in for one hell of a space ride. 8.5/10.
Sam's verdict:
It's been seven years since the release of Alfonso Cuarón's sublime 'Children of Men' - arriving to relatively little commercial fanfare, the dystopian sci-fi drama steadily grew in critical esteem, finding its way onto just about every critic's top 10 of that year list – and with good reason. The film succeeded where most science fiction fails; striking a near perfect harmony between concept and character.
Arriving in its wake, Cuaron's latest offering, 'Gravity' has been subject to a great deal more hype and scrutiny.
The brisk, lean script concerns seasoned astronaut Matt Kowalski's (George Clooney) and along-for-the-ride newbie, Dr Ryan Stone's (Sandra Bullock) struggle for survival after a catastrophic accident leaves them adrift in space with no communication with mission control.
Much has been made of the film's game-changing 3D visuals (the best I've seen) but does it offer the same humanity as its predecessor? Well…It tries...
For all its revolutionary effects – and they are revolutionary – the film is anchored by an inferior script. Though the cast keep it admirably low-key, the dialogue is at times cringe-inducing and far too melodramatic, Bullock is also lumbered with a poorly handled back-story.
It's clear that the script – penned by Cuarón's son, Jonás – intended to flesh out her character by injecting some past tragedy for her to overcome. In fact, all it actually serves to do is subtract from the immediacy of the film's brilliant direction.
Strangely though, this misfire only feels like a minor quibble when the film as a whole works so well at building tension to such levels of intensity. This is best showcased in the film's much-hyped first, extended shot. Over ten minutes in length – It's a marvel. It all plays out in agonizing silence but for Steven Price's brilliant score and sounds of the actor's panicked cries. Set against the background of a tranquil, beautiful Earth, the anxiety starts to build until disaster hits in such a sudden, visceral way that it's impossible to turn away. Space has never looked so beautiful – or dangerous.
With a lesser cast it might've been a failure, but Cuarón's visuals and composer Steven Price's sounds turn a middling script into a near masterpiece of survival and disaster. 4 stars!
---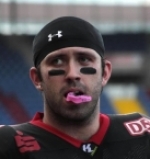 James Anderson
Born and raised in the suburbs of Swansea, Jimmy moved to Bristol back in 2004 to attend university. Passionate about live music, sport, science and nature, he can usually be found walking his cocker spaniel Baxter at any number of green spots around the city. Call James on 078 9999 3534 or email Editor@365Bristol.com.