Beauty and the Beast at The Bristol Hippodrome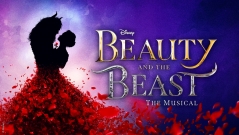 Posted on: 2022-10-06
The tale as old as time takes to the stage
---
It's only just over a year since Beauty and the Beast was the show welcoming audiences back to the Bristol Hippodrome after a horribly long dark period for the theatre.
That press night was one I'll never forget, we were all so happy to be back, but it was a very short run and I'm pleased it's returned now for a longer period, giving more people have chance to see it.
Based on Disney's animated version of a traditional French 'tale as old as time', Beauty and the Beast tells the story of an arrogant prince, cursed after refusing to help an old lady. Not only is he transformed into a monster, but his servants are also victims, turned into household objects such as lamps, clocks and teapots. When the last petal falls from the enchanted rose he's been given, the changes will become permanent, and time is running out. Will they ever be human again?
One thing can save them… Beast must learn to love, and the object of his affection must love him in return. Luckily, Belle, a slightly odd (in the eyes of people who don't like reading) but very beautiful girl from the nearby village, turns up just in the nick of time.
Directed and choreographed by Matt West, with music by Alan Menken, Beauty and the Beast has all the ingredients for a great show – a good story with drama, comedy, and romance; fantastic songs that stay in your head for hours; impressive ensemble dance routines including Be Our Guest, which is all kinds of spectacular; and more than a few moments of theatrical magic.
With Courtney Stapleton and Shaq Taylor in the title roles, the casting is faultless. I particularly enjoy watching Alyn Hawke, Sam Bailey and Nigel Richards as Lumiere, Mrs Potts and Cogsworth and should give a shout out to Zayne Norris, one of a team of five young actors sharing the role of Chip on this tour (if you can figure out how the little teacup's body is hidden in a trolley you can see right through, I'd love to know!)
For me, it's the various elements of design – scenic, costume, lighting, sound, hair and make-up, illusion, and projection/video – that make this show so perfect. It has three distinct styles, as the story moves from Belle's village to the Beast's castle via the dark woods, and the detail is incredible… at times there is almost too much to take in and I certainly notice things this time round that I missed last year.
From children on booster seats to their grandparents sitting beside them, Disney's Beauty and the Beast is a delight for all ages, an utterly joyful production that puts a smile on every face, and I don't hesitate to give it a full five stars. It's playing at the Bristol Hippodrome until Saturday 12 November. Find out more, and book tickets HERE.
---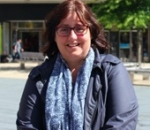 Vivienne Kennedy
Vivienne Kennedy says she lives and works in Bristol but sleeps in Weston-super-Mare, which is where she's actually lived pretty much all her life. During the day, she is Head of Broadmead BID (Business Improvement District), supporting retailers in Bristol Shopping Quarter. Away from work, she's been reviewing theatre, music and art in Bristol for more than 12 years and is rarely happier than when watching a good show at the Hippodrome or Old Vic.