The Stable at Bristol Harbourside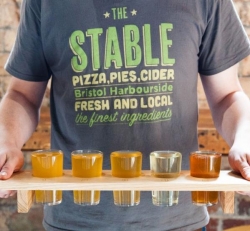 Posted on: 2014-06-02
Unpretentious and throbbing with activity, The Stable is a fun, buzzy venue that more than delivers on fresh, perfectly cooked, exquisitely tasty pizzas alongside a stunning range of ciders.
---
If there are two food indulgences I love to wrap my lips around it's a hearty, succulent, home-made burger or a delicious, tasty, home-made pizza.
The burger will have to wait for now (though the chefs at Banco Lounge in Totterdown knock up a Bristol burger that, besides my favourite emporium of pulled pork delight, Grillstock, is hard to beat) – so for the moment we'll turn our attentions to the harbourside venue, The Stable.
A pizza and cider bar – and isn't that a dangerous combination if ever there was one? It's the third restaurant and bar that follows in the much lauded, successful and award-winning of its predecessors at Weymouth and Bridport.
Situated in the old home of the Chicago Rock and a stone's throw from the Watershed, it's an airy, inviting establishment that encapsulates the trendy restaurant chic and tick-box staples of many contemporary restaurants – exposed brick walls, terracotta floor, and racing green enamel factory lamps. It also has an animated, bustling café feel as customers chat enthusiastically amongst themselves and agonize over which pizza they'll pick from the impressive and mouth-watering menu.
And whilst you're deliberating over what to eat, there's plenty of cider to whet your whistle and build up your appetite.
The Stable serves up to an eye-popping, head-scratching 60 ciders - dry, medium, sweet, sparkling, scrumpy, in bottles, on tap or from the myriad row of boxes behind the bar – with an equally varied assortment of quirky names such as Cotswold Cider Sweet Cheeks, Somerset Glory, and Orchard Pig Naval Gazer.
There are salads, pickle platters and pies available, but the main attraction here are the pizzas.
And what sensational pizzas they are too. Being open plan, you can see them being made in the kitchen as the chefs eagerly roll the dough, add the toppings and slide them into the huge ovens.
I plumped for the Clifton Suspender, a perfectly cooked, thin crust doughy disc of pure pizza perfection, topped with free range chicken, roasted red pepper, mushrooms, tomato and mozzarella.
All their pizzas arrive on a wooden board with a pizza cutter so you can slice it up yourself, the edges practically shattering with my perhaps over-vigorous motion of the cutter. Once sliced, you can indulge in what will be one of the best pizzas you'll ever experience – guaranteed.
Perfectly cooked and delicious and created using the finest, tastiest ingredients, saying each wedge was a sampling of heaven is an understatement. The angels danced on my tongue and the entire concept of the simple pizza took on a new and exhilarating meaning. The likes of Deep Pan, Pizza Hut and Dominos were instantly banished, rescinded as inferior relations and pale imitators to the real thing. Every sliver was bliss. Mouthgasms were had.
The lunchtime menu offers a selection of hot wraps and smaller versions of the pizzas with over a dozen options, including Margherita, The Portishead Piggy and The Avonmouth Angler.
I didn't go for a dessert, although the pizza pudding – thin crust with Nutella and blobs of mascarpone – did sound intriguing and tempting. Perhaps next time.
It's a buzzing, often loud and rambunctious venue and the decibel levels might put some people off – intimate meals of whispering sweet nothings are out of the question here – but I love it.
Unpretentious and throbbing with activity, The Stable is a fun, buzzy venue that more than delivers on fresh, perfectly cooked, exquisitely tasty pizzas alongside a stunning range of ciders, deservedly pulling in the punters and going from strength to strength.
4.5/5
Reviewed by Jamie Caddick for 365Bristol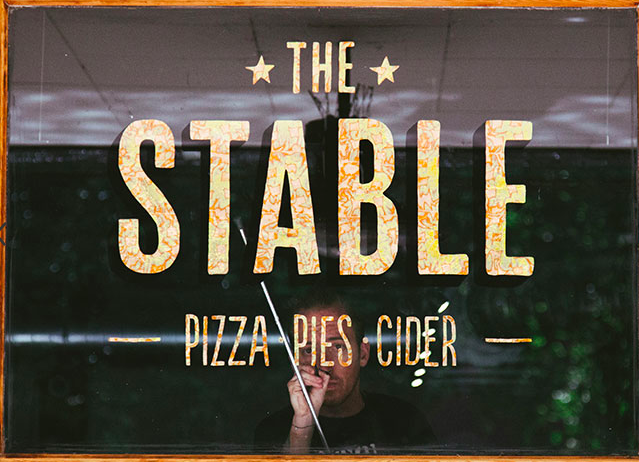 The Stable Canon's Road, Harbourside, Bristol, BS1 5UH. Tel: 01179 279999.
---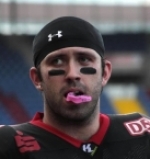 James Anderson
Born and raised in the suburbs of Swansea, Jimmy moved to Bristol back in 2004 to attend university. Passionate about live music, sport, science and nature, he can usually be found walking his cocker spaniel Baxter at any number of green spots around the city. Call James on 078 9999 3534 or email Editor@365Bristol.com.