St Petersburg Symphony Orchestra at Colston Hall - Concert Review

Posted on: 2017-10-20
Classic, timeless Russian masterpieces of the repertoire composed by four Russian compositional titans and performed with gutsy, unyielding, impassioned authenticity by a first-class orchestra. Absolutely phenomenal.
---
To an expectant, near sold-out crowd at Bristol's Colston Hall on Thursday 19th October 2017, the players of St Petersburg Symphony Orchestra emerged on stage to an enthusiastically appreciative, vigorous round of applause. And that was before they'd even performed a single note. But there was a buzzing sense of anticipation in the air and, as the lights dimmed and conductor Alexander Dmitriev took to the podium to more expectant clapping, it was clear that this was going to be a very special night of music. And in every respect, it didn't disappoint.

Launching into Mussorgsky's Night on the Bare Mountain - a piece that has been used in countless films, TV and adverts - it's delirious mix of swirling strings and instantly recognisable brass-led theme acted as the perfect curtain raiser to proceedings. Atmospheric and ballsy, there was nevertheless plenty of scope for some cheeky playfulness and a closing tender yearning before rounding everything off with a low-key, hushed whimper as opposed to the original hellraising bang.
Pianist Peter Donohoe strode on stage and sat at the piano to join the orchestra for a rendition of Rachmaninov's Piano Concerto No. 4 that was utterly mesmerizing from start to finish. The ensemble blended effortlessly and seamlessly with Donohoe's frankly gobsmacking pianistic pyrotechnics, clearly a master of the instrument and revelling in the piece which he impressively knew by heart.
The lengthy composition was, in fact, the perfect showcase of both Rachmaninov and Donohoe's colossal talents. The composer's typically beguiling, often adrenaline-pumping blend of immense, swooning lyricism, delirious melodies and impeccable orchestration merged with the orchestra's understanding of its alternating textures and when to let the pianist soar between giddying, Tazmanian devil-style finger-flashing alacrity and moments so tender - particularly in the second, delicate movement - that it entranced the audience to such a wowed, silent extent you could have heard a pin drop.
Opening the second half was Prokofiev's Classical Symphony, a short, fun, feisty composition in four movements that was written to imitate the style of Haydn. Given Prokofiev's own interpretation of the technique and the tweaks, twists and turns he gives it with his own inimitable symphonic approach and what we have is a reverential nod, a doffing of the cap, a flighty, light pastiche that makes it unquestionably, charmingly his own.
Tchaikovsky's take on Shakespeare's Romeo and Juliet was given full orchestral expression with his powerhouse Fantasy Overture. A pianissimo, slow start incrementally builds to a blistering crescendo of blazing brass, thunderous drums and crashing cymbals before the immortal theme for the star-crossed lovers - heart-wrenching, enchanting, enthralling, sublime - is given full, unashamedly romantic release on the strings. Another attack of orchestral sturm and drang is unleashed before a recapitulation of the achingly passionate love theme after which it all closes mysteriously and peacefully.
It's fair to say that a Russian orchestra playing an entire programme of all-Russian music was always going to be something to be heard to be believed, and the players irrefutably had a total grasp, understanding and love of the music of their homeland. Tempo and dynamics were spot on and the playing was simply astonishing; artists in total control of every composition, ever bar and every note. They lived, breathed and played with exemplary musicianship, coaxed along by Dmitriev whose fluent, controlled conducting never deviated into unnecessary histrionics.
Classic, timeless Russian masterpieces of the repertoire composed by four Russian compositional titans and performed with gutsy, unyielding, impassioned authenticity by a first-class orchestra. Absolutely phenomenal.

---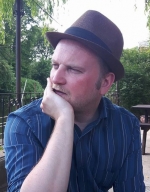 Jamie Caddick
Jamie is a writer, blogger, journalist, critic, film fan, soundtrack nerd and all-round Bristolian good egg. He loves the music of Philip Glass, the art of Salvador Dali, the writings of Charles Bukowksi and Hunter S Thompson, the irreverence of Harry Hill, and the timeless, straw-chomping exuberance of The Wurzels. You can sometimes find him railing against a surging tide of passing cyclists, or gorging himself senseless on the Oriental delights of a Cosmos all-you-can-eat buffet.