Seven Brides for Seven Brothers at The Bristol Hippodrome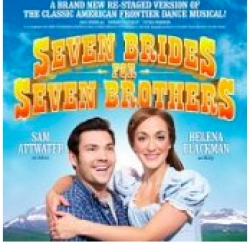 Posted on: 2014-01-14
Magnificent, Excellent, Brilliant!
---
Seven Brides for Seven Brothers opened this evening, Tuesday 14 January 2014, for a 5 day run at The Bristol Hippodrome which concludes on Saturday 18 January 2014.
Starring Sam Attwater, of Hollyoaks, E20 then Eastenders, and of course the Dancing on Ice 2011 champion alongside his leading lady Helena Blackman who you all might remember as the runner up in Andrew Lloyd-Webber's How Do You Solve a Problem Like Maria. This MGM blockbuster musical has been brought to the stage with fabulous choreography by Patti Columbo.
Review by Anna Murphy
The stage presentation of MGM's blockbuster musical Seven Brides for Seven Brothers opened to a full house at The Bristol Hippodrome.
Having seen the film on several occasions I did have concerns of how they would bring the Wild West to the theatre and can say that the often overlooked background crew really were stars of the show themselves. The scenery was extremely good and the changes in venues seemed effortless as backgrounds were dropped into place from left, right and above.
The cast have obviously worked extremely hard and the stand out performer was Sam Attwater playing eldest brother Adam Pontipee. Much more than just a soap actor, this chap can sing, dance and of course we've already seen his hidden talents on the ice rink. A mention should also go out to the choreographer Patti Columbo who has put together a high intensity programme that kept the audience entralled.
The story of the show follows Adam's whirlwind marriage to Milly having only met for a couple of hours and her introduction to his 6 brothers who she meets at Adam's cabin in the mountains. Despite Milly's best efforts to teach the rowdy brothers some manners they end up kidnapping six ladies and end up snowed in with them in the mountains for the winter. This is a tale of love and romance and a great nights entertainment no matter what your age!
Performances continue at 7.30pm until Saturday 18 January 2014 with additional matinee shows at 2.30pm on Wednesday 15, Thursday 16 and Saturday 18 January.
---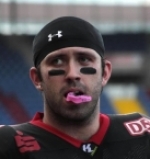 James Anderson
Born and raised in the suburbs of Swansea, Jimmy moved to Bristol back in 2004 to attend university. Passionate about live music, sport, science and nature, he can usually be found walking his cocker spaniel Baxter at any number of green spots around the city. Call James on 078 9999 3534 or email Editor@365Bristol.com.