Romy's Kitchen in Thornbury - Bristol food review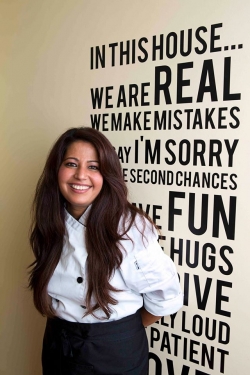 Posted on: 2014-06-11
One thing that?s great about Romy?s Kitchen is that it really is a family-based business that has friendly and knowledgeable staff on hand to explain the menu further whilst Romy concentrated on preparing delights for us in the kitchen. 4/5.
---
Following its emergence in September 2013, Romy's Kitchen is a relative newcomer to the Bristol food scene. Although given its award for 'Best Vegetarian' from the Bristol Good Food Awards in 2014, it's clear Romy's are doing pretty well for themselves despite being based in the town of Thornbury which is somewhat off the beaten track. Romy's Kitchen is also the first ever Indian to be owned by a female chef-owner in the UK, so it's great to see more females heading up their own kitchens in a predominantly male industry.
From its residential surroundings, you wouldn't necessarily assume Romy's to be a restaurant, or more specially, an Indian restaurant at first glance. Its peach-orange walls keeping with the residential Castle Street's colourful nature. However when venturing further in you are soon welcomed with the sweet fragrance of various spices escaping from the kitchen which undeniably set Romy's out as an Indian restaurant.
One thing that's great about Romy's Kitchen is that it really is a family-based business. The friendly and knowledgeable staff are on hand to explain the menu further whilst Romy concentrated on preparing delights for us in the kitchen. Romy has used her mother's inspiration using many family recipes in the kitchen as well as at home with her children. There were also a great number of veggie options on offer, moreso than I have seen anywhere else, given that her husband and many of her family are veggies. Aubergine, butternut squash, chickpea and paneer (Indian cheese) based dishes are all up for grabs. Although if you're a big meat-eater, there are plenty of lamb, chicken and fish options too, for a higher price.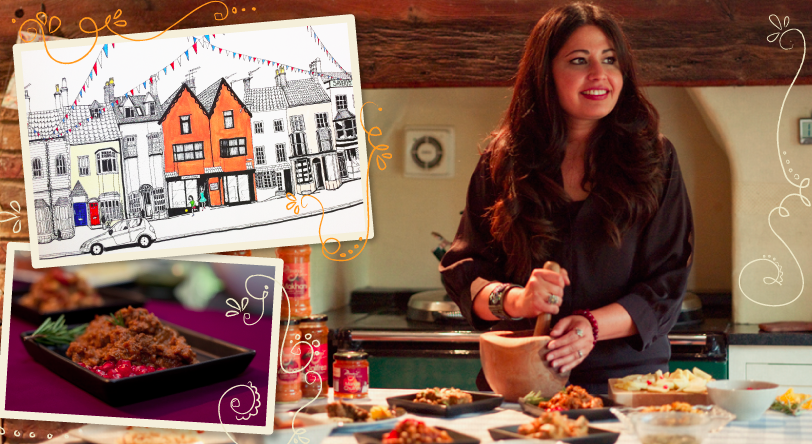 To start, we opted for the crab cakes served with apple and cabbage coleslaw and chutney (£6.50) and Aloo-Tikki (mashed potato, chilli, ginger and coriander cakes) served with chickpeas and salad (£6.00). Both were delicious and well spiced, leaving a little hint of heat on the palate without overpowering the other spices and flavours of the food.
Moving on to the main course, Romy's are a little different to your standard Indian. Gone are those familiar spinning tables which you so often find where you order a few curries (which always come in huge quantities) and dip into each one. Rather at Romy's the dishes come in small yet deep ceramic pots which she likened to the tapas style where you order three(ish) dishes between two with some naan and rice to share. The naan too is a little unusual in that it comes pre-cut into triangles as opposed to being heaped on a plate but they were beautifully light and went down well.
After painful deliberation, we followed Romy's advice and went for the saffron rice (£2.50) and tandoori naan (£2.00) to share with the popular monkfish marinated in turmeric and lemon (£14.00), butternut squash cooked with chilli, five spice and ginger (£7.00) and baby aubergines cooked with beans, onions, ginger, tomatoes and spices (£7.50) for our main. Admittedly, we did think the price was a little steep for the monkish given that there was only about a third of the fish in the sauce when it arrived but then, it was also our table's favourite of the three. The butternut squash and aubergines were also delicious as the main ingredients of the two veggie curries, their fleshy nature allowing for the juices and spices to be entirely absorbed before we quickly filled our ravenous stomachs in joyous haste. It was also great that none of the dishes were too hot or overly spiced which has often been the case in the past. Romy takes great pride over her use of spices and the combinations she incorporates within her dishes and that certainly came across in the flavour. All the dishes had a kick certainly, but not enough to completely eradicate your taste buds from all taste but chilli!
Of course, we couldn't depart without trying some desert. So we went for the scoop of saffron ice cream and a rose-water rice pudding with Monsoon Malabar coffee to wash it down with. Being a bit of a coffee connoisseur I couldn't resist. A proper filter coffee with 'heavy bodied and musty rich aromatic flavours' - How could anyone resist?
For a light way to end the meal, the saffron ice cream was a winner. The subtle and refreshing flavour of the ice cream cleansed the palate nicely. Although my rice pudding had to be one of the highlights of the meal for me. Initially we considered it might be a rather stodgy dish as it usually is in most places. But at Romy's, the rice pudding desert was more fluid than usual, flavoured by the rose water and slight spices it had been cooked in which made it a more delicate dish.
In all, we had a lovely evening at Romys. The venue was serene, although I suppose on a Thursday night it probably would be. The food was of great quality with most of the ingredients sourced from the South West - meat from Buxton Butchers in Winterbourne, Fish from Kingfisher Brixham in Devon and dairy produce from Jess Ladies and Ivor's Ice Cream in Gloucestershire.
If you're looking for a cheap and hot curry, this may not be your deal. But with a rice, naan and three vegetarian mains coming to around £26, it's a great place to go for a Friday night treat.
4/5
Reviewed by Grace Fox for 365Bristol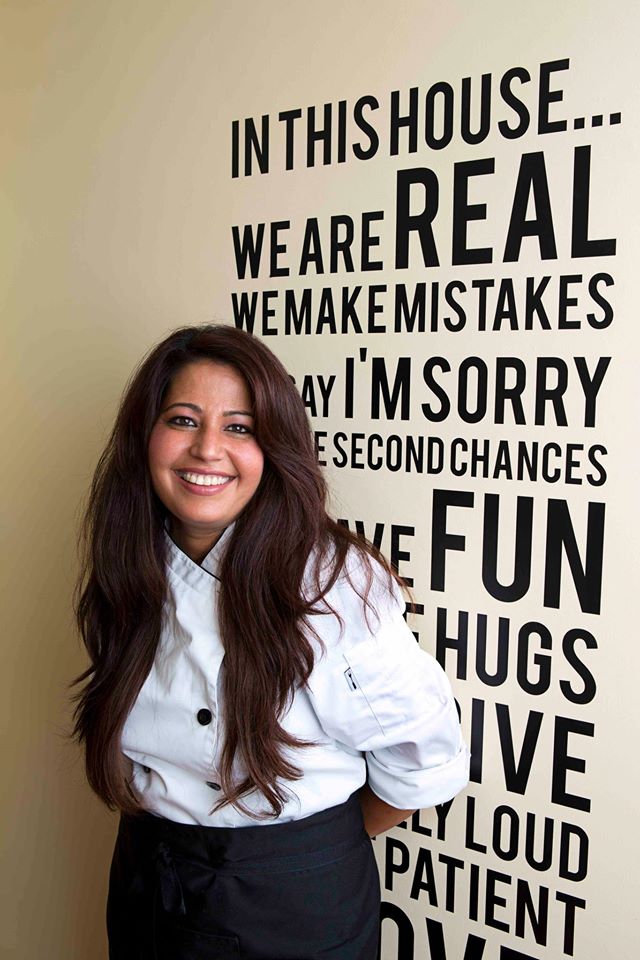 Romy's Kitchen
2 Castle Street, Thornbury
South Gloucestershire, BS35 1HB
Tel. 01454 416728
Email. eat@romyskitchen.co.uk
---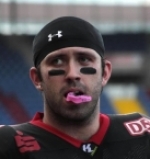 James Anderson
Born and raised in the suburbs of Swansea, Jimmy moved to Bristol back in 2004 to attend university. Passionate about live music, sport, science and nature, he can usually be found walking his cocker spaniel Baxter at any number of green spots around the city. Call James on 078 9999 3534 or email Editor@365Bristol.com.