Review: My Grandmother @ Watershed | Slapstick Festival 2022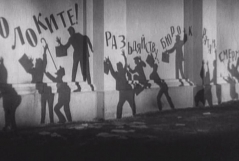 Posted on: 2022-01-27
Kote Mikaberidze's surreal and anti bueraucratic silent comedy classic is humourous and inventive in equal measure.
---
Continuing with Slapstick's international offerings, My Grandmother (1929) is a Georgian-made film from the time of the Soviet Union; a fever-dream of anti-bureaucratic silliness from Director Kote Mikaberidze.
My Grandmother is a silent comedy contemporary with legendary surrealist classics like Un Chien Andalou and The Seashell and the Clergyman, and it uses much the same techniques, in crucial combination with the hint of a story and the heightened, silly comedy of slapstick and silent comedy classics.
As with Days of Youth, My Grandmother was accompanied live and entirely improvised by John Sweeney, putting out an even more frenetic performance as he follows the maddening and exhausting twists and turns of the film.
The film depicts the struggle of a man to regain his former job, 'director of business', after losing it in an absurd jumble of bureaucratic nonsense and personal laziness, all while pursued by his angry soon-to-be ex-wife.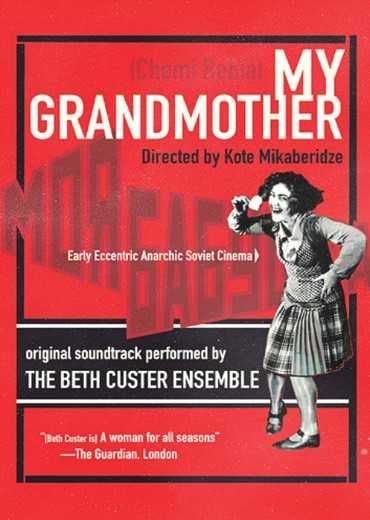 These two clear plot points – a goal and a driving force behind him - temper the more surrealist elements and make for a film that's easier to follow and invest in than its contemporaries.
Humour seems to be My Grandmother's primary goal, and its jokes land well, provoking real laughs from the audience. But it does so much more than that, and hosts an impressive array of experimental techniques, playing with in-camera trickery using clever cuts, reversed footage and so on, as well as multiple counts of mesmerising stop-motion, and using physical filters in front of the camera to produce different visual effects.
Finally, My Grandmother is a highly didactic film: it's anti-bureaucratic and ostensibly pro-worker rhetoric had a real point, and it was even banned by the Soviet Union during its original release.
So whether you want to laugh, think, or be dazzled, My Grandmother (and, it would seem, the Slapstick Festival) has what you want.
Slapstick Festival runs until January 30 2022, and the full schedule and tickets can be found here.
---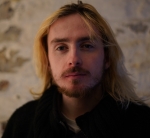 Patrick Bate
Patrick is a filmmaker with so much Bristol in his blood the white blood cells are graffiti'd. Educated at the Northern Film School in Leeds, he's returned home to be a Videographer and Reviewer for 365Bristol and BARBI. When he's not messing about with cameras, he enjoys playing guitar, spending far too much time on tabletop RPGs, and being an awful snob about cider.