Review: Mamma Mia! @ The Bristol Hippodrome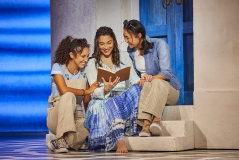 Posted on: 2022-06-16
Like a holiday in Greece, minus the queue at the airport.
---
It's been a very long Wednesday by the time I take my seat in the stalls to watch Mamma Mia! but, from the very first note of the overture until we all take to our feet to dance (and sing) along to the finale, I feel completely re-energised.
There are some shows I will happily watch again and again, and Mamma Mia! is one of them, this is the third, maybe fourth, time I've seen it, but it still feels fresh, and I've noticed different things each time. Tonight, it's the costumes, predominantly blues and neutrals until the wedding scene when the entire cast is in sunset shades of pink and orange.
Mamma Mia! tells the story of bride-to-be Sophie, raised by a single mother (Donna) on a small Greek island and determined to find her father before her wedding and have him give her away. A sneaky look at her mother's old diary reveals three possible candidates and Sophie invites them all to her nuptials. What could go wrong?
The show is packed with ABBA classics, I count 22 listed alphabetically in the programme, and it's hard not to join in. I won't deny singing in my head and can confirm I know every word! It's impossible to pick a favourite, but I defy any mother of a daughter not to have tears in her eyes when Donna, played by Sara Poyzer, sings Slipping Through My Fingers; it gets me every time.
Along with the songs, there are some fabulous ensemble dance routines, including one performed in flippers, which is pretty impressive!
No complaints about the casting at all; I find myself thinking it must be a fun tour to be on as they all look like they're really enjoying themselves. A special shout-out though for the, not one, but three understudies who take to the stage for press night - Phoebe Roberts as Sophie, Luke Jasztal as Bill Austin, and Billy Downes as Sky - and to the show's swings - Rachel Ivy, Matt Kennedy, Hollie Nelson and Robert Knight - who will have stepped into their ensemble roles. You can't tell that any of them don't play those characters at every performance.
For two and a half hours, I feel like I'm on holiday in Greece, but without the queue at the airport and no need to keep applying factor 50; I couldn't possibly give it less than five stars.
Mamma Mia! plays at the Bristol Hippodrome until Saturday 2 July, a perfect theatrical summer treat.
---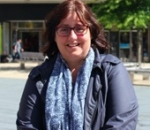 Vivienne Kennedy
Vivienne Kennedy says she lives and works in Bristol but sleeps in Weston-super-Mare, which is where she's actually lived pretty much all her life. During the day, she is Head of Broadmead BID (Business Improvement District), supporting retailers in Bristol Shopping Quarter. Away from work, she's been reviewing theatre, music and art in Bristol for more than 12 years and is rarely happier than when watching a good show at the Hippodrome or Old Vic.