Psycho Live! with The British Sinfonietta at The Colston Hall in Bristol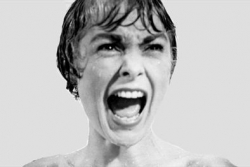 Posted on: 2014-04-11
Psycho Live! takes the movie-going experience into a different, thrilling realm, presenting Hitchcock's lugubriously seminal classic with a live string orchestra performing Bernard Herrmann's ground-breaking, definitive score.
---
Director Alfred Hitchcock always maintained he'd made Psycho as a black comedy, so the Master of Suspense would have been more than delighted with Psycho Live!, during which the sold out audience emitted plenty of chuckles between the screams of Hitch's seminal Gothic masterpiece.
Psycho ranks as the absolute granddaddy in the pantheon of all horror thrillers. Since its release in 1960, it's been reviewed, analysed and deconstructed ad infinitum, barely leaving a celluloid stone unturned at unravelling the mystery, power and allure of Alfred Hitchcock's work of genius.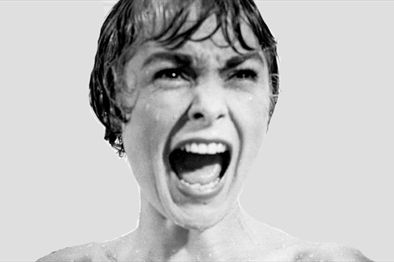 Upon its initial release the film was a hit with fans but not with critics, who found it cold, detached and brutal. With its Grand Guignol theatrics and unsettlingly Gothic overtones, it was a far cry from Hitchcock's previous film, the Cary Grant-starring comedy thriller, North by Northwest.
Psycho might have dated somewhat with the passing of time, but there's no doubt it set the benchmark and created the template for a cornucopia of other psycho-stalker-slasher-thrillers, with its darkly morbid themes of murder, obsession, matricide, psychoanalysis and a transvestite killer dressing up at his dead mother.
It also utilizes many of the director's recurring themes, motifs, and Hitchcockian flourishes such as birds, inveigling the audience as voyeur, sexuality, staircases and blonde women.
There are plenty of classic movies that have been re-released, cleaned up, and given hi-def sound and image treatments for new generations of filmgoers, but it's often difficult to give them a truly refreshing exciting edge beyond simply presenting the film afresh.
Psycho Live! takes the movie-going experience into a different, thrilling realm, presenting Hitchcock's lugubriously seminal classic with a live string orchestra performing Bernard Herrmann's ground-breaking, definitive score.
Herrmann's decision to use an all-string orchestra reflected his intention to create a black and white sound for a black and white film, and Hitchcock himself said that the movie was responsible for 33% of the final film's success. (For Herrmann's exemplary contribution and by way of expressing his gratitude, Hitchcock doubled Herrmann's salary.)
From its opening, strident bars, Herrmann's music sets the relentless, dark tone to follow. Played expertly by the British Sinfonietta under the controlled baton of Anthony Gabriele in front of a screen above the stage projecting the film, the driving, propulsive rhythms of the energetically agitated main title set the tense tone of things to come. It segues into the more slowly unsettling city music, a more plaintive yet still disturbing musical indicator of the disquieting events that will unfold.
Besides Herrmann's classic score, it's a master class in tight storytelling, skilful characterisation, atmosphere and mood, adroit cinematography and neat set-pieces.
And then we get to the immortal shower scene itself. Often imitated, frequently parodied, never bettered, it's one of the most iconic sequences in modern movie history.
Killing off the main character, Marion Crane (Janet Leigh) was audacious and shocking enough – getting her bloody just desserts for pilfering $40,000 from her employer? – but Hitchcock's execution of Marion's actual execution by motel owner Norman Bates (Anthony Perkins) was a vicious and shocking as it was riveting. And not just on a story/character level, but on technical and myth-making ones too. To wit:
The three minute sequence was shot over seven days with 77 different camera angles and 50 cuts, the majority of which are claustrophobic and extreme close-ups. The blood was actually chocolate syrup, the knife-in-flesh sound effect was a knife being plunged into a melon, and the seemingly impossible shot of the shower looking into the showerhead was achieved through a long lens looking up (the water is actually going around the camera). Janet Leigh said she did the scene herself, although Robert Graysmith's book, The Girl in Hitchcock's Shower, suggests a stunt double was used for some of the shots. The screams, however – some recorded live, others in post-production – were all Leigh's.
It was a scene that evoked gasps of collective recognition, plenty of knowing smiles and a few laughs, a power amplified ten-fold by an audience who knew they were watching a classic murder montage accompanied by classic murder music. Spine-tingling horror history revisited indeed.
From that point on – arguably the genesis of the slasher movie – the narrative shifts up a gear or two, as Bates frantically mops up the blood and any scrap of evidence, and Marion's lover and sister employ a private detective to track her down.
Herrmann's music punctuates the scenes with his usual, genius dramatic sensibility, alternating between chilling, brooding, restless, tormented, and utilizing repeating musical motifs and devices: sparse, lean, cut to the very marrow of the bone, a utilitarian musical exactness that tells the story musically without wasting a single note.
The live performance by the British Sinfonietta was absolutely faultless. Matching the tempo of the music to the images is no easy task, but they confidently rose to the challenge and completely nailed it, hitting each cue with total precision, complementing the onscreen action. It was often easy – and this is no pejorative remark at all – to forget the orchestra was even there, so seamless was their musicianship and marriage of music to image. That's how skilful, accurate and well-timed they were.
The balance of dialogue and music was also flawless. The music didn't overwhelm the image or vice versa, creating an aural soundscape that impeccably recreated Herrmann and Hitchcock's original dramatic intentions.
Director Godfrey Reggio – director of the meditative, seminal Qatsi trilogy and the soon-to-be-released Visitors – said the accompanying score by composer Philip Glass was akin to a new aural experience, an inventive soundscape and interlocking, inseparable discourse between music and image. He referred to this visual and aural synchronicity as concert cinema.
And with Psycho Live! that's precisely what we have: a classic score to a classic film, music and image synched perfectly, the fusion of pre-recorded film and the vibrant immediacy of a live orchestra, an unforgettable aural adjunct to a timeless horror classic.
5/5
Reviewed by Jamie Caddick for 365Bristol
---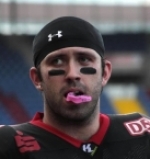 James Anderson
Born and raised in the suburbs of Swansea, Jimmy moved to Bristol back in 2004 to attend university. Passionate about live music, sport, science and nature, he can usually be found walking his cocker spaniel Baxter at any number of green spots around the city. Call James on 078 9999 3534 or email Editor@365Bristol.com.