La traviata at The Bristol Hippodrome performed by The Welsh National Opera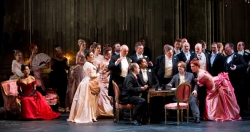 Posted on: 2014-04-15
With magnificent music, spectacular singing, dancing and a captivating story there is something for everyone to enjoy. I would highly recommend La traviata to those who are already lovers of the opera and those like myself who had never been before.
---
Giuseppe Verdi's La traviata performed by the Welsh National Opera in the Bristol Hippodrome with it's passionate plot, breathtaking music and enchanting performances was truly a delight.
Set in Paris at the beginning of the 18th Century La traviata is the tragic love story of Violetta, a courtesan, and Alfredo. Filled with passion and wonderful singing and dancing I was captivated from start to finish!
Having never been to the opera before I was unsure of what to expect from the experience, but was pleasantly surprised to find that I enjoyed myself immensely. I had imagined that everyone in the audience would be dressed in their very best and draped in jewels, however I was pleased to find that this was not the case and everyone was dressed rather casually, so I did not look out of place in my jeans! Nobody was at all stuffy as I had expected, and I was surprised to see that the ages of the audience ranged from around 16 to people in their 70's and 80's.
The other worry I had was that I wouldn't understand what was happening on stage as my understanding of Italian is less than impressive! Thankfully I couldn't have been more wrong, as electronic surtitles were visible over the stage so that you could follow what was happening. Even at times when the words were not provided, I found that I didn't need them to enjoy the performance.
As the curtain rose we were greeted by a magnificent party scene filled with cast dressed in gorgeous costumes of ruby and varying shades of purple. Lavish props and backgrounds brought the scenes to life, and the lighting and colours in the scenery cleverly reflected the mood that each act and scene portrayed. The orchestra conducted by Simon Phillips was absolutely extraordinary and a joy to listen to. The atmosphere the music created was fantastic, and the audience seemed to love every minute of it, with a lengthy applause at the end of every song, and a standing ovation for the orchestra from many at the end of the night.
Linda Richardson's dazzling performance as the famed and fun loving courtesan Violetta was spectacular. She left the audience breathless after each song, and made the many impossibly high notes seem almost effortless. Alfredo Germont, who is in love with Violetta, was performed by Ji-Min Park instead of Leonardo Capalbo who had been listed as playing the part on the night we attended. His portrayal of Violetta's ardent lover Alfredo was a delight, and I felt he gave a particularly moving performance in act three when the two lovers are reunited. Not to be overlooked is the talented Alan Opie who plays Gergio Germont, Alfredo's father. His performance throughout was wonderful, but my favourite part was the scene between Giorgio and Violetta in act two in which his singing was unforgettable.
I thoroughly enjoyed the Welsh National Opera's performance of La traviata, with magnificent music, spectacular singing, dancing and a captivating story there is something for everyone to enjoy. I would highly recommend it to those who are already lovers of the opera, and even those who, like myself, have never been before. You may just get hooked!
5/5
Reviewed by Steph Thorne for 365Bristol
---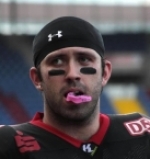 James Anderson
Born and raised in the suburbs of Swansea, Jimmy moved to Bristol back in 2004 to attend university. Passionate about live music, sport, science and nature, he can usually be found walking his cocker spaniel Baxter at any number of green spots around the city. Call James on 078 9999 3534 or email Editor@365Bristol.com.