Just Jack Halloween Freak Boutique at Motion in Bristol - Gig review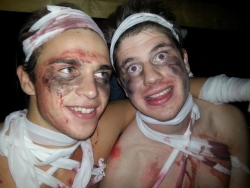 Posted on: 2013-10-27
---
Just Jack at Motion reviewed by 365Bristol student reviewers Tom Greenwell and Alex Lucani
Just Jack is an award winning night based at Motion in Bristol who specialise in throwing carnival style events that push the boundaries of a nightlife experience. And this year's "Halloween Freak Boutique" on Saturday 26 October 2013 was well above the bar set by previous events. It was held at the recently refurbished Motion, a night club based around the corner from Temple Meads station that prides itself in hosting the best all night events in Bristol going on until 6-7am usually. The line-up featured some big names across a variety of genres from deep house to dub-step. But it is not all about the music at Just Jack events with a range of other things available from face painting to The Sordid Cinema.
The music was split between 2 main rooms The Ramp Room and The Warehouse; the Ramp room hosted a number of DJ's throughout the night but the main 2 were Joy Orbison and Ben UFO. Joy Orbison, a London based DJ, is known for playing a large mix of musical genres in his sets usually ranging from a mix house, dubstep, UK funky, UK garage and old school jungle. He did not disappoint, playing a large mix including some of his own creations including Mercy, Hyph Mngo, Ellipsis and Swims.
Next up was Ben UFO, now he doesn't actually produce or make any of his own music but he has still managed to make a name for himself and this really was apparent when he put together a 2 hour "Essential Mix" on BBC Radio 1 for Pete Tong at the beginning of the month. His selection of music that night was centred around a deep house theme playing remix's of big songs like Imogen Heaps Hide and Seak and Tough Love & Taylors React. As well as playing some electronic funk style as well as some older style dub-step. The other DJs Leon Vynehall, Tom Rio and Dan Wild all seemed to have put on good sets but you can't be at 2 places at once as the other big names were being hosted in "The Warehouse".
The big names in the Warehouse were Zip and Mr G, Zip aka Thomas Franzmann, isn't widely known throughout the nightclub scene due to keeping a very low profile but he is renowned for exceptionally well structured sets and is still an avid believer that vinyl is best, and refuses to play from digital. Only having produced a couple of songs, Clean Hands and Window Shopping they were well greeted by the crowd when mixed into his sets.
Next came Mr G (Colin McBean) has had pretty much the same sound for nearly 15 years, which is much more of an achievement than it might sound like. His hard and dusty style of house has fallen in and out of vogue. Currently his sound is very much in fashion and he has a large repertoire of songs that he can call upon to play in his sets, including My Father's Farda (Mr G's Soundboyz Dub) Going Home and Song For My Cantor.
Overall we can say that the night was a huge success with a sell-out attendance weeks before the event and an apparently happy audience at the close of the night at around 6.30 am.
---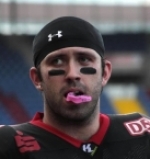 James Anderson
Born and raised in the suburbs of Swansea, Jimmy moved to Bristol back in 2004 to attend university. Passionate about live music, sport, science and nature, he can usually be found walking his cocker spaniel Baxter at any number of green spots around the city. Call James on 078 9999 3534 or email Editor@365Bristol.com.