Jurassic Park in Concert at The Bristol Hippodrome review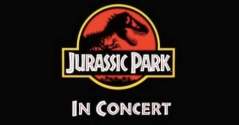 Posted on: 2018-09-11
A cinematic touchstone then and still a cracking thrill ride now, through the miracle of dino cloning, a huge screen, pristine movie print and a top-of-their-game symphony orchestra, dinosaurs did indeed once again walk the Earth.
---
As the original poster proudly declared way back in 1993, Jurassic Park was 65 million years in the making. And as far as waits go, this was absolutely worth it. Steven Spielberg's epic dinos-on-the-rampage adventure romp broke all box office records and knocked his own ET The Extra Terrestrial off the top spot as the most successful film of all time. Of course, there's been a cinematic tsunami of woeful, pale imitators but when it comes to delivering thrills, spills and excitement on a truly gargantuan, T-Rex-sized scale, nobody can come close to the bearded movie maestro's cracking masterpiece.
This year also marks the 25th anniversary of its release (blimey, has it really been that long?!) but the film still stands up and can beat off the barrage of modern blockbusters with all the knowing confidence of a particularly cunning velociraptor. As part of the current Colston Hall Presents series - gigs at various city venues while the Hall undergoes a major refurb - and a Spielberg season that has already included Jaws and Raiders of the Lost Ark, hordes of the film's fans (many wearing logo-emblazoned T-shirts) headed to Bristol Hippodrome for a screening of Jurassic Park with the live symphony orchestra playing John William's classic score in sync with the picture.
So, the film which inspired and excited a legion of film fans was given a new lease of life with a cracking HD print projected on a massive screen while the full force of the Czech National Symphony Orchestra played their hearts out to accompany the on-screen action, adventure, prehistoric stomping and occasional lawyer-chomping. Still thrilling, fun, fresh and giddyingly exciting, life (and image and music) certainly found its way.
Based on the original Michael Crichton novel and with a screenplay adapted by David Koepp and Crichton himself, the story (for those who have been living under a cinematic rock for the past two decades) see paleontologists Alan Grant (Sam Neill), Ellie Sattler (Laura Dern) and mathematician (or should that be chaotician?) Ian Malcom (a delightfully quirky Jeff Goldblum) recruited by Jurassic Park's billionaire mastermind John Hammond (Richard Attenborough) and whisked off to Costa Rican island Isla Nublar. Initially there to marvel at the genetically recreated dinosaurs and ultimately endorse the park's safety, things don't quite according to plan and take a terrifying turn for the worse when the park's defences go down and the prehistoric beasties run amok.
When it comes to busters of block like this, nobody does it better than Spielberg. And, as always (well, almost always over their 40-plus year director/composer collaboration), he utilized the services of his ever-reliable tunesmith of choice, John Williams, whose eminently hummable score has gone on to be just as legendary and iconic as the film and its logo. Once again, it was a match made in movie and music heaven, a confluence of image and sound that, in the hands on these two masters, conveys all the excitement, drama, nobility, terror, danger and awe felt by the film's main protagonists. Under the conductor's baton, the consummate musical excellence of the orchestra ensured every musical cue was spot on, every dynamic faultlessly articulated, every note accurately and faithfully rendered, every cue to image perfectly matched.
There's something endlessly vivifying about hearing a score played live to film; it gives it a new lease of life, a fresh filmic gloss, a dynamic cinematic sheen. Like other director/composer collaborations - Eisenstein/Prokofiev, Hitchcock/Herrmann, Cronenberg/Shore - Spielberg and Williams know how to spot and score a film, when to use music and when not (note how the entire T-Rex attack set-piece is played completely without music). A lot of Williams' score, particularly the quick-tempo, frenetic action cues, can be fiendishly difficult for orchestras, but this one nailed every cue, every time. The opening 'raptor attack, the ennobling majesty of seeing the first Brachiosaurus, the pant-wettingly tense T-Rex/jeep chase, the dissonant fear of the raptors-in-the-kitchen sequence - all emulated with spot-on precision and faithful musical accuracy.
And by the time the When Dinosaurs Ruled The Earth banner flutters auspiciously in front of the triumphantly roaring T-Rex - accompanied by William's heraldic, jubilant trumpet fanfare - it's impossible not to find yourself grinning from ear to ear. At the time, Jurassic Park won Academy Awards for Best Sound Effects, Best Sound Editing and, unsurprisingly, Best Visual Effects (total dino screen time is, in fact, 15 minutes, 9 of which are the practical work of Stan Winston Studio, fact fans), with Williams winning an Oscar for his score for Spielberg's Schindler's List in the same year.
A cinematic touchstone then and still a cracking thrill ride now, through the miracle of dino cloning, a huge screen, pristine movie print and a top-of-their-game symphony orchestra, dinosaurs did indeed once again walk the Earth.
A T-Rex sized 5/5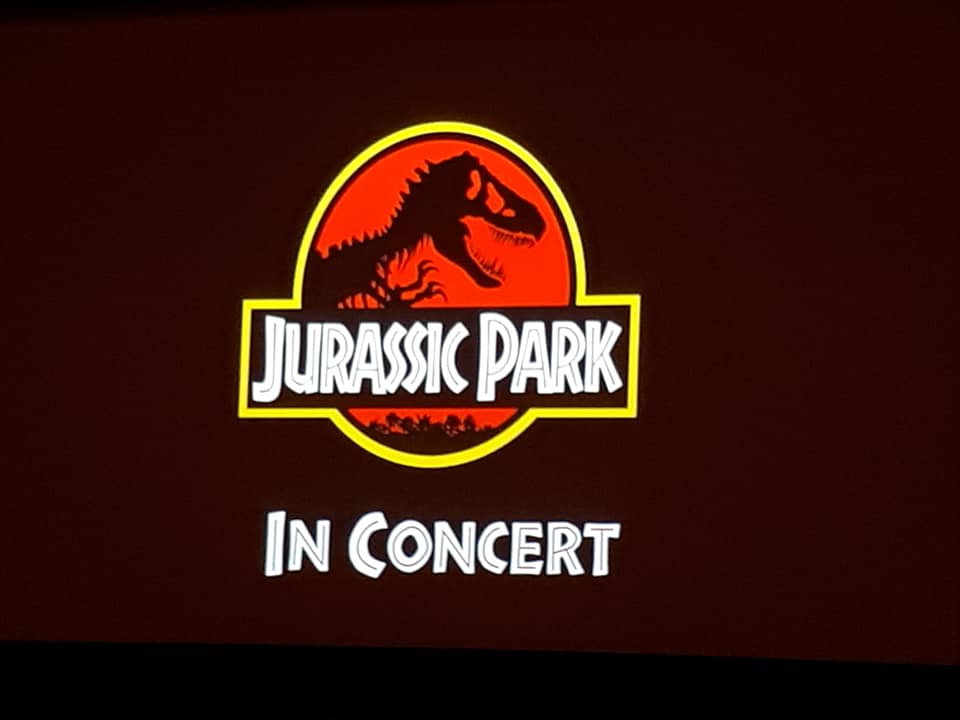 ---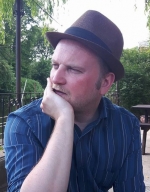 Jamie Caddick
Jamie is a writer, blogger, journalist, critic, film fan, soundtrack nerd and all-round Bristolian good egg. He loves the music of Philip Glass, the art of Salvador Dali, the writings of Charles Bukowksi and Hunter S Thompson, the irreverence of Harry Hill, and the timeless, straw-chomping exuberance of The Wurzels. You can sometimes find him railing against a surging tide of passing cyclists, or gorging himself senseless on the Oriental delights of a Cosmos all-you-can-eat buffet.