Jay & Silent Bob's Super Groovy Cartoon Movie and Q and A Colston Hall Bristol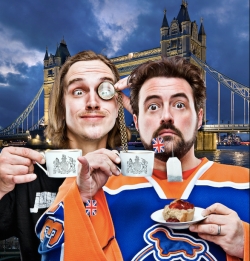 Posted on: 2014-07-03
Jay & Silent Bob took Bristol by storm. The fans didn't let them down and Smith and Mewes certainly didn't disappoint their fans, giving them hours of hilarity, irreverence, banter and audience interaction.
---
It was evident from the multitudes of emos, goths, tattooed beardies, nerds and slackers gathered outside the Colston Hall that the Jay and Silent Bob fanbase massive had arrived.
Doors opened at 7pm but the show didn't kick off until 8pm, giving the capacity audience plenty of time to grab a beer or two and excitedly shuffle their way into their seats. There was a palpable sense of anticipation and exhilaration, the feeling of a genuine one-off, once-in-a-lifetime event. After all, how often do you get slackerdom's most famous Hollywood superstars round these here parts?
When Kevin Smith and Jason Mewes finally walked on stage the crowd went wild, cheering and clapping their inimitable heroes. Smith – immediately warm, funny and gregarious - said a few brief words and set out the format of the evening before introducing their new cartoon, Jay & Silent Bob's Super Groovy Cartoon Movie.

Smith made it clear that the film was really Mewes' baby, made for $69,000 and based on the Bluntman and Chronic comic book of 2001. It parades the kind of crude, lewd humour synonymous with the duo, though undoubtedly lacking in the kind of wit and cleverness associated with Smith's best work.
The relatively low budget is also reflected in the crude animation, although things perk up with several appearances of Kevin Smith's animated self as he tells amusing asides of the events about to unfold.
No doubt it has its moments and there are a few neat references to other comic book movies and villains, but the humour is often so base it's crass and it's just reduced to a succession of ultimately repetitive and tiresome willy jokes and a crudity that can't sustain its rather indulgent, over-long hour running time.
It might have satisfied the die-hard Bluntman and Chronic fans, but the half-baked voice work and a re-tread of old jokes didn't offer anything new to tempt the unconverted.
However, it was after the interval that proceedings really kicked into fifth gear, as Smith and Mewes came back on stage and sat at a table with microphones for the audience Q&A.
The gig also marked a significant milestone in Mewes life. He's had a chequered history with drug, alcohol and substance abuse and it marked the fourth anniversary of him being clean and sober. There's obviously a real bond and deep connection between Smith and Mewes and the two friends seemed genuinely moved when the audience broke into spontaneous cheers and applause to give their support for a man who's beaten his demons. It was an unexpectedly poignant moment.
Fans rushed to the middle aisle to line up to ask the duo their questions, ranging from film-making techniques and amusing industry anecdotes. Smith is a true performer, entertainer and raconteur, and he was in his element, heartily sharing tales with dynamically boyish enthusiasm, and leaping from one story tangent to another with breathtaking and effortless verbal dexterity and ease.
Unsurprisingly, the language was colourful and peppered with expletives, and the content of many of stories was so X-rated, often brimming with irresistibly cheeky, irreverent and filthy humour, it would be inappropriate to print them on a family-oriented website.
Smith's loyalty to his friend and his passion for his writing and job were infectiously evident, and he and Mewes clearly loved the audience interaction, heartily accepting their requests to join them on stage to get autographs and hugs and have their photos taken. One fan even got to spend the majority of the set on-stage with them.
Without elaborating in too graphic detail, the final segment had Mewes and audience members on-stage mimicking outrageous acts of coitus based on Mewe's own Brit-themed suggestions (Tea and crumpets, rusty trumpet; My middle wicket, it's just not cricket – you get the idea). It was an off-the-wall, surreal, uproariously crude finale to a fantastic show.
The atmosphere throughout was buzzing and electric and show didn't wrap up until gone 11pm. You also get the feeling that, if he'd had the chance, Smith would have entertained the audience with his seemingly endless tales of mirth and mayhem for another three hours if he could have.
Jay & Silent Bob took Bristol by storm. The fans didn't let them down and Smith and Mewes certainly didn't disappoint their fans, giving them hours of hilarity, irreverence, banter and audience interaction. And the crowd burst into spontaneous cheers when they announced Clerks 3 would be going into production next year.
It was a real event and a cracking evening, by turns hysterical, entertaining, uncouth, outrageous and moving - a real, affecting kinship between the stars and their fans.
4/5
Reviewed by Jamie Caddick for 365Bristol

---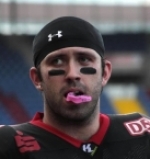 James Anderson
Born and raised in the suburbs of Swansea, Jimmy moved to Bristol back in 2004 to attend university. Passionate about live music, sport, science and nature, he can usually be found walking his cocker spaniel Baxter at any number of green spots around the city. Call James on 078 9999 3534 or email Editor@365Bristol.com.