Fun Lovin' Criminals at The O2 Academy Bristol - Live Music Review
Posted on: 2019-02-11
A five-star performance from the multi-talented Fun Lovin' Criminals.
---
On the way into the O2 I had to take a picture of the Fun Lovin Criminals sign! I was quite surprised to find out that the gig wasn't sold out, especially looking at the queue! After the bustle of getting into the venue we had a great view from the side of the left-hand side. DJ Matteo was playing some 90's classics, doing very well at warming up the crowd. He had a very eclectic mix of 90s and 00s numbers, one that stood out for me was the Oasis mix. After thanking us for being a wonderful crowd, and expressing how grateful he was for being one of the opening acts for the Fun Lovin' Criminals, we all eagerly waited for the main act.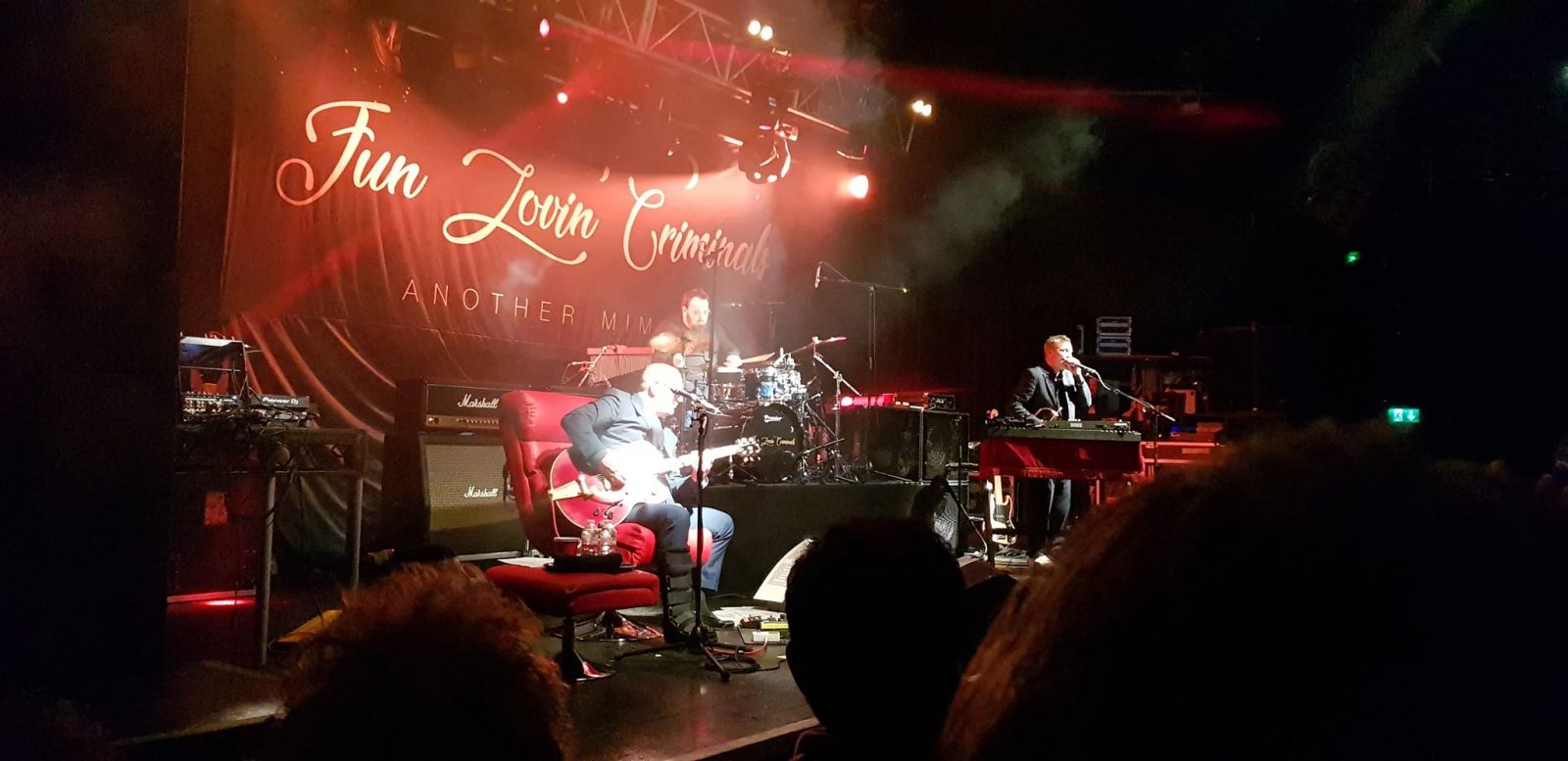 The stage was oddly set up, as it looked like someone's a front room! There was a large red chair and a small table, which had the crowd asking what were they in for! Within minutes, on came the main act with a huge cheer from the crowd. The drummer Frank Benbini and multi-instrumentalist Brian Leiser took the stage, along with Huey Morgan who was being helped to the stage with a set of crutches and a stagehand, as he had one of his legs in a brace! The red chair now made sense.
Kicking straight off with a Neil Diamond cover from the new album "Hello again", the crowd welcomed the band with open arms. Huey then made a joke about his broken leg saying "you should see the other guy!". The humour and crowd interaction was amazing. Moving on into the set they played the classic, Bombin the L, and King of New York. After these amazing tracks Huey looked up and said to the band "you no what time it is?!", yes - Scooby Snacks! A firm favourite of mine and the rest of the room.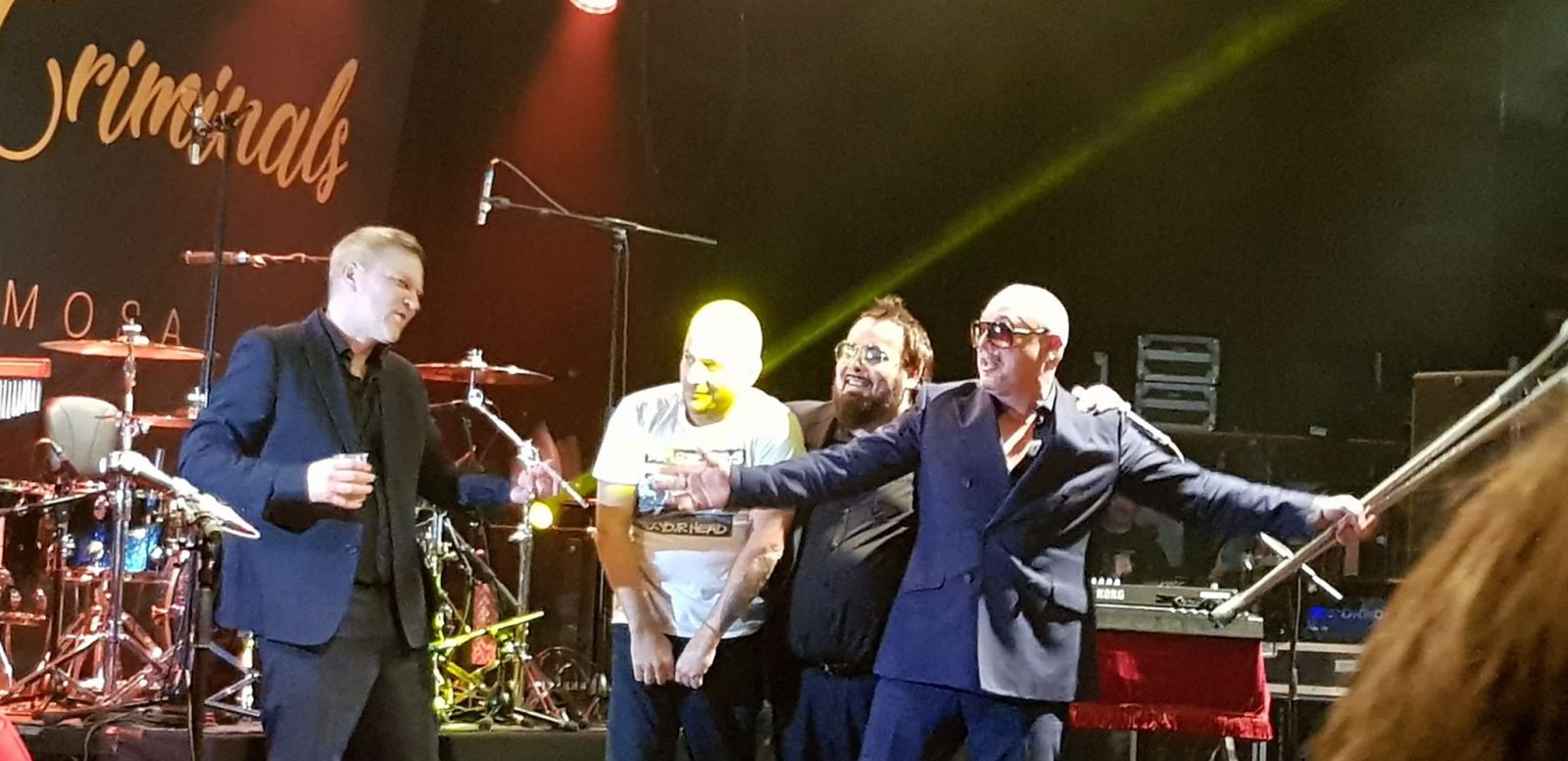 The band are so talented, they are all multi-instrumentalists, and were on point with every song. It is also obvious to see how well the band members get along. Huey raising his empty glass, to have a top of brandy, looked up and joked about how people ask him to stand up, stating "I am not on enough meds or had enough to drink to stand up". They went on to play more amazing tracks - Big Night Out and Love Unlimited. Then a fantastic surprise - a song the band doesn't play often - Friday Night. The crowd absolutely loved it!
The band then left the stage, and came back on to encore, thanking the audience for coming out. To finish on a high, the final track they played was, of course, The Fun Lovin Criminal. This completed an amazing night, and I must say the band were really on form. My friends and I all agreed - it was a 5-star performance. I highly recommend everyone to see them live.
Upcoming Fun Lovin' Criminal gigs around the country in early 2019 are detailed below and tickets for all can be purchased here.
7th March: Worthing Pavilion
8th March: Rock City, Nottingham
9th March: O2 Forum Kentish Town, London
28th March: O2 Academy Oxford
29th March: Manchester Academy
30th March: O2 Academy Leeds
---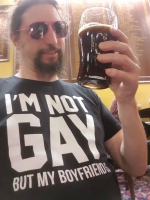 Jamie Plumley
My name is Jamie and I've promoted within Bristol for many years. I have a passion for music, theatre and food! I am no rock, you will find me out and about and always a bit loud and brash. Let's live life and enjoy.