Farr Festival 2018 Review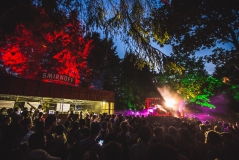 Posted on: 2018-07-12
The Farr Festival team light up the beautiful Bygrave Woods once again with one of their most vibrant parties yet.
---
Once a barren orchard with a solitary abandoned caravan parked in amongst the trees, Bygrave Woods has been transformed over the years into a haven for good times, great people and some of the best underground music on the planet. Back in 2018 for the ninth edition of the festival, the Farr team pulled out all the stops this year to deliver their most exciting party to date, combining their knack for excellent programming with the beauty of the location and a keen eye for detail.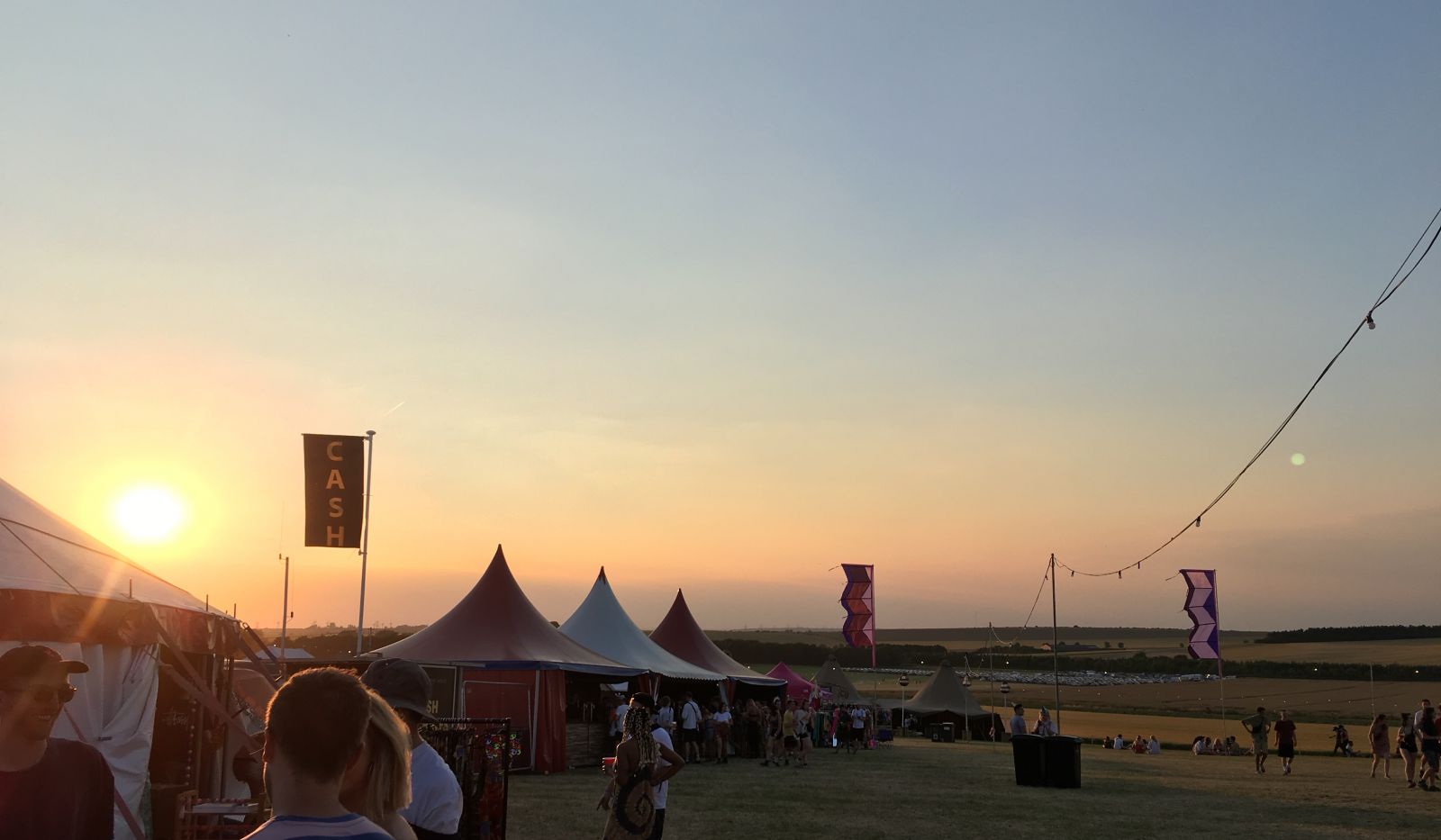 Given that this year was the first time that Farr Fest had a Sunday night billing, the full programme was bigger than ever before. But, staying true to their reputation as proven masters of the lineup, 2018 also saw an impressively diverse and carefully selected cast descend upon the Hertfordshire hills for the weekend. What struck me was that rather than going big and booking guaranteed crowd-pleasers (the likes of Jackmaster, Peggy Gou etc), the organisers opted for more of a mix when it came to the music. It certainly didn't disappoint.
Arriving late on Thursday afternoon, we decided to take most of the Thursday night to put some feelers out, gauge the atmosphere and have a wander around the woods. The standout set of opening day for me was DJ Stingray, who blew the crowd away at The Factory with typically hard-hitting techno cuts, unleashing an edit of Fast Lane's "Young Ladies" before picking up the pace with faster tracks like "Jit Beat 2" by B.Calloway.
Friday was all about the daytime sets, as the legendary Mr G treated a packed-out and scorching hot Ma Dahu's stage to an early afternoon set of dub, disco, funk and more - a perfect Summer afternoon selection. From there, we headed over to The Shack and into the capable hands of Portuguese DJ Mafalda, followed by the Bristol-based Banoffee Pies boys.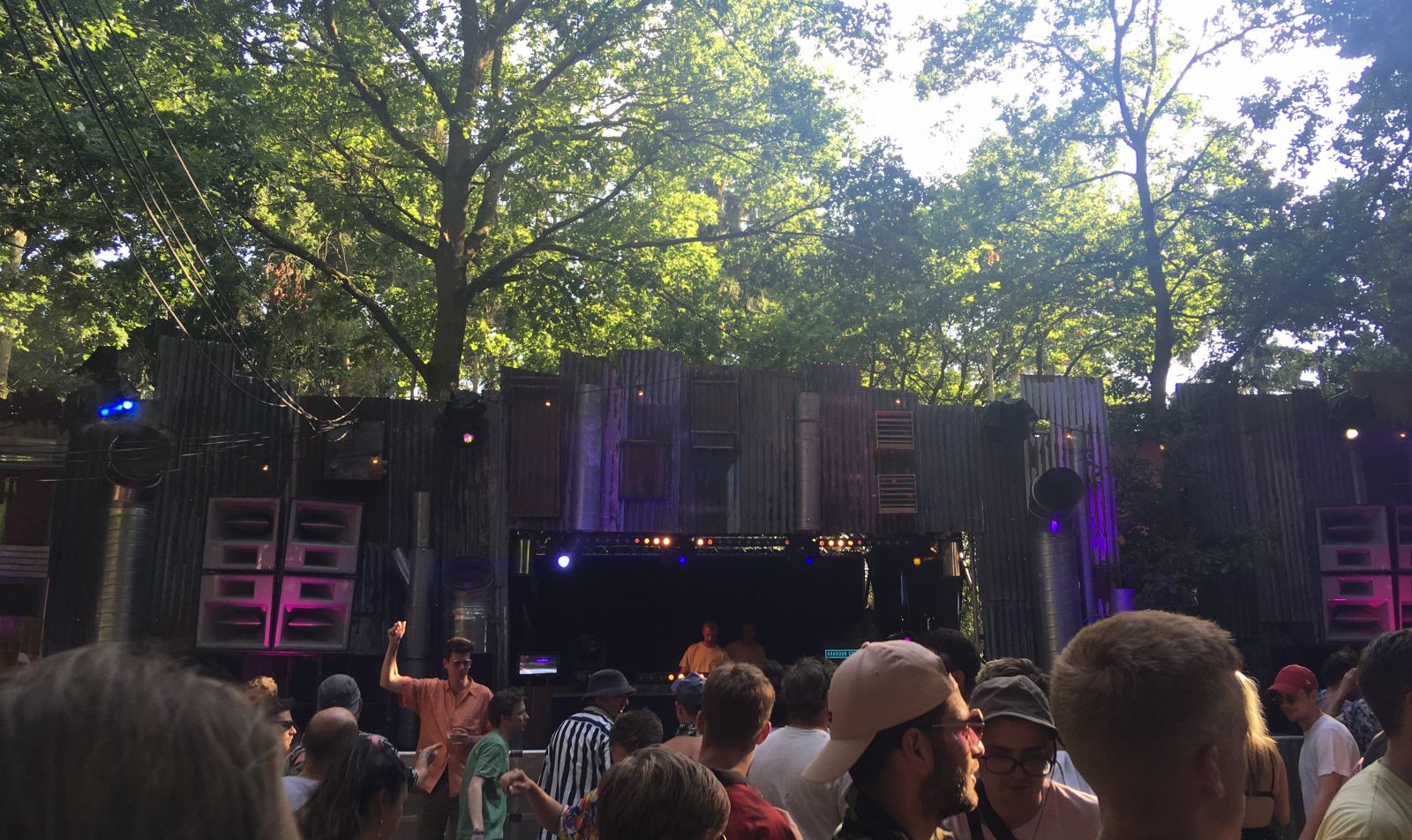 The evening that followed was a bit of a mixed bag. Tom Misch, as expected, played an excellent live set at The Factory, showing the huge crowd exactly why there's so much hype around him at the moment. Special mentions have to go to his band, too, with some incredible work being done on the keyboard and bass. Mr G was back again an hour later, returning to Ma Dahu's for a high-energy live set that saw him dancing on the decks and seemingly having an even better time providing the grooves than we were listening to them.
The rest of the night was fun, with Joey Anderson and Call Super both playing strong sets, but it all got a bit weird when Optimo and Young Marco took to the decks at the Adventures in Success stage. The stage suffers from sound issues at the best of times - it's been said a thousand times that you shouldn't be able to have a conversation without raising your voice when you're stood right by a festival soundsystem - but Young Marco killed the vibe a bit with an oddly drawn-out sample of a banjo riff, going full hillbilly afterwards with an instrumental of that "Yankee Doodle" nursery rhyme you used to hear as a kid.
In fairness, we should have seen it coming from Young Marco, the same guy who infamously closed last year's festival with a medley of Christmas songs. We headed back to the campsite after that.
By overwhelmingly popular demand, the organisers agreed to screen England's World Cup clash with Sweden on the Saturday, a very welcome addition given the result. The game, watched in the scorching afternoon sunshine that stayed with us throughout the weekend, ended up setting the tone for what turned out to be the best day and night of the festival, with everybody in high spirits and ready for the huge lineup that was to come.
Straight after the game, we made our way over to The Shack to catch Gerd Janson, who delivered the best set of the weekend, breezing through a selection of old-school classics like S3A's "Boiler Lyon (The Ravist's Face)", Awesome 3's "Don't Go" and "No Other" by Polymod. Having just seen England progress to the World Cup Semi-Finals for the first time since 1990, Janson got it just right and the set felt like it would have been right at home in that famous Summer 28 years ago.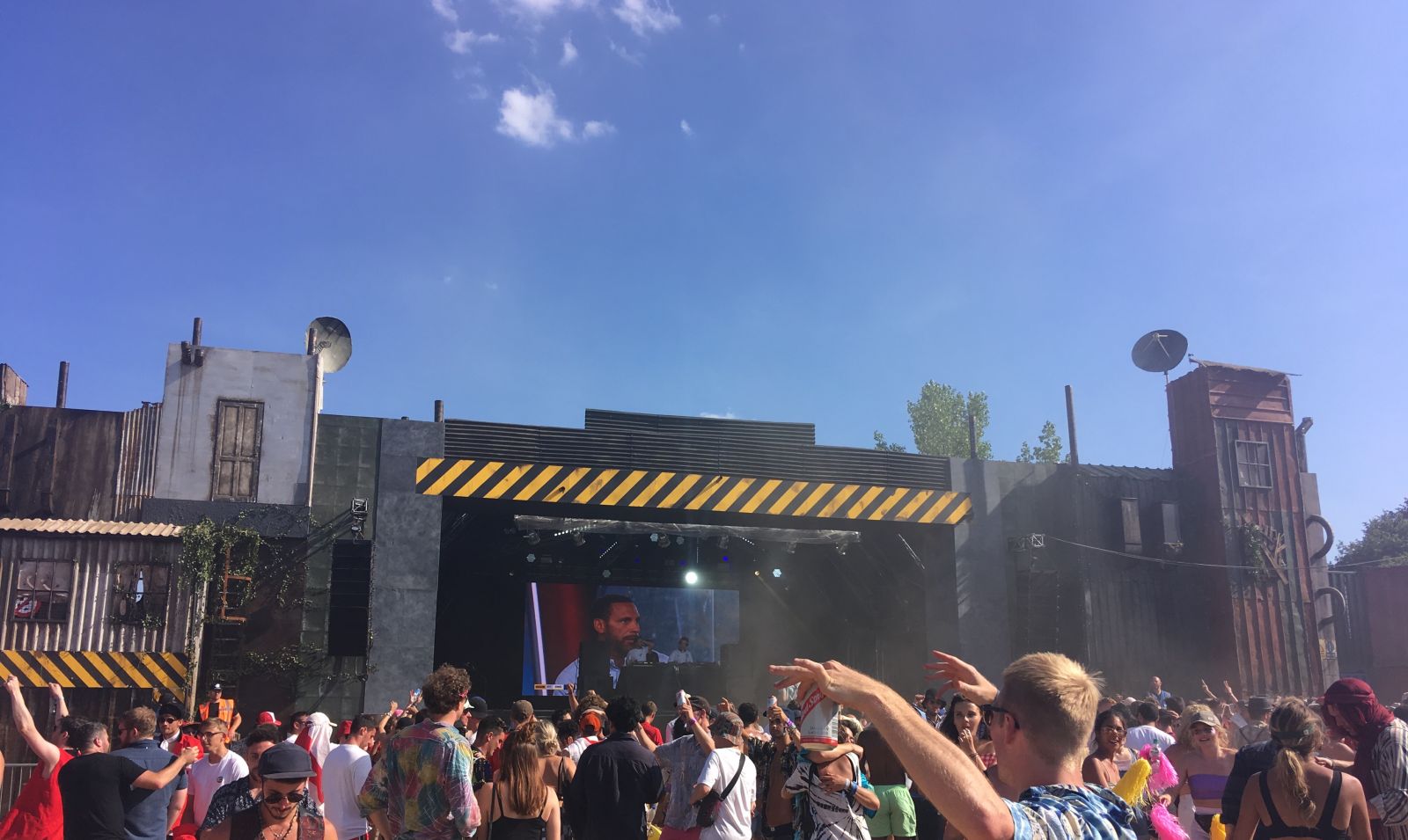 It would've been a mistake to leave The Shack for the few hours that followed, as Dixon and Job Jobse brought the party to the huge crowd as the sun started to go down over the site. The highlight aside from Gerd Janson was surely Job Jobse dropping an edit of Dead Or Alive's "You Spin Me Right Round" to a huge reception - it ended up being a particularly special moment for me and one of my mates, who happened to find the rest of our group in the crowd just as the track went in. Unreal.
Saturday's close was also a highlight, with Dutch selector William Djoko spinning a hard mix of electro tracks at Ma Dahu's, while Willow closed The Shack from 3am-5pm.
As good as the festival is as a whole package, it has to be said that Farr suffers from pretty serious volume issues in the evening. Having been already back in 2016 I was hoping that they'd be sorted this time around, but unfortunately, the problem still persists. As mentioned above, it's possible at a couple of stages to have a conversation with the person next to you even when you're just a few feet from the speakers, and that does have a noticeable effect on the atmosphere in the evenings.
This struck me the most during Antal and Hunee's closing sets on Sunday night at The Factory. Both DJs unleashed an expertly-curated range of party-starters from 7pm-11pm, rolling through house, techno, disco and more, but there was a sense all around the crowd that the whole setup needed to be ramped up to provide a truly great experience.
Hunee closed the festival with a typically diverse set that ranged from Detroit house cuts (Oliver $'s "Doin' Ya Thang") to harder techno (Efdemin - "Move Your Head") all the way through to a well-deployed edit of Chance The Rapper's "All Night", but there was definitely something missing which was a shame.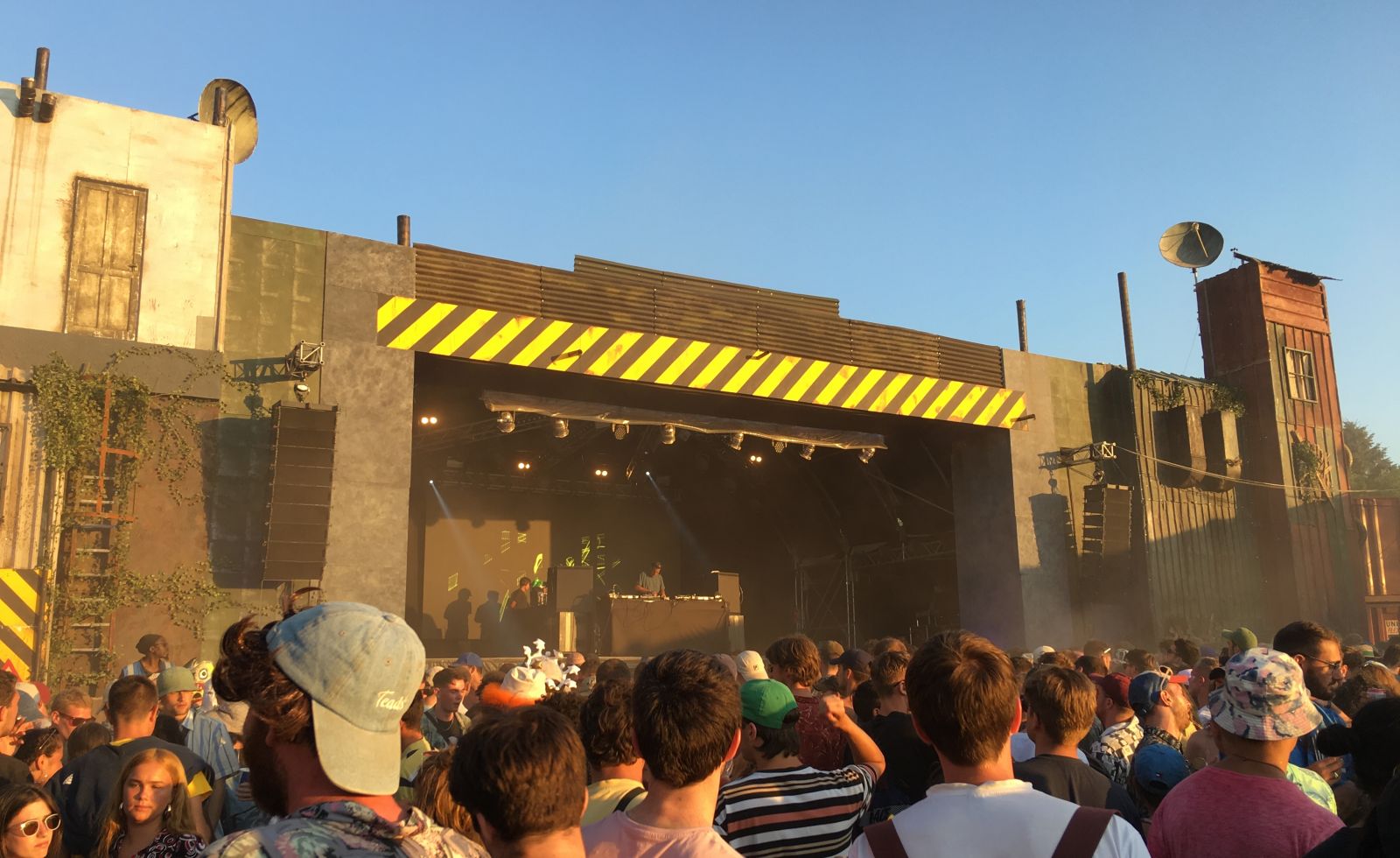 Overall, I feel that Farr has the potential to be as good as, if not better than, the best small festivals in the UK. In the daytime, Farr is as good as any other event in the country, with the setting, crowd, layout and music all spot on. But, when the sun goes down and you want the music to hit you hard, it doesn't really seem to happen, leaving you wanting that little bit more throughout the weekend.
That being said, I can't think of too many other events that are so good for discovering new artists - before this weekend I had little to no knowledge of Mafalda, William Djoko and Joey Anderson among others, and will be looking into their repertoires and discovering new music for weeks to come after seeing their sets at Farr. This is a major testament to the Farr team's immense capabilities when it comes to putting together a festival lineup, and for that reason, I strongly suspect I'll be back in the woods in 2019.
Next year is Farr's tenth birthday, and during a chat with the festival's founder, Oscar Thornton, I asked if they had anything planned yet to make the milestone extra special. "We'll get some fireworks, some sparklers. A big cake" he jokes. "I'd like to see some special guests turn up unannounced - you'll have to come along to the next one and see".
Value: 5/5
Location: 5/5
Atmosphere: 5/5
Lineup: 5/5
Sound Quality: 3/5
Facilities: 4/5
---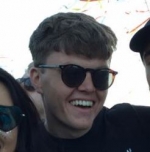 Matt Robson
Having moved to Bristol from Cornwall in 2015, Matt graduated from UWE with a degree in Journalism in 2018. He's keen on a wide variety of musical genres, as well as taking an interest in art and illustration, producing his own work in his spare time. Matt makes the most of Bristol's diverse nightlife and attends gigs and club nights regularly. Get in touch via email at matt@365bristol.com.