Cockney Rejects - East End Babylon Tour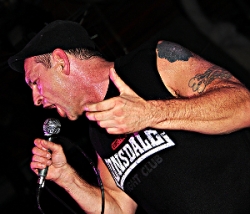 Posted on: 2013-11-18
---
Paul Holbrook reviews The Cockney Rejects at Bristol's The Fleece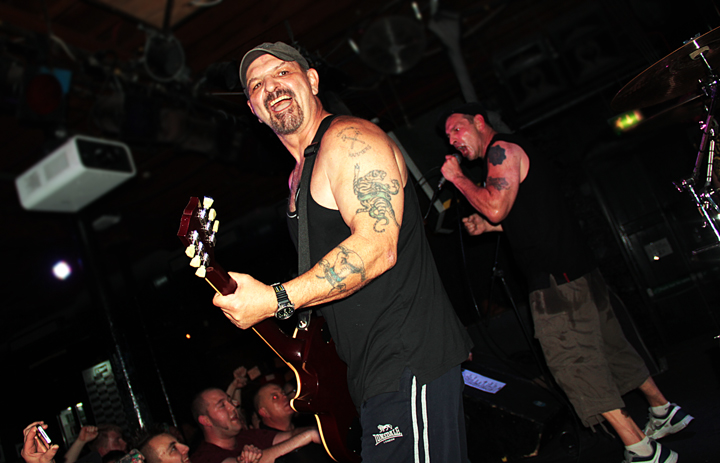 After spending the evening open-mouthed in the safety zone at the back of The Fleece (I'm a wimp), I've since had chance to not only let my eardrums recover (couldn't hear right for a good few hours after) but to let the aggressive, red blooded, and savage performance of The Cockney Rejects sink in; my assessment? Punk is certainly not dead! The Fleece was at capacity, wall-to-wall with punks, skinheads and even the every-man; a blur of red braces, Doc Martens, bright Mohawks and tattooed faces.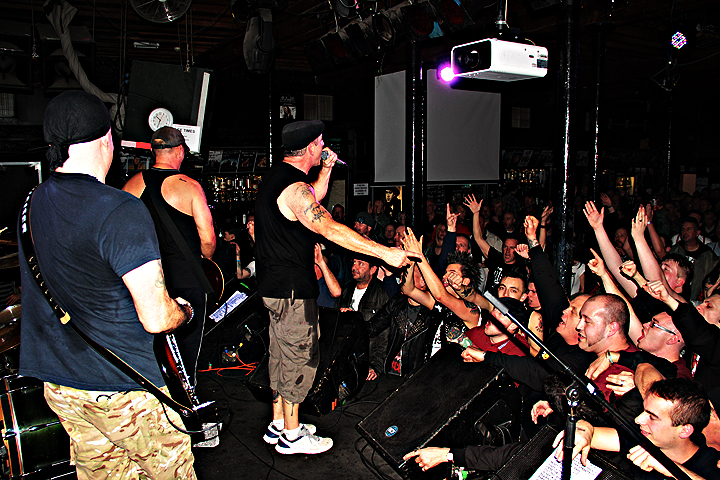 The first thing that surprised me was the age sweep; old school fans in their fifties still willing to pogo and get stuck into a good old jump about were there in their plenty but they were joined by the new wave of youngsters still buying into the whole punk rock lifestyle that started back in the 70's and a movement that is definitely still bubbling away in society as well as in Bristol's underground music scene.
The Rejects are still giving the fans their own brand of combative, violent music that transfers faultlessly from the football terraces to the streets to the dance floor, but don't let that statement put you off, because the other thing that stood out about this gig was the mutual respect between those both on and off the stage and both sides the audience age divide. Teen angst, political stand-offs, football rivalry, social depression and frustration all aired and dissolved at the end of a microphone, a guitar, a drum and in a mosh-pit rather than the end of a fist; 'Oi, Oi. Oi' 'Bad Man' 'Fighting in the Street' and 'War on the Terraces' still inspire potent visions of football hooliganism, street fighting and brutal agendas but ironically it's those same songs that brought people together this evening, galvanized a diverse crowd and actually roused respect across the board.
There w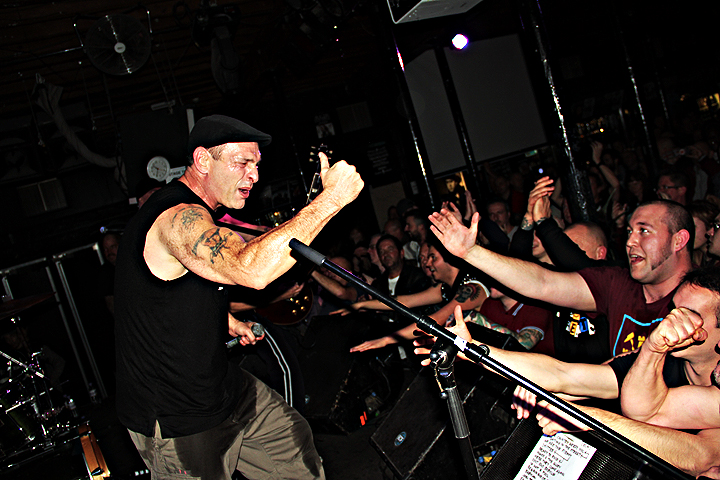 as a sense of belonging inside The Fleece that I don't see or feel when covering any other genre of music and it's that whole atmosphere that gives The Reject's songs that forever lifespan, gives the band that always-growing following, and gives their music that draw across the country on each and every tour and on each and every back street.
I've covered lots of old punk bands still flogging a living from dragging themselves and their die-hard fan bases out of retirement for 'one last tour' but The Cockney Rejects are the first who still have that commitment to the cause, still have the stamina to keep up with any new fans they undoubtedly pick up along the way and most importantly still have that magnetic attitude to their music and the genre they fit so well. Scrap that, a genre that fits THEM so well.
The Cockney Rejects are the true godfathers of UK punk music, they were there at the start and they are still there, they are still drawing a big crowd and they don't look like slowing any time soon. As much as I am a huge fan of The Sex Pistols, this is a different beast and about as far away from 'art-school punk- as you can get, the real 'sound of the streets' – a riot!
Photos courtesy of Kai Dawe and Old Duke Photography.
---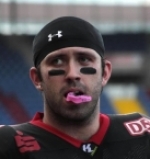 James Anderson
Born and raised in the suburbs of Swansea, Jimmy moved to Bristol back in 2004 to attend university. Passionate about live music, sport, science and nature, he can usually be found walking his cocker spaniel Baxter at any number of green spots around the city. Call James on 078 9999 3534 or email Editor@365Bristol.com.