Captain America : The Winter Soldier - Film Review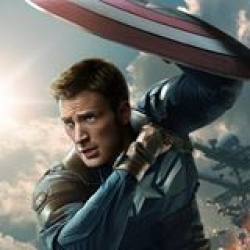 Posted on: 2014-03-27
a movie that's fast, frenetic and huge, rip-roaring fun
---
Another week, another Marvel comics movie, this time pitting Captain America, aka super soldier Steve Rogers, against the shadowy machinations of S.H.I.E.L.D in a movie that's fast, frenetic and huge, rip-roaring fun.
Captain America's second outing is the eighth movie in the Marvel universe released since 2008 (actually nine if you include The Incredible Hulk), with the cash-cow not set to stop there with a rumoured four more in the works. It's the franchise that just keeps giving. You might also be forgiven for thinking that the whole superhero conceit is starting to wear a bit thin, and the oh-so regular tranche comic book film forays are running out of steam and imagination.

That couldn't be further from the truth here – and to a large extent the entire Marvel world, as its characters span a diverse range of genres – as Captain A is shifted to a new genre himself: the 70s spy espionage thriller.
And who better to usher into the comic enclave than 70s icon Robert Redford as suave S.H.I.E.L.D top man, Alexander Pierce, who adds a weight, occasionally chilly gravitas. Directors the Russo brothers even throw in a few neat 70s references, including a nod to the brainwashing scene from the Manchurian Candidate and a few shots of the Watergate building.
It's a slick, bold action-adventure film that has Steve Rogers chiselled out as a character who would now sit more comfortably alongside the likes of Jack Ryan or Jason Bourne, manoeuvring his way through series of cross and double crosses and twisty, labyrinthine plots in which he doesn't know who to trust or who to believe, even himself. Things are darker, more noir-ish and insidious than before – at least for three quarters of the film anyway - a perilous search to weed out the enemy from within.
Recently the Marvel universe has exploited the idea that the characters interweave and relate to each other in their vast, inter-dependent universe, hopscotching in and out of each other films with casual, party-crashing abandon.
Here, however, it feels like a completely independent movie that can stand on its own two feet without any particular knowledge (though admittedly a little bit would help) of anything that's gone before it.
Kicking off with a thrilling rescue mission on board a hijacked ship, it soon becomes clear to ol' Cap that something strange is afoot, with Samuel L Jackson's Nick Fury revealing the organisations plans to launch a series of heli-ships armed with an eye-popping array of weaponry under the guise of protecting the universe and predicting crimes – Minority Report pre-crime style - before they happen. But duplicitous machinations and shadowy dealings soon surface, throwing Rogers' into a cat-and-mouse chase and as a fugitive on the run.
What adds an extra dimension and further dramatic scope is that the whole movie doesn't solely hang on Captain America himself. Amidst the action – and there's plenty of it – there's also breathing space for the development of other key characters.
Scarlett Johansson's Black Widow and Samuel L Jackson's Nick Fury get satisfyingly meatier roles, making it more of an ensemble superhero piece, yet with the Captain still the bonding agent that keeps the whole troupe together. Chris Evans throws in a nice turn as the Captain, charming, complicated, with depth, emotion, heart and soul.
If there's a slight problem then it's with Anthony Mackie's fellow S.H.I.E.L.D soldier Sam Wilson who, quite late in the film, dons a hi-tech prototype exoskeleton that sprouts mechanical wings to become The Falcon. It's not the best of characters anyway, and its CGI execution is slightly clunky and awkward, feeling more like he's yet another character thrown into the Marvel milieu just for the sake of it.
Surprisingly too, the metal-armed cyborg Winter Soldier of the title doesn't make that much of a menacing mark, not so much an imposing, bad-ass super-villain as more of an inconsequential interloper, popping up a few times to grimace and scowl, but ranking as one of the least formidable bad guys in the Marvel canon so far.
But these are minor quibbles in a movie that's immense fun, crammed choc-o-bloc full of superbly choreographed, dizzyingly action-packed set-pieces (a full-on, bullet-riddled assault on Nick Fury's car being a thrilling highlight), and interesting, developed character arcs. There are also a few tantalising post-credit sequences giving us a glimpse of characters to come.
And yes, we even get the obligatory Stan Lee cameo.
3.5/5
Reviewed by Jamie Caddick for 365Bristol
---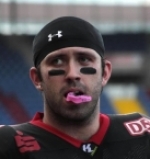 James Anderson
Born and raised in the suburbs of Swansea, Jimmy moved to Bristol back in 2004 to attend university. Passionate about live music, sport, science and nature, he can usually be found walking his cocker spaniel Baxter at any number of green spots around the city. Call James on 078 9999 3534 or email Editor@365Bristol.com.