Brunel's Buttery in Bristol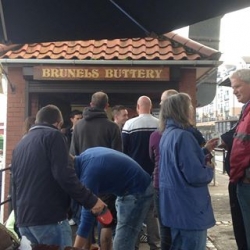 Posted on: 2014-06-17
May this finest of Bristol institutions reign supreme for another 30 years.
---
Bristol is a city throbbing with unmistakable landmarks and icons.
From the SS Great Britain and Clifton Suspension Bridge, to The Wurzels and Banksy, and Wallace and Gromit and Cary Grant, Bristolians have been blessed with a proud heritage and rich cultural iconography.
The Brunel Buttery on Wapping Wharf ranks just as highly on mine – and I know many other people's – lists of top places in the city.
It's a red-bricked hut that nestles quite comfortably between the quayside and the old trains and wagons of the harbour railway. It was owned and run with Bristol couple Colin and Joan Nutt for over 30 years until they retired in 2012 and passed the (rather daunting) reigns over to Gary and Noemi Hands, who relocated from Cornwall to take up the mantle of this revered sarnie-making institution.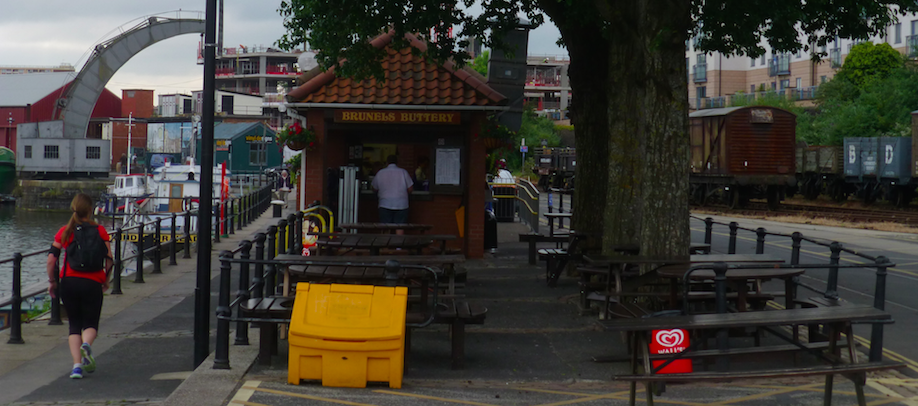 Brunel's Buttery has been on the Bristol map for more than three decades, and since it opened in 1980 it must have served millions of its famous door-stop sarnies and mugs of tea and coffee to locals, tourists and passing nautical types finding the unmistakable waft of sausages and bacon too irresistible to pass.
It's still as popular as it ever was and you'll usually have to join a queue of impatiently salivating people with hunger pangs to get your grub.
There are a few benches outside but you'll be hard-pressed to find anywhere to sit if you pop along for some hearty tucker on a Saturday or Sunday morning, when most patrons are nursing head-pounding hangovers and hoping one of its chunky, hearty sandwiches will go some way to soaking up the previous night's booze.
That said, it's not just their mouth-wateringly splendid and stomach-filling bacon, sausage and egg sarnies you can get here. There's a good selection of hot and cold sandwiches, pies and pasties, jacket potatoes, plus plenty of sweet options including the fist-sized and splendid rock cakes, scones with jam, and just-as-gran-used-to-make bread pudding.
Hot beverages are tea (industrial strength and poured from a stainless steel catering pot), coffee (made with milk so a thick and delicious skin settles over the top if you leave it for a while…..well, if you like that kind of thing), hot chocolate, and you can also have a mug of hot Bovril or Cup-a-Soup. The tea and coffee are served in retro smoked glass mugs, a fondly remembered and nostalgic staple of my youth and possibly original fixtures of when the place first opened.
You simply order your food, pay for it at the counter, and clutch your numbered ticket somewhat impatiently as your wait for your number to be called – all to the sizzling soundtrack of the sausages and bacon being cooked on the griddle in small open kitchen.
My personal favourite is the sausage and mushroom sarnie – jaw-stretching doorstop bread, perfectly cooked sausages and near-orgasmically flavoursome mushrooms - complimented quite nicely with a few generous blobs of tomato ketchup served from one of the gargantuan dispensers at the side of the hut.
With sandwiches clocking in at the £3.50 mark and tea and coffee at just over a pound, it's great value for money for such generously portioned, satisfyingly filling tucker. And on a clear, sunny day there's nothing better than sitting on the quayside, watching the world go by and chomping on mouthfuls of heavenly sarnie.
May this finest of Bristol institutions reign supreme for another 30 years.
5/5
Reviewed by Jamie Caddick for 365bristol.com
---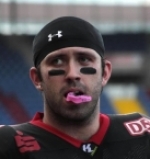 James Anderson
Born and raised in the suburbs of Swansea, Jimmy moved to Bristol back in 2004 to attend university. Passionate about live music, sport, science and nature, he can usually be found walking his cocker spaniel Baxter at any number of green spots around the city. Call James on 078 9999 3534 or email Editor@365Bristol.com.