Bristol Symphony Orchestra: An Evening of Film Music at St George's - Review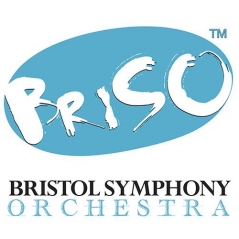 Posted on: 2016-12-02
St George's in Bristol was alive with the sound of some of the most famous compositions ever committed to celluloid when Bristol Symphony Orchestra presented its thrilling Evening of Film Music on Thursday 1 December 2016.
---
Under the confident and assured direction of conductor William Goodchild, the orchestra was only formed in January but has since gone on to attract some of the region's most talented professional, semi-professional and amateur players. And while there were a few blips and hiccups along the way, the ensemble put on a darned good show performing a selection of some of the most memorable and iconic movie themes ever written.
Eric Coates' Dam Busters March kick-started proceedings with suitably heroic, Elgarian aplomb, which was followed by Nono Rota's unmistakable, solo trumpet-led theme and deliciously lilting waltz from The Godfather (in the process conjuring images of horses heads, machine-gun carnage and evocations of offers I couldn't refuse).
Two John Williams scored movies led us in to the interval. Three pieces from Schindler's List - Lullaby, Jewish Town and Remembrances - were led by the superlative violinist Roger Huckle and filled with an aching, yearning poignancy that was as beautiful as it was heartbreaking.

Williams' indelible bass two-note intro to Jaws generated a few chuckles from the knowing audience, and its accompanying Out to Sea and Shark Cage Fugue were full of zesty, seafaring pluckiness culminating in an exhilarating cymbal-crashing crescendo.
Although Richard Wagner's Ride of the Valkyries has been appropriated for more TV programmes, commercials and films than you could shake a roll of celluloid at, it's perhaps been most effectively used (and most imperishably remembered) in Francis Ford Coppola's Apocalypse Now. The BSO did this colossal and difficult piece justice, flexing their instrumental muscles for a satisfyingly strident, bombastic tour de force.
Ennio Morricone joined forces with his son, Andrea, to compose the score for the affectionately nostalgic cinematic love letter, Cinema Paradiso, and the latter penned the famous love theme. Joined again by Roger Huckle on violin, it was a beguiling, charming performance.
Director Alfred Hitchcock collaborated with composer Bernard Herrmann on eight of his movies, arguably some of the best of his entire filmography, including The Trouble with Harry, North by Northwest and Vertigo. Psycho, however, represents the absolute apex of their filmmaker/composer symbosis, Herrmann's self-described "black and white sound for a black and white film" adroitly complimenting the film's stark visuals and pervasive morbid tone. From the agitated, propulsive Prelude to the infamous screeching violins of The Murder and the eerily foreboding, doom-laden finale, the BSO nailed it.
Demonstrating another example of classical pieces hijacked for movie use, the performance of Beethoven's Allegretto from his 7th Symphony - used during Colin Firth's pivotal oratory in The King's Speech - was infused with a relentless drive yet melancholy lyricism that was irresistible.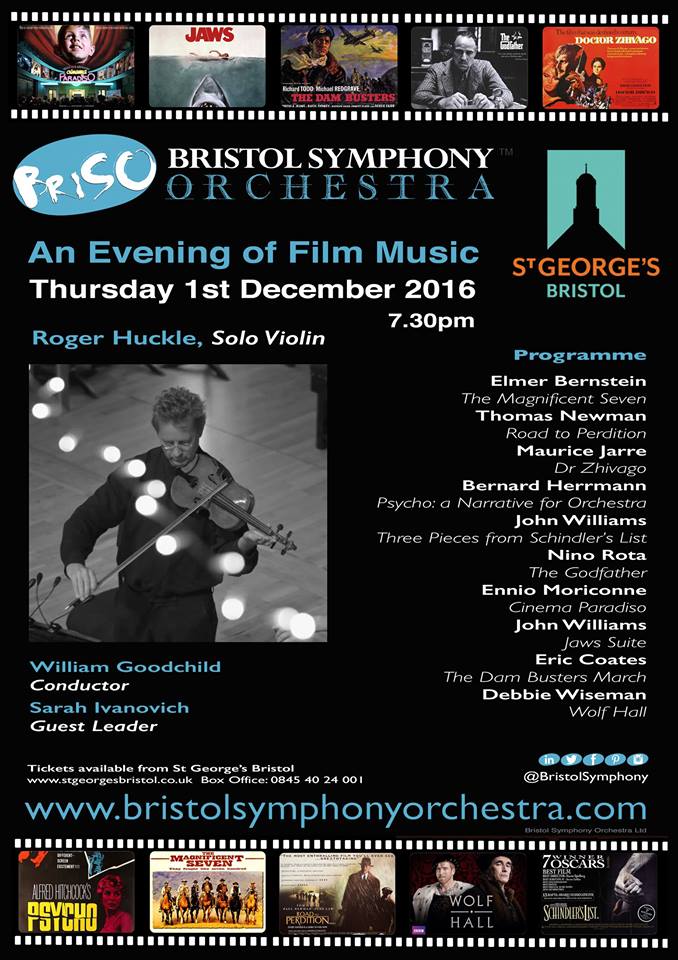 Debbie Wiseman's music for Wolf Hall (file under TV score, surely?) was an initially, deceptively simple string and oboe-led melody that gave way to a more energetically driving final flourish, while Thomas Newman's score for the Tom Hanks starring Road to Perdition (and team-up with now-regular directorial collaborator, Sam Mendes) was a welcome, beautifully tender surprise in typically sparse but affectingly haunting and sensorial Newman style.
Orchestra members amusingly donned sombreros for their brash, ballsy performance of Elmer Bernstein's spirited, adventurous theme for The Magnificent Seven, before orchestra and conductor capitulated to shouts, screams and demands of an encore for a short yet effectively noble iteration of Vangelis' Oscar-winning theme from Chariots of Fire.
What was refreshing about the evening's programme of movie music was that, while it certainly included plenty of familiar crowdpleasers, it eschewed a lot of the more reassuringly predictable filmic contenders in favour of a few obscure, or at least lesser-performed, ones.
This welcome deviation detracted from and made up for a few instrumental blunders, particularly in the brass section, as well as a more languorous take on some of the pieces which left me feeling perhaps a rehearsal or two more would have proved beneficial.
Nevertheless, although still in its nascent stages and under a year old, the Bristol Symphony Orchestra is an impressive ensemble of some of the region's finest musicians that will undoubtedly continue to make a serious mark on the Bristol music scene and beyond.
4/5
---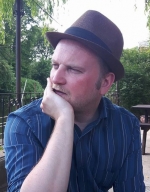 Jamie Caddick
Jamie is a writer, blogger, journalist, critic, film fan, soundtrack nerd and all-round Bristolian good egg. He loves the music of Philip Glass, the art of Salvador Dali, the writings of Charles Bukowksi and Hunter S Thompson, the irreverence of Harry Hill, and the timeless, straw-chomping exuberance of The Wurzels. You can sometimes find him railing against a surging tide of passing cyclists, or gorging himself senseless on the Oriental delights of a Cosmos all-you-can-eat buffet.