Billy Bragg live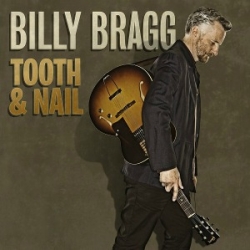 Posted on: 2013-11-21
---
Miri Teixeira at Bristols Colston Hall.
Rabble-rousing troubadour Billy Bragg is markng the thirtieth anniversary of his Life's A Riot with Spy vs Spy debut and the release of new album Tooth & Nail with an extensive UK tour that saw him return to an admiring Bristol.
The support slot was filled rather snugly by Kim Churchill, a one-man-band playing songs that are unmistakably raw and powerful. Churchill creates an impressively large sound and the young Australian seemed genuinely charmed to have been given the opportunity to take the stage. The crowd responded in kind and he was given warm appreciation throughout the set.
Sweeping onto the stage with his four piece band, Bragg was met with a tirade of applause before he had reached the microphone. As lifelong fans from all over Bristol heard the opening chords of Ideology he warned the crowd that "I'm recovering from man flu", whilst sipping on an herbal tea, continuing "So if you came here for my wonderful singing voice – you must be tone deaf!"
The set-list was an unwavering array of hits, successfully shifting between the romantic, the thought-provoking, and the unashamed call-to-arms that Bragg does so well. Milkman of Human Kindness, A New England and the "disco hit" Sexuality, were played among others, interjected with moving and humorous narritives from the man himself. The song I Ain't Got No Home by country legend Woody Guthrie was also covered, as it appears on Tooth & Nail, which is Braggs first album release in five years.
Guthrie himself got more than a casual mention, as Bragg's natural talent for storytelling led to the audience being coursed in all sorts of topics, him included. Amid his fevered objections to tabloids claiming he had "gone country", whilst wearing a cowboy shirt no-less, we were also treated to a charismatic speeches on gay marriage, tactical voting and the distribution of wealth plus anecdotes about learning of the passing of Margaret Thatcher whilst in a Seattle coffee shop, a Remembrance Day spent in a German war museum, searching for a mention of himself in Morrisseys autobiography, teaching his son to play guitar and the day Woody Guthrie's daughter asked him personally to cover her father's songs.
The middle of the set saw Bragg perform alone and the musical tone became notably sharper during songs that included a passionate Between The Wars.
The accomplished backing band really added depth to the musical performance, but still graciously allowed Bragg to take centre stage when a solo performance, or opinions were given. The natural harmony and ease between band and solo artist is always a nice thing to see.
Bragg himself seemed to become more comfortable as the night passed, upping the political ante between songs and ending his performance well past eleven o'clock.
Using the stage to both present an array of material from throughout his career and as a platform for airing his well-worded and notably maturing views, I believe I can speak for the whole audience when I say it was a most inspiring evening.
Wednesday 20 November. Colston Hall. Bristol.
---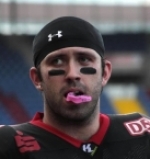 James Anderson
Born and raised in the suburbs of Swansea, Jimmy moved to Bristol back in 2004 to attend university. Passionate about live music, sport, science and nature, he can usually be found walking his cocker spaniel Baxter at any number of green spots around the city. Call James on 078 9999 3534 or email Editor@365Bristol.com.