Baxter Dury at Marble Factory | Tuesday 2 November 2021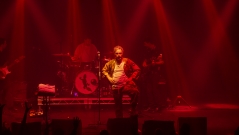 Posted on: 2021-11-03
The Prince of Tears is triumphant in his return to live shows after the pandemic
---
There was a real buzz on this cold evening as gig-goers milled around the Marble Factory courtyard huddled around, clutching expensive cans of lager to their chests.
Baxter Dury was at the repurposed warehouse complex kicking off a mini-tour that sees the 49-year-old musician return to the stage after a long time off due to a certain world changing event. Baxter was unable to tour his 2020 album, The Night Chancers – a record that received great critical acclaim.
Support on this occasion was two-piece, audiobooks. Made up of vocalist Evangeline Ling and in-demand producer David Wrench on synthesizer and guitar.
audiobooks are a striking sight on stage with the wizard-like Wrench moving between his guitar, drum machine and synth. Ling almost disappears into the stage backdrop in all black, but she is charismatic and transfixing in her performance – moving her hands in a trancelike manner as if conducting the crowd.
The duo's music is reminiscent of 1990s trip-hop – particularly Bjork and Portishead. The tracks are at once dark and euphoric backed up by dancey beats. A small issue was that Ling's vocals appeared very low in the mix meaning that at points they were drowned out by the heavy electronic drums. Overall, however, audiobooks were an excellent opening act.
After the set came a brief interlude that saw the crowd move out of the vast warehouse room to stock up on cans before returning to find a prime spot in the packed venue. Soon after came the distinct sound of helicopter blades flapping as the stage lit up. Dury emerged alone, dressed from head to toe in army khaki equipped with helmet and goggles.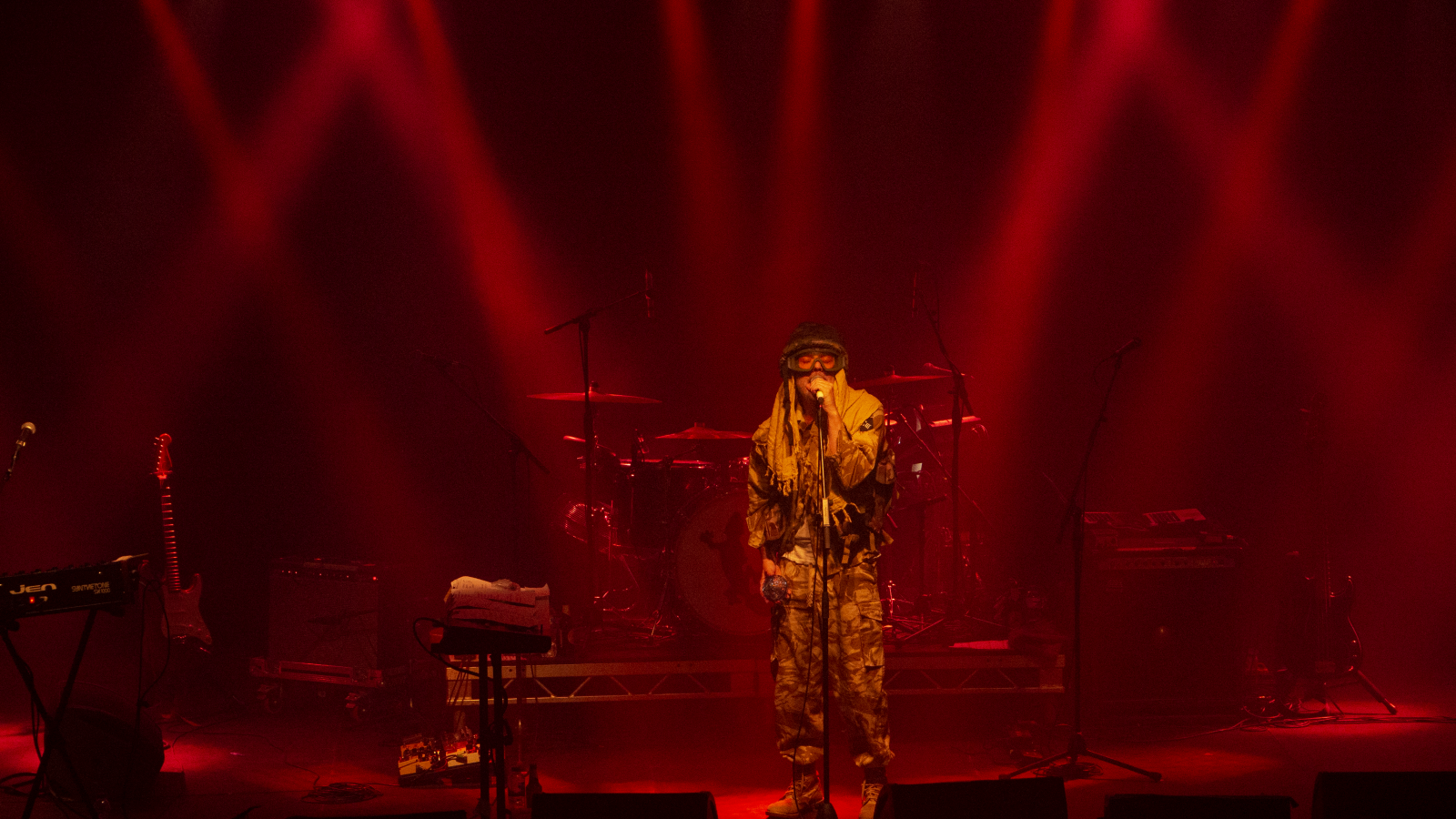 Beginning with latest single 'D.O.A', the singer wandered around the stage with a cocky assuredness as he stripped down to a tunic, trousers and scarf while provocatively fondling a maraca.
Much like his father (Ian), Baxter is a born entertainer; nonchalantly sipping a bottle of Birra Moretti while sidling to-and-from his keyboard and drawling his vocals in his trademark sleazy, Gainsbourg-esque style.
While Dury is an excellent performer who transfixes the crowd, he owes much to his band. Vocalist Madelaine Hart's beautiful voice intersperses the tracks to the point where they become just as important as Baxter's and the heavy, precise drums keep the crowd moving throughout.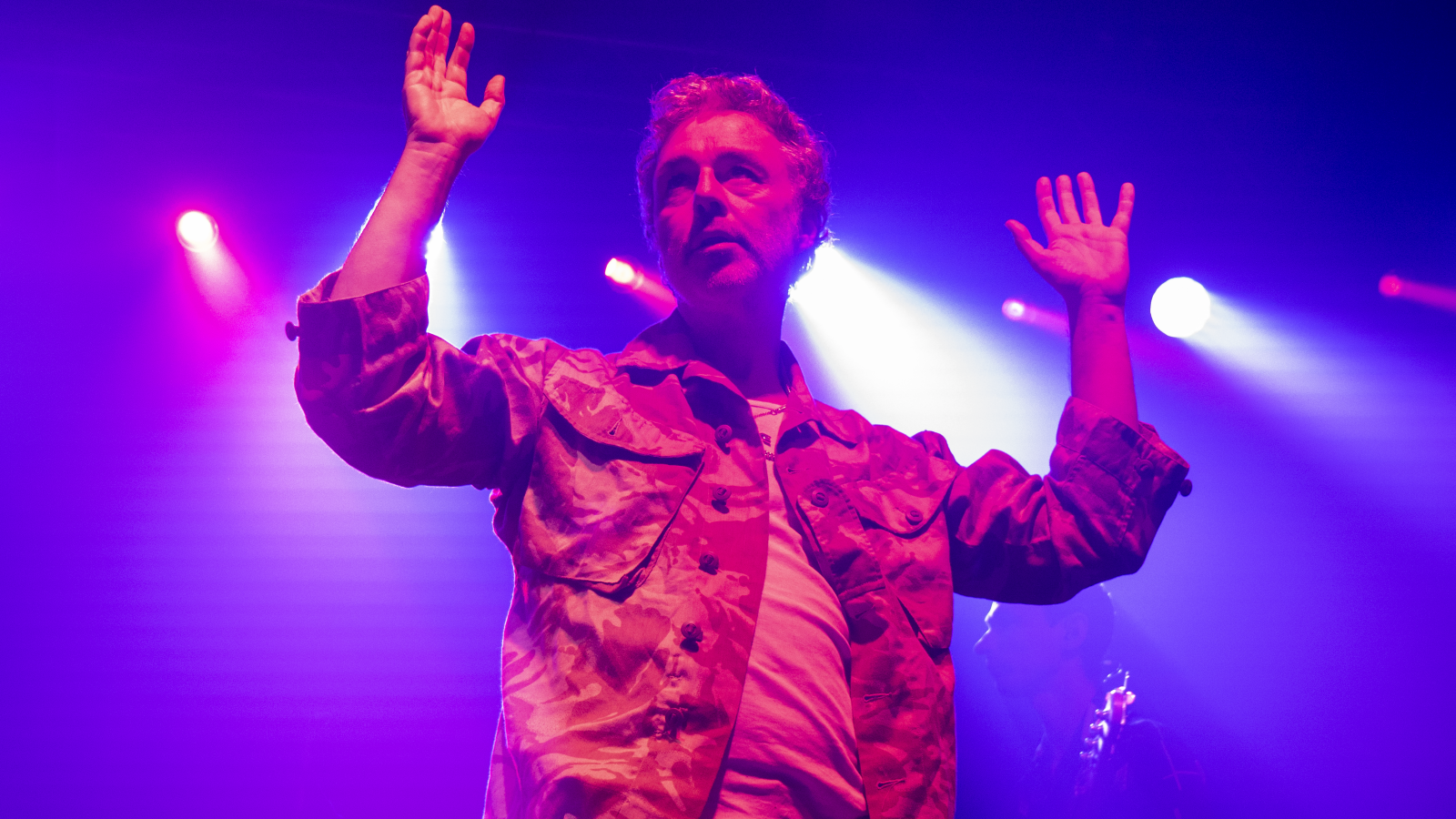 The set saw the singer play a wide range of his extensive material and the crowd were on board throughout. Acknowledging his, at times, narcissistic lyrical content and stage presence, the singer announced: "this one's about me" before playing 'Night Chancers' – a wry quip that drew cheers from the crowd.
'Porcelain Boy' followed, a self-deprecating number that labels Dury "a lonely motherfucker". In a live setting this song appears much heavier and darker than on record.
The singer then turned to the crowd and – in a mangled West Country accent – chanted "come on Bristol" to the transfixed masses. The crowd interaction picked up at this point as, after the reflective 'Oi', Baxter reassured the audience that he was not getting aggressive as he stripped down to a vest.
'Miami' drew a mammoth reaction as the crowd lapped up surreal, comedic lyrics such as "I am the sausage man" and, to much adoration, Dury declared himself "the Bristol fucking Suspension Bridge" before leaving the stage.
The band returned shortly after for an encore that had everyone dancing under Dury's spell as he strutted around the stage now wearing a pristine grey suit.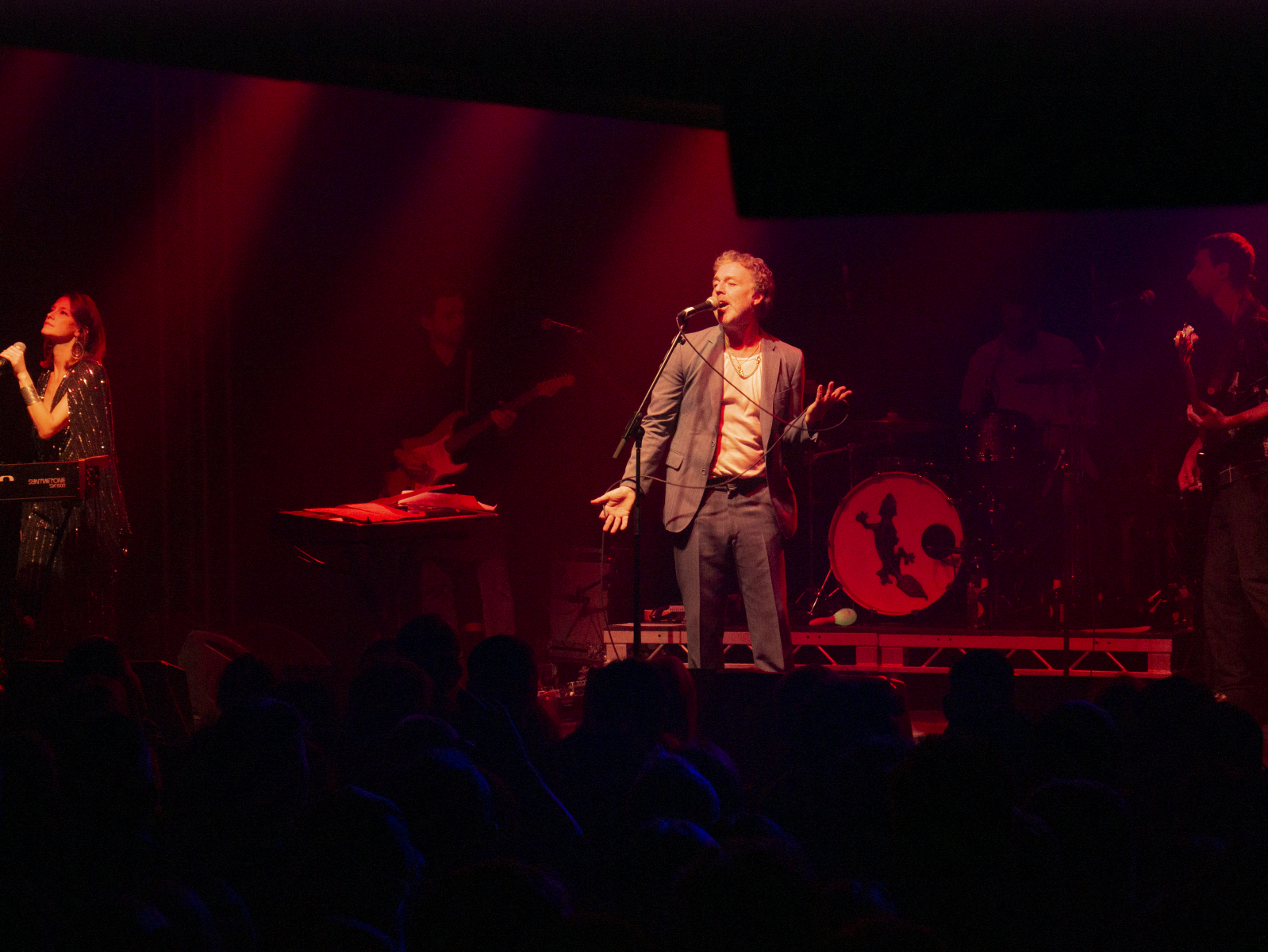 Queue 'Cocaine Man', the most sing-along number of the set, as the chorus echoed throughout the vast space. As the track's outro built epically, the singer made a failed attempt to set a wind-up toy helicopter into the crowd – grinning as it curled back towards him.
Next came 'Night Chancers' with its refrain of "Baxter loves you". This was followed by 'Prince of Tears' that seemed to bring a real sense of unity to the event with hugs shared throughout the Marble Factory.
Dury finished the set with the House influenced 'These Are My Friends' and the singer seemed genuinely emotional about his return to live music - thanking and professing his love for the audience. The track itself was an apt closing, celebrating human connection after so long away from dancing at sweaty venues.
It is often said that Dury's music inadvertently exists in the shadow of his dad. However, despite the similarities in vocal style and vivacious stage presence, to watch Baxter live dispels this theory as he lays himself bare in his own, unique manner – accepting both his own narcissism and vulnerability. This show encapsulated this – a true triumph of live music.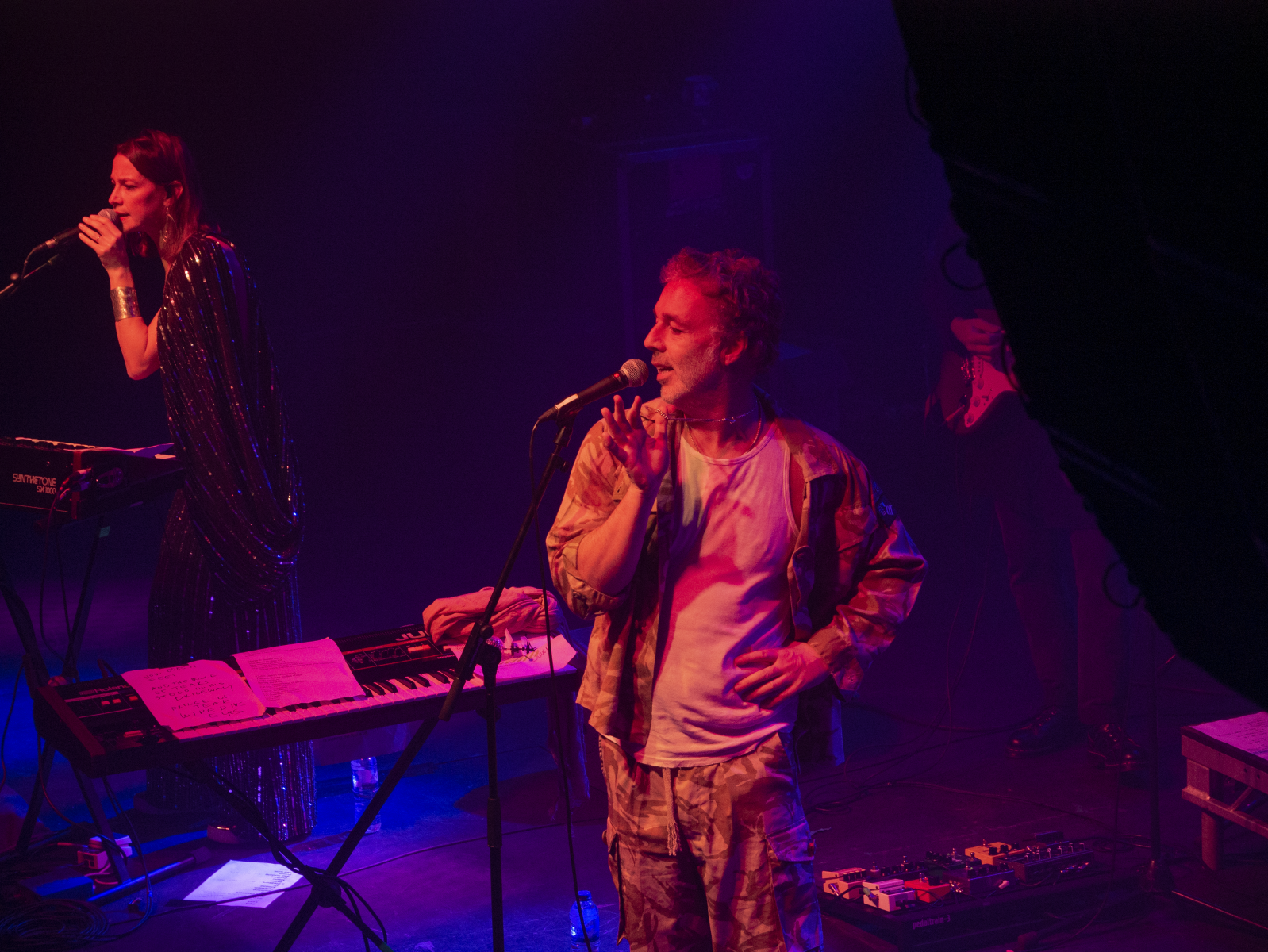 Images: Patrick Bate (patrickb@365bristol.com)
---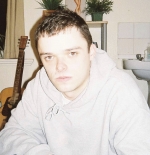 Stanley Gray
Stan is a born and bred Bristolian, recently graduated from studying English Literature in Sheffield. His passions are music and literature and spends the majority of his time in venues all over the city immersing himself in Bristol's alternative music scene. A lifelong Bristol City fan, Stan's Saturday's are spent watching his team both home and away.