Banco Lounge - Totterdown in Bristol - Food review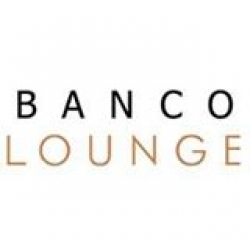 Posted on: 2014-06-24
Banco Lounge is a relaxed and welcoming venue, offering a good range of popular, familiar dishes at sensible, affordable prices, and ticking all the boxes of what a good local café/pub/restaurant should be.
---
With nearly 30 pubs closing every week the future of the local alehouse has been hanging in the balance for some time. The ones that remain are having to adapt from just serving alcohol and the occasional pickled egg to offering a good, affordable menu to line the customers' stomachs, with the inevitable fate of permanently doors being the ultimate price to pay if they don't.
Despite the gloomy cloud of economic uncertainty hovering over the pub and restaurant trade for some time – and with the price of beer still undeniably pretty expensive – it's the chain bars which are thriving as yet another pub calls last orders.
The Loungers chain was set up by director and founder, Alex Reilley, with three friends over a decade ago. The chain has since secured the multi-million pound backing of financiers and currently has 24 Lounge bars dotted around the South West. It's doesn't stop there either, with further ambitious plans in the pipeline to propagate the brand with 250 more outlets across the UK.
The Banco Lounge in Totterdown was the fifth Lounge to open in Bristol in June 2006. Previously it was a YMCA and Lloyds Bank, and Banco's beer cellar is housed in the old bank vault which still has the original safe door.
The Lounge cafes – rather like the Grounded chain – have a very distinctive look, fitted out with wooden floorboards, terracotta coloured walls, stripped pine tables, and a selection of old paintings on the walls.
During the day the venue is more like a crèche than a pub restaurant, crammed with middle-class yummy mummies smugly sipping on their lattes as Harry and Henrietta head for the colouring books and crayons. In all fairness, it's the perfect captive market for any local café and a good place to catch up and have a gossip.
At this time, they also serve a good selection of cooked breakfasts, sandwiches and paninis, salads and jacket potatoes. During the evening, however, Banco transmogrifies into a more relaxed, candle-lit bar, when you can chill out and enjoy a pint of ale and tuck into food that's a bit more filling.
Consistency and familiarity might be key with the Lounge chain, but also is good value for money - and Banco is no exception, with lots of the meals clocking in at under a tenner.
I went for the lounge burger (£8.50), an 8oz prime British beef burger with dill pickle, tomato and red onion marmalade in a sourdough bun, with salad and skin-on fries. The burger a fist-sized slab of beefy, meaty excellence, perfectly cooked all the way through yet retaining a mouth-watering moistness. The sourdough bun had been lightly toasted, adding a slightly crispy contrast to the melt-in-the-mouth softness of the burger, and the skin-on fries were thin, crispy and delicious.
My girlfriend opted for the same, eyes rolling in the back of her head as she enthusiastically masticated every mouthful, enjoying the textures and flavours and admitting there was nothing that satisfied her more than a slab of well-portioned, prime meat between her lips.
A banana split served in a glass boat with a several generous scoops of ice cream, whipped cream, cherry and wafer was a blissfully sweet finish to what was an excellent two-courser.
The bar staff were enthusiastic and friendly and the service was efficient and prompt.
Banco Lounge, then, is a relaxed and welcoming venue, offering a good range of popular, familiar dishes at sensible, affordable prices, and ticking all the boxes of what a good local café/pub/restaurant should be.
4/5
Jamie Caddick for 365Bristol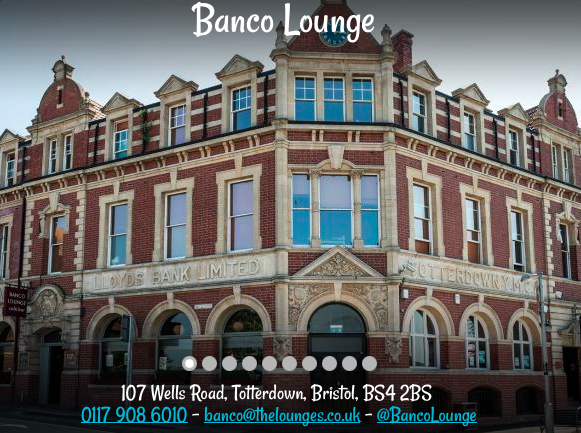 ---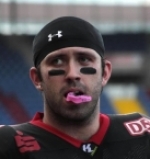 James Anderson
Born and raised in the suburbs of Swansea, Jimmy moved to Bristol back in 2004 to attend university. Passionate about live music, sport, science and nature, he can usually be found walking his cocker spaniel Baxter at any number of green spots around the city. Call James on 078 9999 3534 or email Editor@365Bristol.com.