Apex at Motion in Bristol

Posted on: 2014-06-09
Overall the night was more than a success and is the first of the big summer nights that are to be held at motion this 2014 summer.
---
Apex has become one of the go to nights held at Motion, and with this event they once again did not disappoint. With exams finishing for both Bristol Universities and the beginning of summer it was going to be a sell-out show and why would it not be with a star studded line up with the inclusions of big names Redlight and Boddika.
Arriving at Motion there was as always a very excitable crowd having come to the skate park/ club to enjoy some of their favourite house and dance music, and they were in for an extravaganza of a night.
TCTS aka Sam O'Neill was on in the First Warehouse as I arrived, and was well into his set, the Manchester man has enjoyed some recent success and played his upcoming EP "Games" a 4-track EP that is due to be releases next month, the likes of Annie Mac and MistaJam have shown great support and backing towards him.
Both Boddika and Redlight's sets started at the same time which of course caused for dilemma as it was a tough decision as to whom to go and listen to, Redlight was playing the shorter set 01.00 to 02.30 in the First Warehouse, compared to Boddika's 3 hour set in the Second Warehouse.
Redlight is a Bristol-based artist who has enjoyed huge success over the past few years performing at a number of festivals as well as regular appearances in the club scene. His set was fantastic to listen to and the crowd was extremely excited to be there. He played a large number of his well know tracks such as "Lost In Your Love", "Get Out My Head", "Switch It Off" and also his most recent track "36ft" featuring the vocals of Lotti. A number of remixes where also played including his greatly known remix of "Delilah - Inside My Love" and the crowd greatly appreciated his very distinctive sound.
After Redlight's set ended I made my way to the Second Warehouse to try and catch some of Boddika's set, Boddika aka Al Green is a well renowned name in house music and he put on a fantastic set in which the crowd seemed to love, he has be known to team up with Joy Orbision and they have been playing together a lot and releasing a few tracks and some of these where played. These included "In Here", "Tricky's Team" and "Mercy". However Boddika also played a few of his signature songs which included the likes of "Warehouse", "Black" and "Heat".
As well as these big names playing there where a number of smaller names who were being supported by including names such as MJ Cole, Spencer, DJ Rum, Chris Causenaffect Lorenzo and many more, but I unfortunately cannot be in more than one place at once but due to the general buzz of the night it would seem that everyone enjoyed all the sets and overall the night was more than a success and is the first of the big summer nights that are to be held at motion this 2014 summer.
5/5
Reveiwed by Thomas Greenwell for 365Bristol
---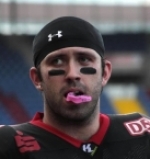 James Anderson
Born and raised in the suburbs of Swansea, Jimmy moved to Bristol back in 2004 to attend university. Passionate about live music, sport, science and nature, he can usually be found walking his cocker spaniel Baxter at any number of green spots around the city. Call James on 078 9999 3534 or email Editor@365Bristol.com.