Anathema in Bristol at Rise Records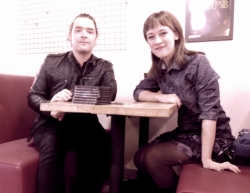 Posted on: 2014-06-13
An incredible band who I feel privileged to have met, Anathema will be returning to Bristol in September for a full, non-acoustic gig at Thekla, so keep your eyes peeled!
---
Distant Satellites, the new album from British progressive rock legends Anathema has been extremely well received so far. As Classic Rock magazine says, "High emotions, great music simply epic!", the album gathering 8/10 from Metal Hammer magazine and an incredible 5 stars from the Guardian. It was this that the band were promoting on the 11th at an intimate free album signing on Park Street. Rise Records provided the ultimate in quirky, comfortable atmosphere whilst giving the fans a chance to really interact with the band that they love. The stage was a small raised platform toward the back of the shop, where guitarist/ vocalist brothers Danny and Vincent Cavanagh, and female vocalist Lee Douglas, all performed a unique acoustic set of some of their most popular songs. This is rather less than the usual line up which compromises of at least two more members, but was more than adequate to fill the room with powerful, emotional sounds.
Many of the people there that night seemed heavily invested in the music of Anathema, and why wouldn't they be? This band have gone through the most dramatic yet graceful changes during their turbulent 24 year career, encompassing many styles of music and their development as people shining through in their deeply personal songs. This recent album seems ever further from their original style, and yet they have successfully garnered an appreciative and open-minded following who understand the necessary flourishing and growth that comes with such music.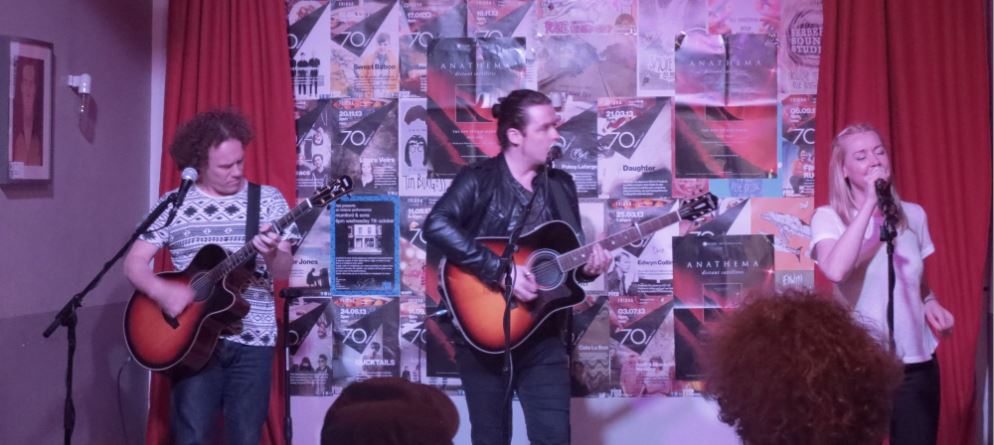 The band played a 50 minute set, starting appropriately with a new song, The Lost Song Part 2. This epic gave way then to two of their most popular tracks off the Weather Systems album, Untouchable parts 1 and 2. This was a particular highlight for me, and seemingly the rest of the audience who fell to whooping and cheering from the very first chord. The temporary transition to being fully acoustic seems to have worked flawlessly for the band, some songs almost sounding folk-y in nature, but nonetheless each was swathed in the gentle beauty that Lee's delicate vocals and the Cavanagh brothers' guitar provides so well.
Anathema were reliably perfect, with gorgeous rich vocals and timeless guitar, they satisfied the hungry audience and showed themselves to be incredibly dedicated to their fans. Before and after the show, Danny, Vincent and Lee all took some time out in the shop (Danny seemingly enjoying an episode of The Thick Of It on his tablet from what I could make out!), allowing for photos and questions from those who had turned up. The signing, which took place half an hour after the gig itself, was something charmingly touching to behold. Each person would nervously sidle up to the band only to be met with a friendly, warm Liverpudlian charm that put everybody at ease. With some bands you get the idea that the fans are perhaps an annoyance to be tolerated in order to continue building success; however Anathema showed themselves to be truly welcoming and kind to theirs, taking a genuine interest and livening up the atmosphere with good-natured banter.
An incredible band who I feel privileged to have met, Anathema will be returning to Bristol in September for a full, non-acoustic gig at Thekla, so keep your eyes peeled!
5/5
Review and Photos courtesy of Miri Teixeira for 365Bristol
---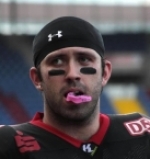 James Anderson
Born and raised in the suburbs of Swansea, Jimmy moved to Bristol back in 2004 to attend university. Passionate about live music, sport, science and nature, he can usually be found walking his cocker spaniel Baxter at any number of green spots around the city. Call James on 078 9999 3534 or email Editor@365Bristol.com.