An Officer and a Gentleman at Bristol Hippodrome - Review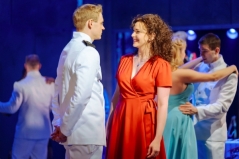 Posted on: 2018-07-31
Any fan of the 1980s will thoroughly enjoy this chance to bask in the songs and fashion of the era. Nostalgia sells tickets, and this show has that by the bucketful. This is a modern-day fairy tale.
---
Anyone looking for a bit of romance need go no further than the Bristol Hippodrome this week, where An Officer and a Gentleman is showing until Saturday 4th August. This new musical is based on the 1982 movie that starred Richard Gere and Debra Winger, an iconic film that set the bar when it comes to true romance.Written by original author Douglas Day Stewart, with Sharleen Cooper Cohen the stage production is frivolous fun with a raunchy edge, set to a feel-good soundtrack of 80s classics including Material Girl, Heart of Glass, Girls Just Wanna have Fun and the meteoric hit from the movie, Up Where We Belong.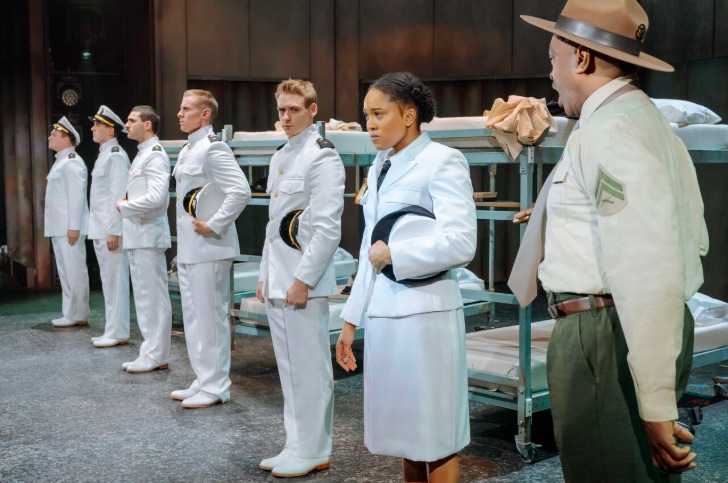 It tells the story of Zack Mayo and his quest to become a US Navy pilot. He's a working-class boy with a troubled past. Brought up by his alcoholic sailor father after the suicide of his mother, Zack dreams of becoming pilot in the US Navy, something he believes will take him away his humble background and show everyone he is better than his father. The story starts as Zack begins his training at the Naval base and follows him through run-ins with superiors, rivalry with fellow recruits, navigating terrifying combat exercises and building lasting friendships along the way.
Life on the base might be harsh but Zack and his friends also find time to have fun, fraternising with the local girls who work dead end jobs in the nearby factory. He meets Paula and gradually changes from being emotionally shut down to caring for others. Success in staying the course as well as lessons learned in loyalty, hard work and the impact of devastating loss make him realise the importance of friendship and love, leading to the big romantic gesture everyone knows from the film.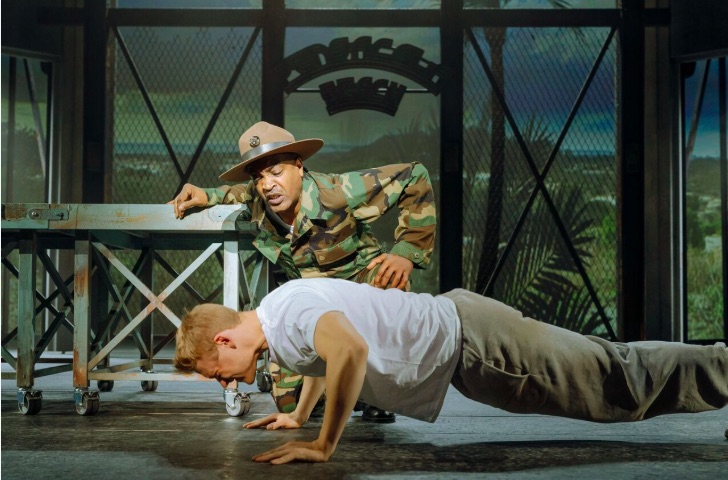 Emma Williams gives a great performance as Paula, making her strong and intelligent as well as showing the soft side of the girl who doesn't dare to dream of a happy ending. In the lead role of Zack, Jonny Fines is good, showing off decent vocals and looking the part. Williams and Fines share a definite chemistry that makes the relationship seem tender and compelling.
Support comes from Ian McIntosh as Zack's friend Sid, who is particularly good during a poignant version of I Want to Know What Love Is and Rachel Stanley who gives a strong performance as Paula's mum, showing off some powerful vocals especially in a powerful version of We Don't Cry Out Loud. A special mention must go to Ray Shell who is fantastic as the Drill Sergeant; he owns the role and steals the show every time he is on stage.
There are some mighty fine vocals from the supporting cast, who embrace the cheesy storytelling and tenuously linked songs to make the entire production a delight to listen to. Fun and hopeful, this is a musical that doesn't take itself too seriously. The cast seemed to be genuinely enjoying performing for the audience, and with some catchy and some lively choreography it is easy to see why.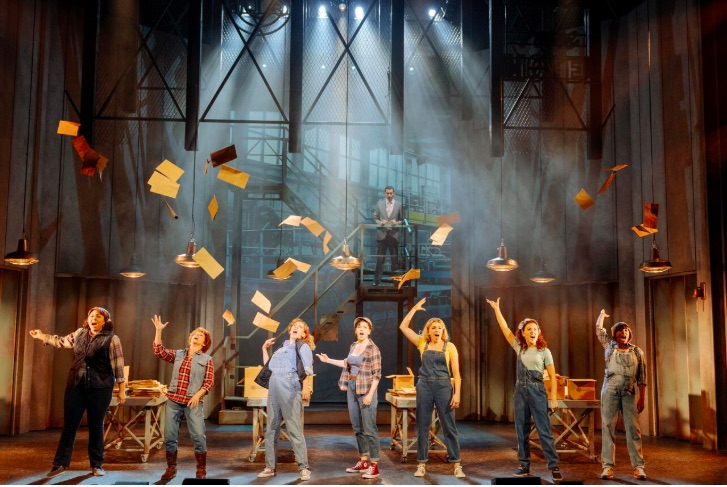 The sets are stylish and slick, using projectors to create vast expanses of land, sea and air so convincing you can't help but believe that the waves and machinery are really there. Projections are also used to great effect to set the scene, with images of the 80s playing out at the start of both acts. This was exceptionally popular with the audience who were pointing out characters and events they knew and clearly enjoying the memories they evoked.
Any fan of the 1980s will thoroughly enjoy this chance to bask in the songs and fashion of the era. Nostalgia sells tickets, and this show has that by the bucketful. This is a modern-day fairy tale, not as raw and emotional as the film but nevertheless a celebration of triumph over adversity: of American values, patriotism, optimism and the great American dream being realised. The iconic ending when Zack appears wearing his white officer's uniform to carry Paula off and up where they belong was a real goose bump moment, with the audience giving it a standing ovation.


---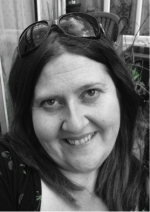 Sarah-Jane Howard
Sarah-Jane is an aficionado of film, theatre, culture and the arts. A voracious reader and avid crafter, she can be found volunteering her face painting talents at Bristol Zoo when she's not cementing her reputation as Coalpit Heath's cake maker extraordinaire. Known to have an opinion on everything she's never happier than when sharing these with the good folk of Bristol!