Alison Balsom - The Trumpet Sings at The Colston Hall in Bristol review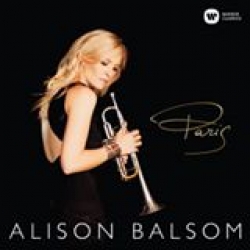 Posted on: 2014-10-07
Balsom has brought a dynamic, sexy edge to the unmistakable trumpet sound through exemplary, vibrant interpretations and a musical appeal that's exciting and accessible. A thrilling, captivating celebration of the instrument from a world class player
---
Trumpeter Alison Balsom has unequivocally cemented her reputation as one of the most highly regarded and innovative musicians of the 21st century.
She spent the last decade performing in some of the world's most prestigious venues, was the first woman to win 2013 Gramaphone Magazine's illustrious Artist of the Year, won three times at the Classic Brits and the same at the Echo Klassik Awards. As if that wasn't enough, she recently hit the Number 1 spot in the UK Classic Charts with her new album, Paris, her first in two years.

Co-produced with jazz trumpeter and composer Guy Barker, it's a delightfully diverse Pandora's Box of musical treats that musically guides us through the changing seasons of Paris, and it was selections of tracks from the album to which she treated an enthusiastic Colston Hall audience.
Dressed in figure-hugging black trousers and top, Balsom entered stage left with the triumphant opening bars of a Bach allegro, which she proceeded to play with impeccable musical flourishes and finesses with the accompaniment of organ player, Chad Kelly. Debussy's Syrinx - adapted from its original flute transcription - was next up, then Michel Legrand's jazzily mellifluous La Valse de Lilas, Vernon Duke's sumptuously romantic April in Paris, and Piazzola's deliciously sinuous tango, Oblivion.
From classical refrains and uber cool jazz riffs, Balsom abruptly shifted musical gears and plunged the audience into a pool of modern dissonance with Peter Eben's The Green Window for trumpet and organ, inspired by Marc Chagall's stained glass windows, and written to allow the performers a free-time, improvised independence so it's never performed the same way twice. Daring, jarring, atonal and spiky, it was a brave and brilliant exploration into a bold, unfamiliar sound world.
Joy Spring by Clifford Brown - a prodigy jazz trumpeter who tragically died in a car accident just 25 - rounded off the first half with a toe-tappingly jazzy musical melange that also highlighted the ivory-tinkling talents of pianist, Grant Windsor.
Purcell's The Judgement of Paris, composed in 1700, lured us into the second half with its fanfare of nobility and grandeur with drum accompaniment, before piano master Erik Satie's immediately recognisable Gymnopedie 3 was treated with a melancholic, lilting whimsy that retained its original eccentricity yet infused it with fresh life.
Peter Eben had another crack of the cacophonous whip with his second Chagall-inspired trumpet/organ duo, The Gold Window, which utilised an old Russian hymn made famous by Tchaikovsky in his 1812 overture. Jazz guitar legend Django Reinhardt's Nuages lent an unmistakable air of gypsy-swing, while Miles Davis' interpretation of If I Were a Bell from the 1950 musical Guys and Dolls provided a head-bopping hipness of muted trumpet magnificence.
Eva Cassidy's sublimely moving Autumn Leaves and Piazzolla's passionately sensuous but impatiently frantic Libertango led us into a final, languorously beautiful encore of Gershwin's Some to Watch Over Me and brought the evening to a mellow, satisfying close.
Balsom is a first-class, supremely talented trumpeter and her spoken intros to each piece were articulate and insightful, but her real piece de resistance of the evening was to assimilate an incredibly diverse and eclectic range of musical material that coalesced into a totally satisfying whole. Under Balsom's slick, polished playing and the equally faultless musicianship of her band, they segued effortlessly from classical to jazz to modern without any of the pieces ever seeming incongruous.
Balsom has brought a dynamic, sexy edge to the unmistakable trumpet sound through exemplary, vibrant interpretations and a musical appeal that's exciting and accessible. A thrilling, captivating celebration of the instrument from a world class player.
5/5
Reviewed by Jamie Caddick for 365Bristol
---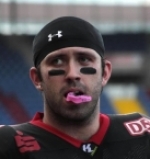 James Anderson
Born and raised in the suburbs of Swansea, Jimmy moved to Bristol back in 2004 to attend university. Passionate about live music, sport, science and nature, he can usually be found walking his cocker spaniel Baxter at any number of green spots around the city. Call James on 078 9999 3534 or email Editor@365Bristol.com.