Bristol City v Brentford on Saturday 8 May 2021
Brentford visit Ashton Gate for a EFL Championship fixture kicking off at 3pm on Saturday 8 May 2021. Bristol City will be hoping for a win in their final fixture of the regular season and not a repeat of last seasons 4-0 drubbing.
Find out more and browse recent results on the official Bristol City website.
---
About Bristol City Football Club
Bristol City Football Club, nicknamed The Robins, are currently playing their football in the EFL Championship, the second tier of English football. Their home ground, Ashton Gate Stadium, has recently been rebuilt, giving it a capacity of 27,000.
City go into the 2020/21 season looking to learn from the mistakes of the past few years and mount a consistent challenge for the play-off places.
After impressing in previous campaigns only to fall away in the final few weeks, head coach Dean Holden will be tasked with maintaining high performance and concentration levels for the entirety of what's sure to be a demanding season.
Founded in 1897, the club achieved their highest league finish of Division One runners up in 1907 and two years later played in their only major cup final, losing 1-0 to Manchester United in the FA Cup. The club last played in the top-flight of English football from 1976 to 1980.
The 2006-07 season saw the club win promotion to the Football League Championship after finishing second in League One. The following season Bristol City narrowly missed out on Premier League football, losing to Hull City in the Championship play-off final.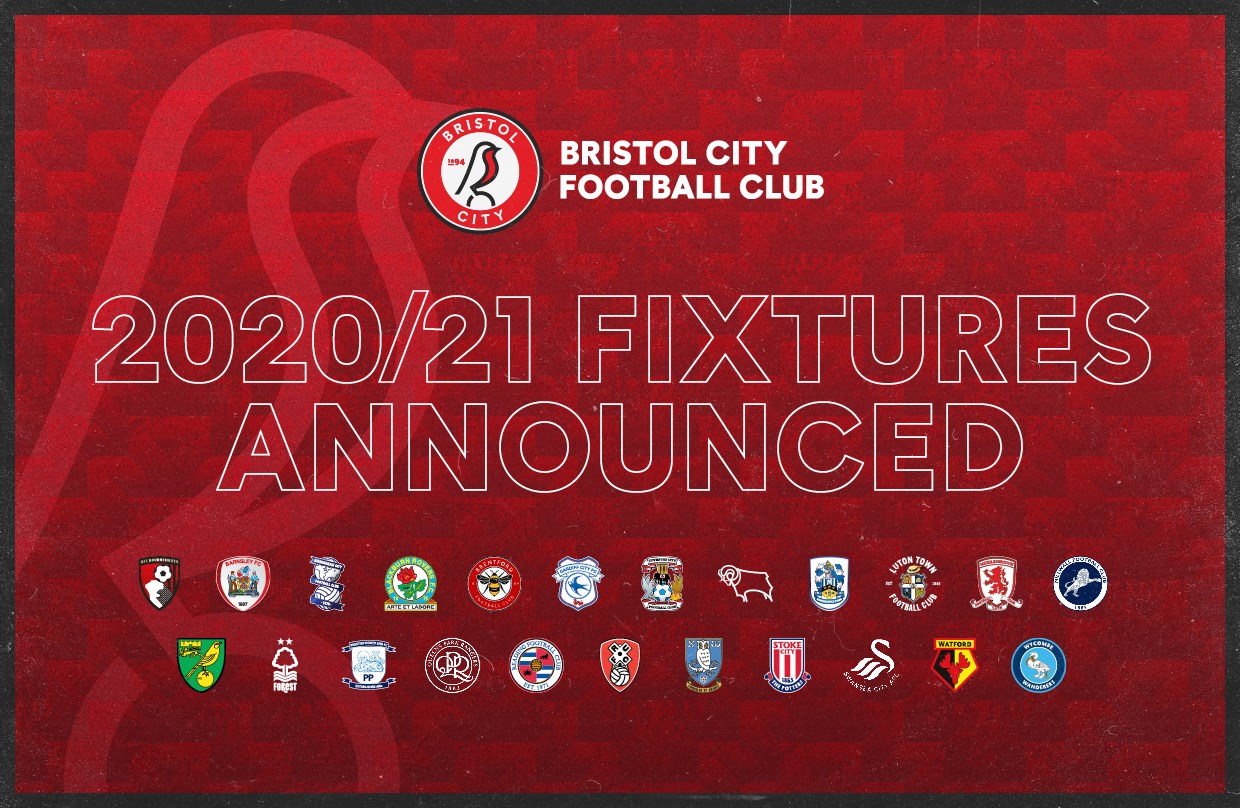 Full Bristol City fixture list below:
September 2020
Sat, Sep 5th - Exeter City H (Carabao Cup Round 1)
Sat, Sep 12th - Coventry City H
Wed, Sep 16th – Carabao Cup Round 2
Sat, Sep 19th – Stoke City A
Wed, Sep 23rd – Carabao Cup Round 3
Sat, Sep 26th – Sheffield Wednesday H
Wed, Sep 30th – Carabao Cup Round 4
October 2020
Sat, Oct 3rd – Nottingham Forest A
Sat, Oct 17th – Barnsley A
Tue, Oct 20th – Middlesbrough H
Sat, Oct 24th – Swansea City H
Wed, Oct 28th – AFC Bournemouth A
Sat, Oct 31st – Norwich City H
November 2020
Tue, Nov 3rd – Huddersfield Town A
Sat, Nov 7th – Cardiff City A
Sat, Nov 21st – Derby County H
Wed, Nov 25th – Watford H
Sat, Nov 28th – Reading A
December 2020
Tue, Dec 1st – Queens Park Rangers A
Sat, Dec 5th – Birmingham City H
Wed, Dec 9th – Blackburn Rovers H
Sat, Dec 12th – Rotherham United A
Tue, Dec 15th – Millwall H
Sat, Dec 19th – Preston North End A
Wed, Dec 23rd – Carabao Cup Round 5
Sat, Dec 26th – Wycombe Wanderers H
Tue, Dec 29th – Luton Town A
January 2021
Sat, Jan 2nd – Brentford A
Wed, Jan 6th – Carabao Cup Semi-Final
Sat, Jan 9th – Emirates FA Cup Round 3
Sat, Jan 16th – Preston North End H
Wed, Jan 20th – Norwich City A
Sat, Jan 23rd – Huddersfield Town H (Emirates FA Cup Round 4)
Sat, Jan 30th – Derby County A
February 2021
Sat, Feb 6th – Cardiff City H
Wed, Feb 10th – Emirates FA Cup Round 5
Sat, Feb 13th – Watford A
Tue, Feb 16th – Reading H
Sat, Feb 20th – Barnsley H
Tue, Feb 23rd – Middlesbrough A
Sat, Feb 27th – Swansea City A
Sun, Feb 28th – Carabao Cup Final
March 2021
Wed, Mar 3rd – AFC Bournemouth H
Sat, Mar 6th – Queens Park Rangers H
Sat, Mar 13th – Birmingham City A
Wed, Mar 17th – Blackburn Rovers A
Sat, Mar 20th – Rotherham United H (Emirates FA Cup Quarter-Final)
April 2021
Fri, Apr 2nd – Stoke City H
Mon, Apr 5th – Coventry City A
Sat, Apr 10th – Nottingham Forest H
Sat, Apr 17th – Sheffield Wednesday A (Emirates FA Cup Semi-Final)
Wed, Apr 21st – Wycombe Wanderers A
Sat, Apr 24th – Luton Town H
May 2021
Sat, May 1st – Millwall A
Sat, May 8th – Brentford H
Sat, May 15th – Emirates FA Cup Final
Fixtures are subject to change.