Arnolfini is a Space for Ideas
Arnolfini is a historical jewel in Bristol's artistic and cultural crown and represents one of the leading centres for contemporary arts in Europe.
The gallery, which takes its name from Jan van Eyk's 15th century masterpiece, The Arnolfini Portrait, occupies 3 floors of a former 19th century Grade II listed tea warehouse. In fact, the architecture is the first example of the popular 19th century Byzantine style, to be seen in Bristol.
Situated along the side of The Floating Harbour in the very heart of the city, it has long-held a proud tradition of championing some of the best, most innovative and diverse performance, film, music, dance and visual arts.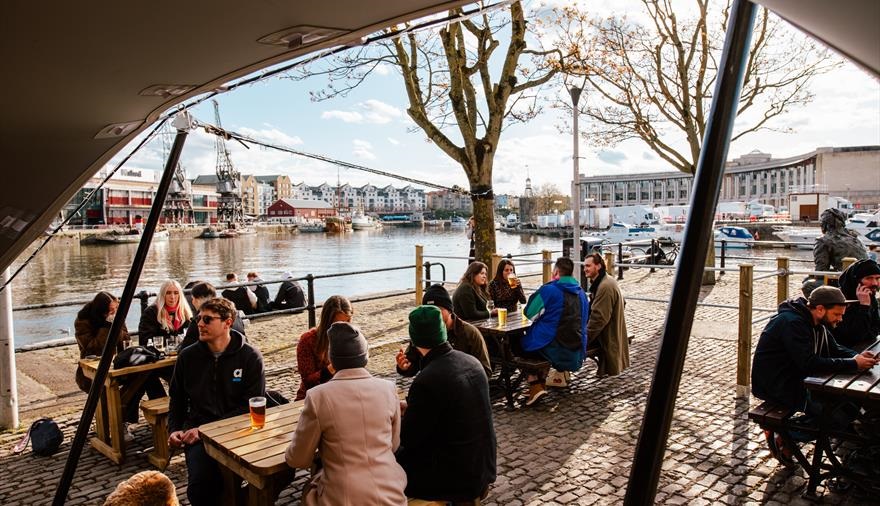 It also regularly runs programs of educational activities.
The space houses a theatre, cinema auditorium, five exhibition spaces, dark and light studios, a reading room, arts bookshop and a cafe bar.
In the summer time, the location is bustling with a vibrant bunch of people, relaxing to music on the cobbled edge and on the outside seats, whilst the boats sail past on the surrounding water. Arnolfini is a staple building, celebrating Bristol as the cultural melting pot that it is.
Arnolfini is a registered charity, funded by Art Council England and Bristol City Council, which also raises its own revenue from public donations.
The venue is also an active partner of Tate cooperating on concepts and shared programs via the Plus Tate network of UK visual arts organisations.