The Mint Room in Bristol - Indian Fine Dining review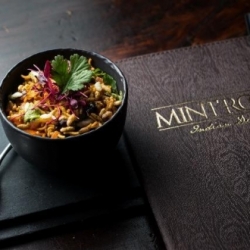 Posted on: 2015-07-17
Modern Indian fine dining has well and truly arrived in Bristol. Long may it continue. This is sophisticated dining of the highest quality.
---
Bringing quiet elegance and sophistication to a culinary class dominated by the safe-bet tactics of Tikka Masala and the dreaded Sunday buffet, The Mint Room in Bristol stands alone atop what is a small pile of high-end Indian Dining establishments.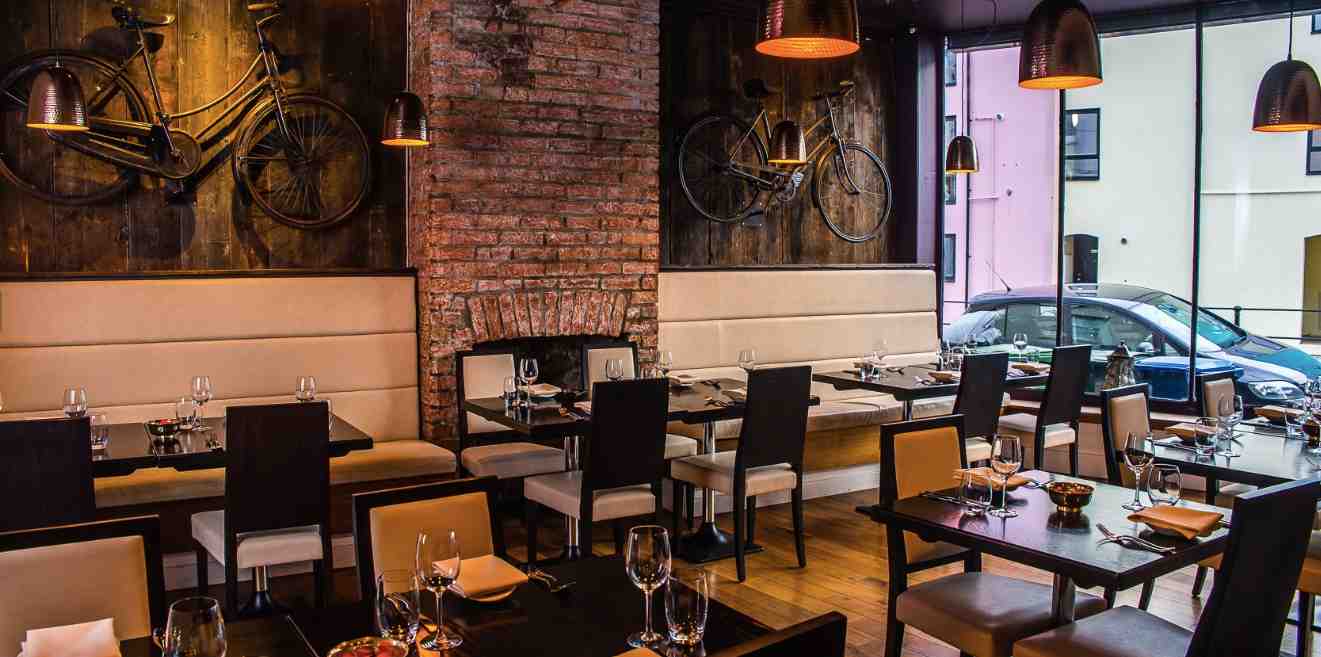 A 'curry house' this is not. That needs to be made abundantly clear from the outset. The Mint Room, tucked away as it is in a quiet corner of Clifton, is certainly different from anything the majority of us will have experienced before. At first appraisal it might seem odd to think of 'an Indian' setting out to brand itself in the way The Mint Room does. But why?
Not a head would turn if a French or Modern British restaurant were to serve food presented immaculately, prepared with real flair and skill. Unexpected flavour combinations are run of the mill. So why does it seem so strange that a restaurant would chose to take this refinement and attention to detail, then draw on influences from the sub-continent rather than somewhere a little closer to home? It might be a head-scratcher before you enter, but after your first visit all will become clear. This is sophisticated dining of the highest quality.
The restaurant itself is decadent without being pretentious. Rather than screaming, it whispers sophistication. A juxtaposition of the subtle and the bold. Both the colour-scheme and the carefully considered decorative pieces cleverly reflect the menu and the ethos of the brand. The attention to detail is palpable – from swathes of elaborate fresh flowers to the simple, refined tableware, there's not a napkin out of place. The setting for your meal is exquisite. However, without food to match all this work would be irrelevant. And so we move on…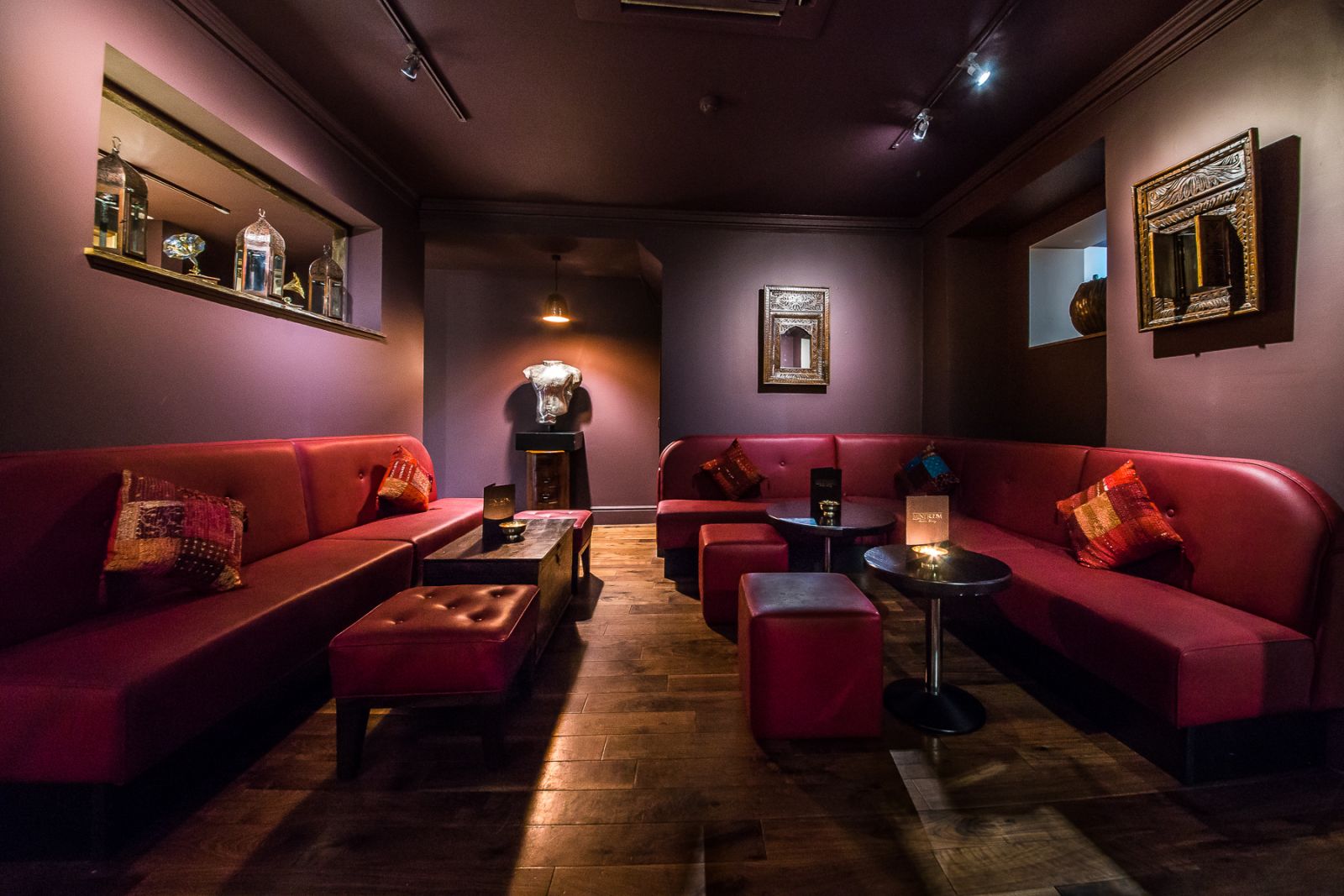 After time spent as Head of Innovation at London's Tamarind - the first Indian restaurant to earn and retain a Michelin Star - Head Chef Saravanan Nambirajan in conjunction with consultant chef Hrishikesh Desai have created a modern Indian menu packed with bold and daring dishes. It's not unreasonable to assume that most will not imagine being greeted by dishes like 'Quail 3 ways, served with apple and vanilla puree' when opening the menu. But why not? Preconceived notions regarding what 'an Indian' is or should be.
After lengthy and entertaining discussion with the knowledgeable and warm waiting staff, along with the amiable Ataur Rahman, titled as the Group Communications Director, our choices were made and our appetites firmly whetted. With the deliberately small portion of mini popadoms and two in-house chutneys, my wife and I were excitedly anticipating the arrival of our starters.
When they arrived we were simply blown away by the look and presentation quite before anything else. The exquisite refinement would make any top chef blush. In we dove to the afore-mentioned Quail 3 Ways (£8), Macchi 'Amritsari' (cured, battered fillets of Cornish Lemon Sole. £7) and Tomato 'Shorba' (£7).

The Quail was served as a delicately spiced breast, cooked in to tandoor and still delightfully moist, a breaded 'leg lollipop' and a soft fried quail's egg. Now if you remember this came with a vanilla sauce along with an apple offering. Here's where things get interesting. On its own the quail was a delight, moist and tender. On its own the vanilla sauce seemed like a slightly under-sweetened dessert accompaniment, though perfectly pleasant. These two elements have absolutely no business being on the same plate. But they were so together they were devoured. In what can only be described as a revelation, the sum of the parts far outshone the already great components. Alchemy, I'm convinced.
The Sole was cooked perfectly and light as air. Packed with flavour and with two great accompaniments, the flavour of the fish itself was still allowed to shine through.
On to the Tomato 'Shorba'. This is, for all intents and purposes, a tomato soup. The dreaded opening to many a corporate or awards banquet, this classic was left behind in the 80s and rightfully so. However, the staff and chef are so proud of it I gave it a go. Not to put too fine a point on it but it was simply the best soup I have ever tasted. Now granted, I'm no soup aficionado, but I've had my fair share. It's now clear to see why the chef hangs his hat on the delightfully simple starter.
For main we were greeted by Marinated Lamb Rumps 'Chettinad' Style (£16) Tawa Duck (£16) and, after a long chat with Ataur, where we discovered both our 'safe, go-to' dishes were the same, Lamb Jalfrezi (£14). Accompanying these were Tarka Dall and Bhindi Bhaji (both £4.50) along with mustard seed naan and, a must when seeing what an Indian really can do, a plain naan (both £3.50). A saffron basmati rice (£3.50) rounded off the affair. So often overlooked or even neglected, the rice was a triumph. Each grain separate, with a faint perfume from the saffron adding that little something extra.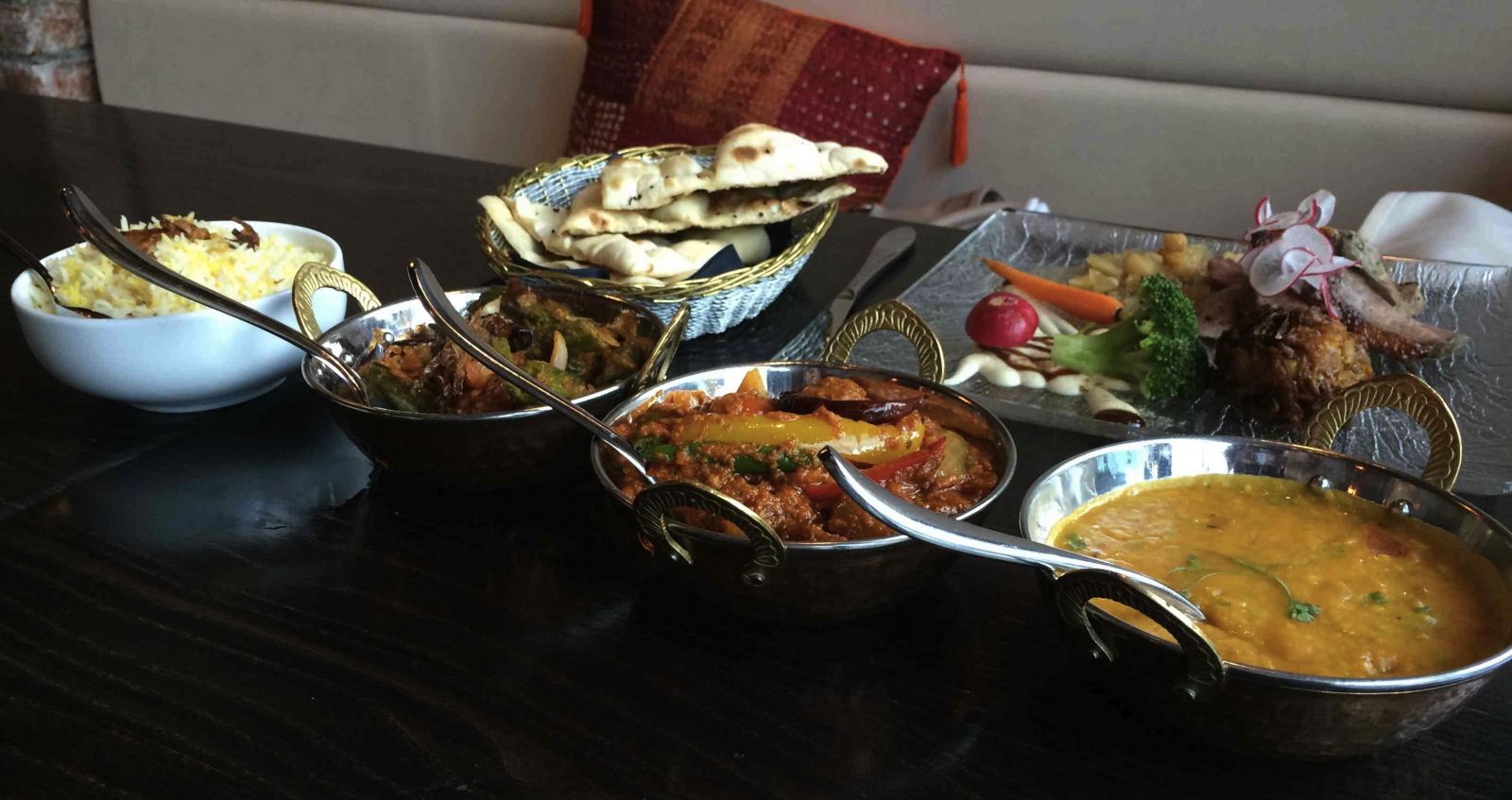 The duck and the lamb rumps, being from their signature range, were both presented as stand-alone, ornate plates of food. The duck was wonderful, especially alongside the apple, sultana and black mustard chutney. Lamb rumps are often under or over done but, naturally, not so here. Presented atop a yoghurt and black pepper sauce, the combination was divine. You are immediately hit with the tang of the yoghurt, which then slowly fades, giving way to the black pepper followed by the warming notes of the spices.
I was interested to get a take on the Mint Room's ability to serve up both their modern, elegantly presented dishes as well as an old 'curry house favourite'. Many diners, certainly if there are larger groups, will find that some of their party will plump for what they already know and love. So step forward the Lamb Jalfrezi. Served up and down the country, though often ruined by too much chili heat in the sauce itself, this version was presented with the tender lamb sitting in a vegetable sauce offering myriad layers of flavour that weren't ruined by heat and so allowed to sing. The heat came in the form of a mixture of chilis added to the sauce later in the cooking. I was effectively able to 'mix-and-match' the heat level of the dish as I saw fit with each mouthful. A real triumph that shows the kitchen can produce the daring and elegant, yet still deliver on the classic dishes we know and love. That was a real question I had going in to this meal and luckily, not least for me, they answered the question brilliantly.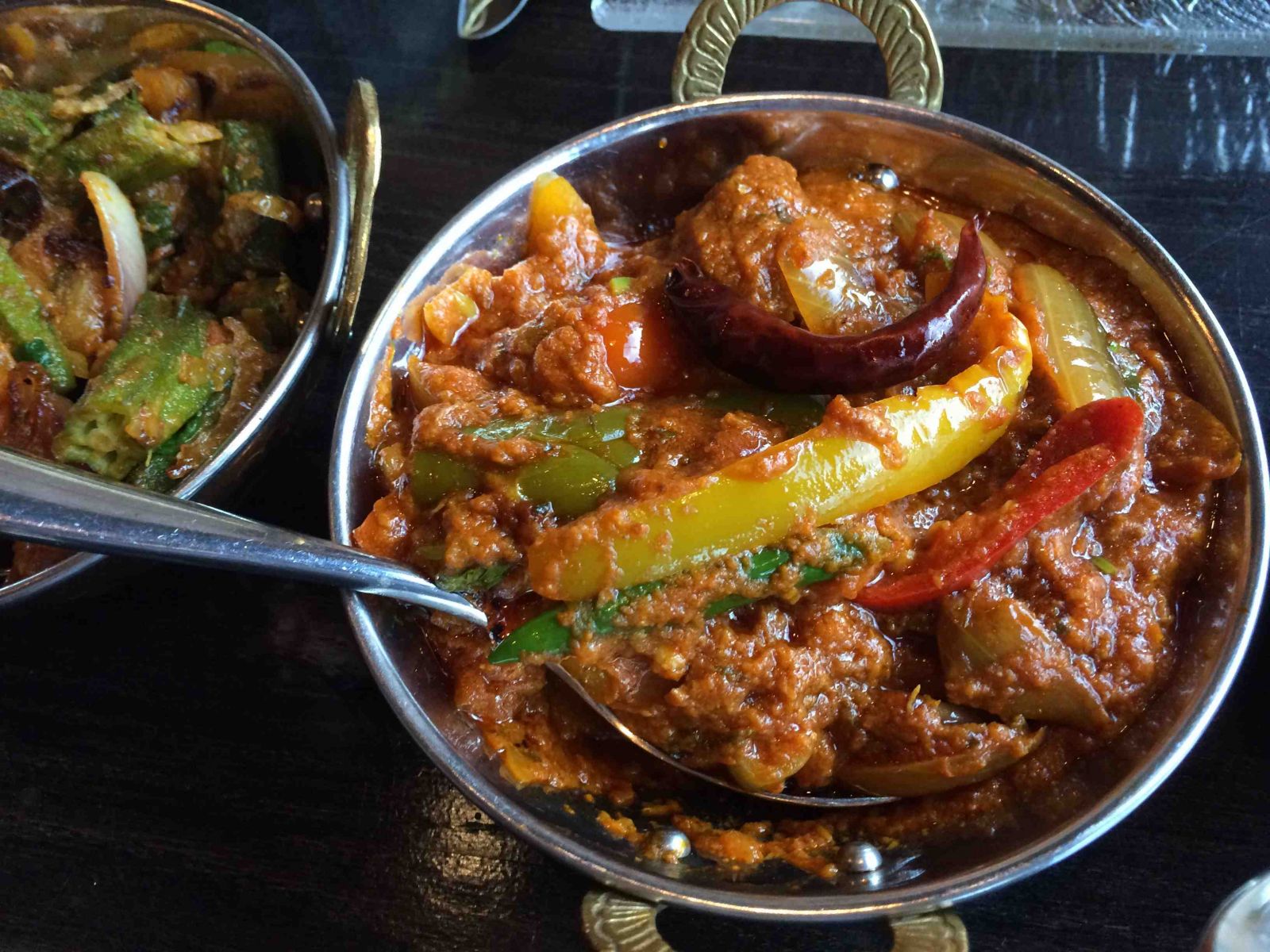 On to dessert. Were it not for the clear quality of the previous dishes, I would have been skeptical. Indeed, barring one other eatery in the city, desserts at Indian restaurants seem to be some sort of in-joke between the combined chefs and owners that must just go over our heads. Not so here obviously.
The white chocolate parfait (£6.50) was served with an intriguing dark chocolate sorbet and a rather moist, almost 'sloppy' carrot cake that with a little less sweetness wouldn't be out of place on an American Thanksgiving dinner plate. Once more drawing on the theme set out by the décor, and furthered by the vanilla and quail, the combination of the beautiful-on-its-own parfait and the carrot 'cake' was astounding. Genuinely. Quite how those two combined to produce the flavour they did I don't know and am frankly quite happy in my ignorance.
Opting for a classic to go alongside the modern parfait, I went with Gulab Jamun (£6.50). Essentially a sweetened milk-curd dumpling (stay with me here) it is served in a syrup alongside vanilla ice cream. Another great example of The Mint Room being able to serve the old and the new with equal aplomb.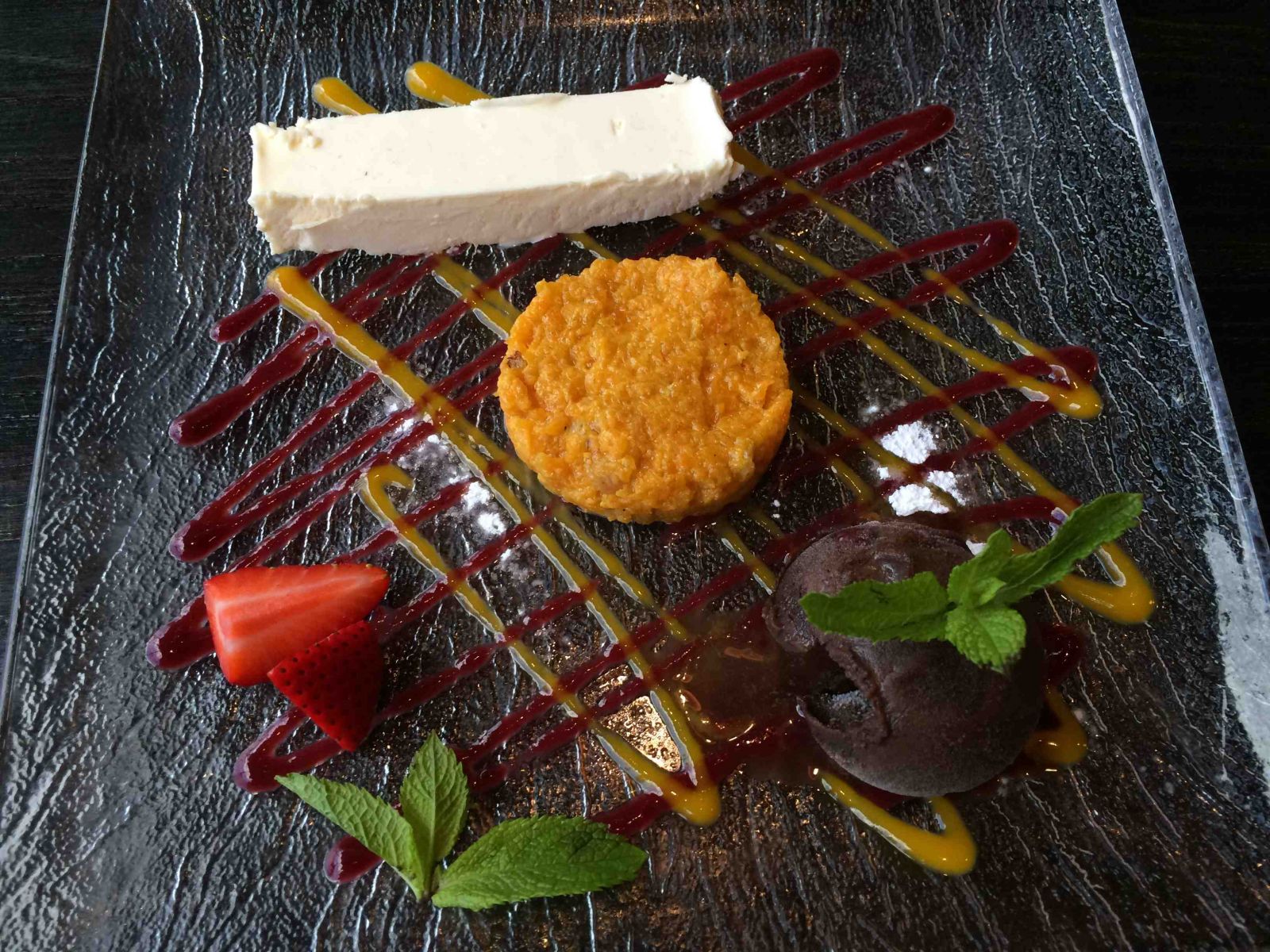 For the starter and main I let Alex, the excellent cocktail barman, suggest the wine and it did not disappoint. He is a star of the restaurant in his own right – a maestro behind the bar. He can whip up all the classic cocktails listed on the extensive menu but I'd advise you let him create you something. A couple of questions later and he's well on his way to creating a masterpiece. If you'll forgive the name, ask him for a Dead Goldfish. A passion fruit and vanilla concoction to leave you speechless.
One last point of note is to say that all, absolutely all of the food served is made by the excellent kitchen team. From the chutney through to the ice cream. Something to be admired.
So there you have it. The Mint Room in Clifton. Rounding off as I began, this is not a 'curry house'. You will not be served chicken korma with half rice-half chips I'm afraid. As we now know, they do serve up some classic dishes with aplomb, but these run alongside a bold, daring menu that's carefully considered, meticulously planned, expertly prepared and wonderfully received. Modern Indian fine dining has well and truly arrived in Bristol. Long may it continue.
5/5
Reviewed by James Anderson for 365 Bristol - the leading events and entertainment website for Bristol
Visit The Mint Room website for further information or call 0117 3291300
---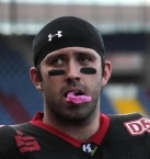 James Anderson
Born and raised in the suburbs of Swansea, Jimmy moved to Bristol back in 2004 to attend university. Passionate about live music, sport, science and nature, he can usually be found walking his cocker spaniel Baxter at any number of green spots around the city. Call James on 078 9999 3534 or email Editor@365Bristol.com.